Smoked Deviled Eggs are easy, full of smoky flavor, and extra delicious. These are the best deviled eggs and you will make them over and over again!
If you've ever wanted to take your deviled eggs up a notch then these are the ones for you. YOU will have a hard time eating just one!
This post may contain affiliate links. Please read my disclosure policy.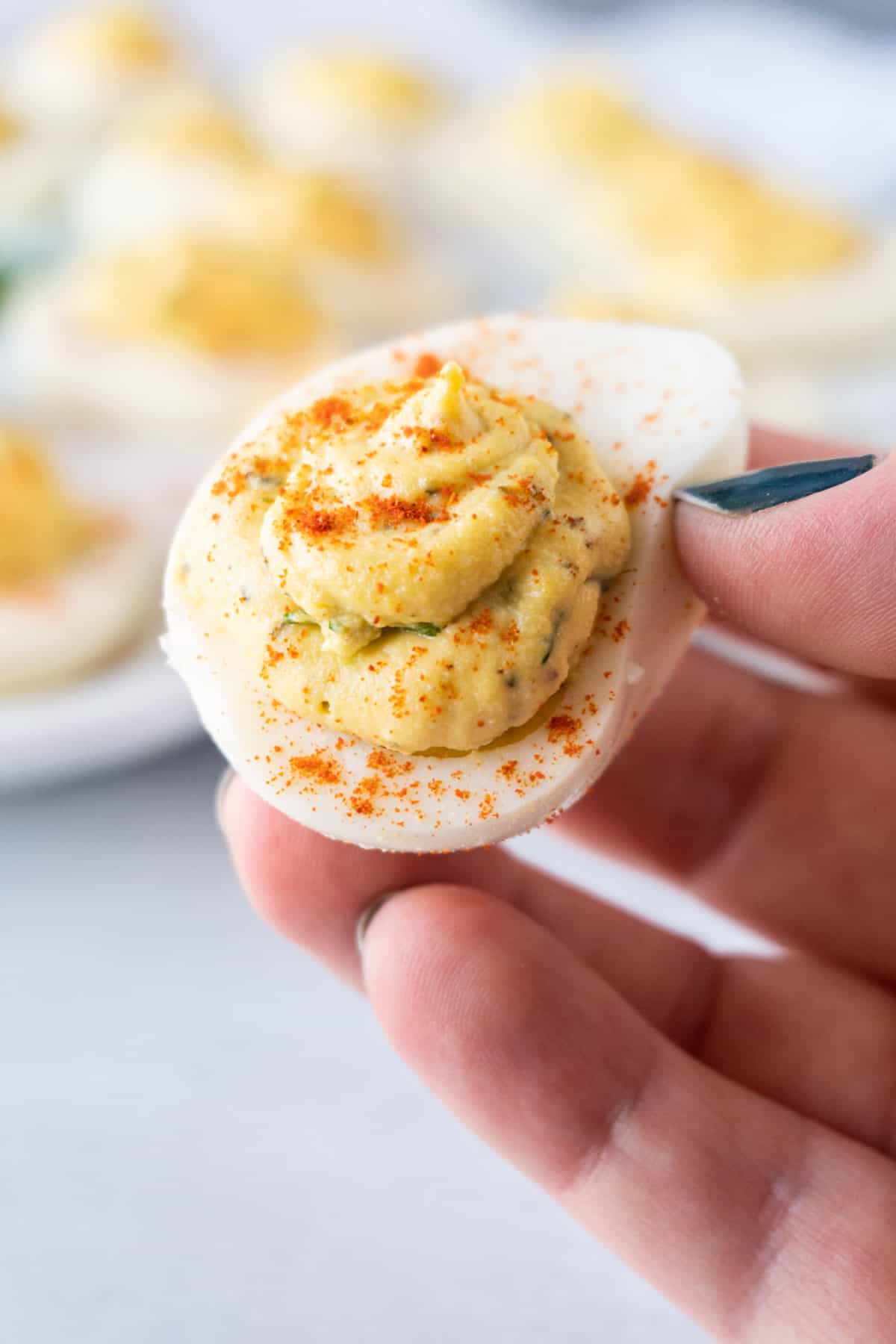 There are several common ways to make smoked deviled eggs.
1. The first is to hard boil the eggs in the smoker, then peel and make deviled eggs as normal. The problem with this is the smoke doesn't penetrate the egg shell as much as we all would like and it takes a long time (45 minutes!) to just cook the eggs.
2. The second is to hard boil the eggs in water, the peel, make the deviled eggs, and then stick them in the smoker. The problem with this is that although you will get a nice smokey flavor, you risk drying out the yolk portion of the deviled egg.
3. The third option is what I prefer. You hard boil the eggs like normal, peel them, then stick them in the smoker. The smoke will penetrate the egg nicely, then you make your deviled eggs with the smoked eggs. Yum.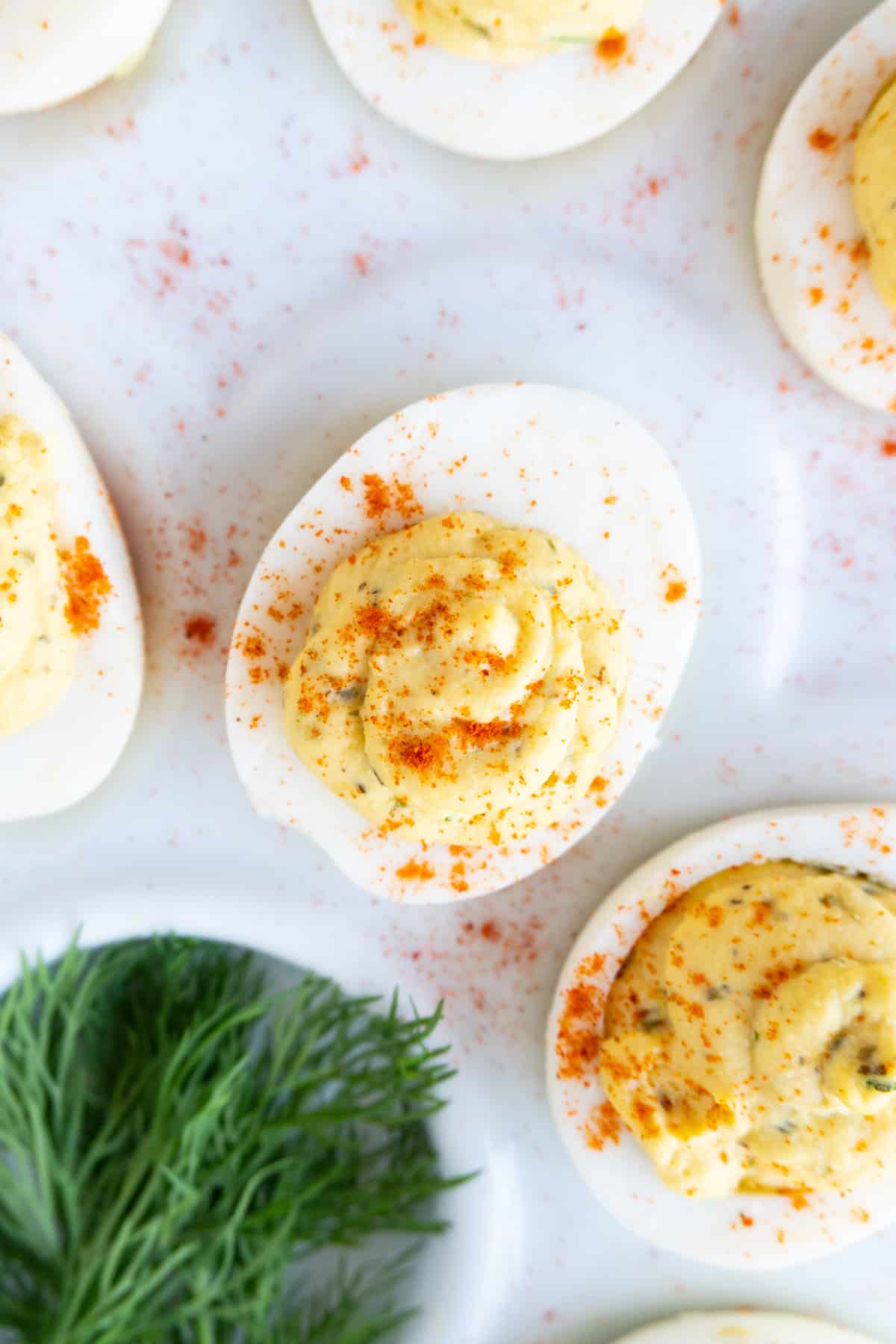 Ingredients for Smoked Deviled Eggs
12-14 eggs- I always make a few extra incase some don't peel well
Mayo
Mustard
Lemon Juice
Italian Seasoning
Garlic Powder
Dill- I love using fresh but you can use dried as well
Salt
Pepper
Garnish- paprika and chives
Tools need: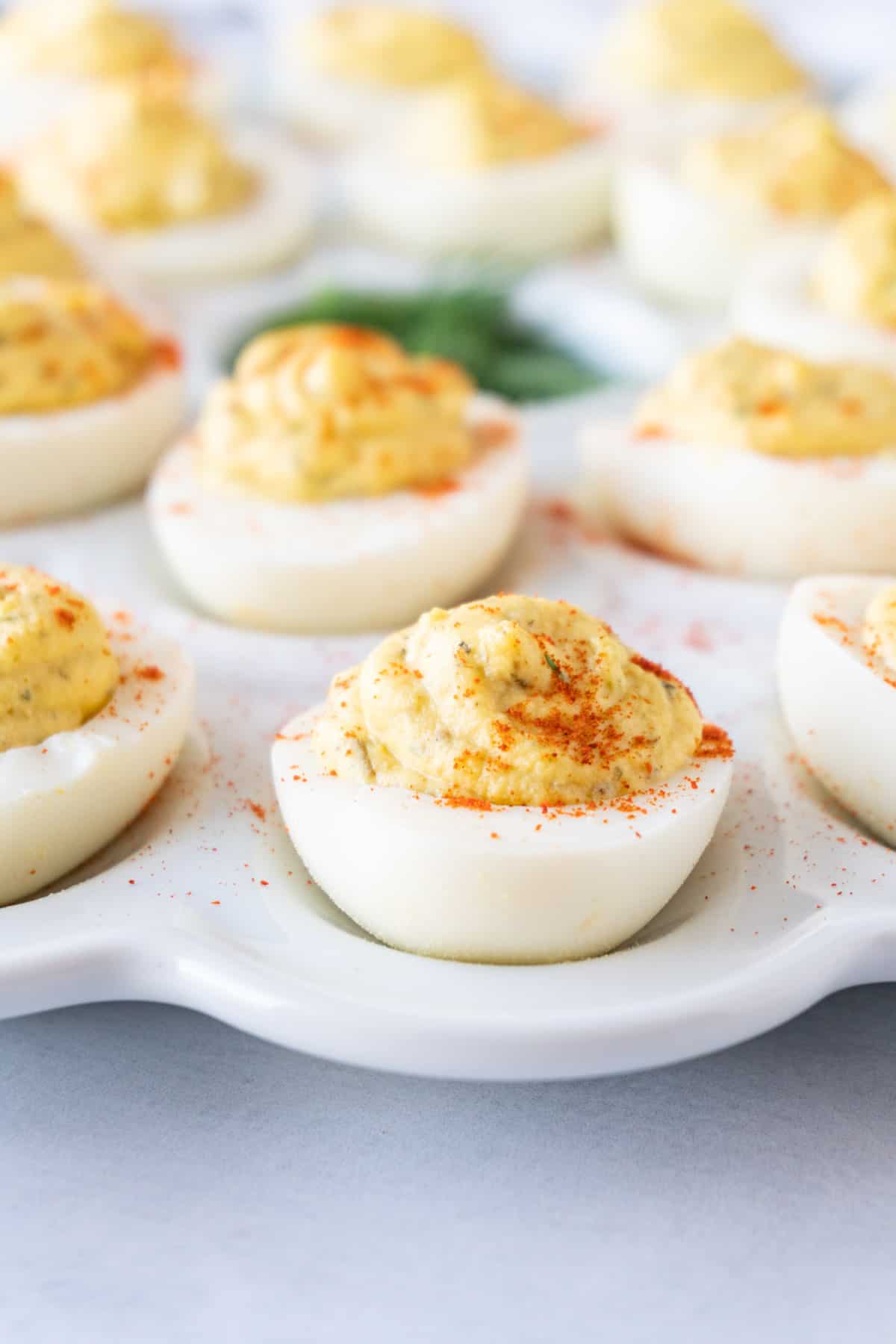 How to make smoked deviled eggs?
Start with hard boiling your eggs. You can boil them on the stove but if you have an instant, I recommend using that- it makes it sooooo easy!
Once boiled, allow to cool completely then peel them.
Grease your rack with cooking spray then heat your smoker to 185°F. If you need one the best smoker thermometers check out this one! (affiliate)
Once at temp, place your peeled eggs on the rack and smoke for 30 minutes, then remove and allow to cool.
Once cool, split each egg in half.
Mash the yolks with mustard, mayo, and spices. Allow to chill for 10-20 minutes to let the flavors get to know each other, then scoop into the whites.
This recipe is a variation of my classic deviled egg recipe that my mom taught me as a kid. It's my go too and favorite.
Smoking it is just taking it to the next level!
You can also add little pieces of bread or diced sweet pickles to the deviled eggs if that is more your style.
If you like this recipe, make sure to check out my smoked chicken recipe quarters, smoked chicken legs and even my turkey with herb butter recipe (this year I smoked it at it was even more amazing!).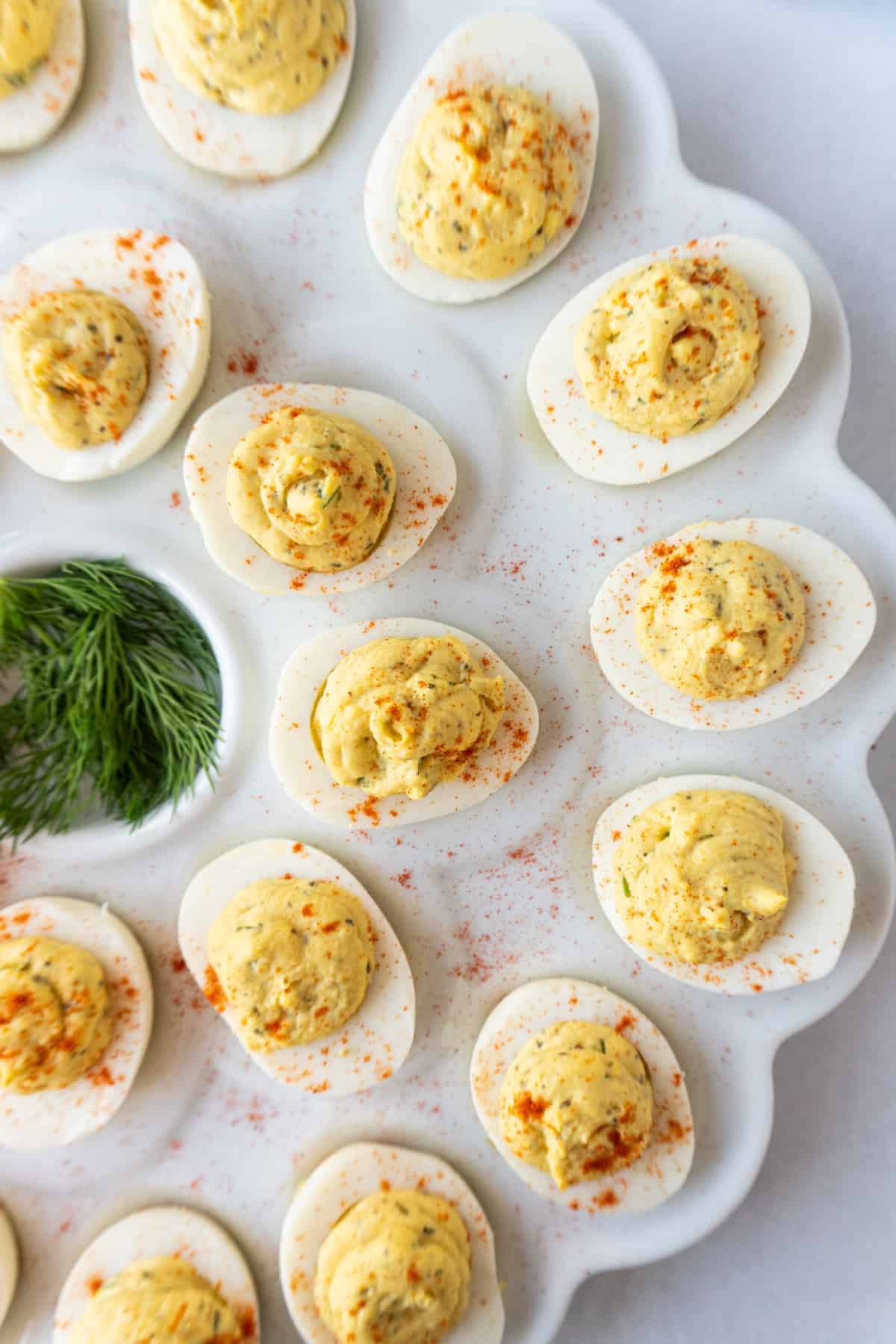 Tips for Getting Smoky Eggs
---
My smoker has a hard time staying at low temps and producing lots of smoke at those low temps.
To get the extra smoke produced I light the chips directly on fire and then let them smolder.
If the chips start burning up to quickly I will put them out and then the smoke from them will still do the trick.
Alternatively you can use a smoke tube. These are super cool for getting lots of smoke without even using a smoker! Just fill with pellets, light, and enjoy lots of smoke!
How to store deviled eggs?
Ideally deviled eggs are best eaten fresh but if you have leftovers, you can store them in a sealed container in the refrigerator for 3-5 days. The yolks may darken a little but that is just oxidation and is fine.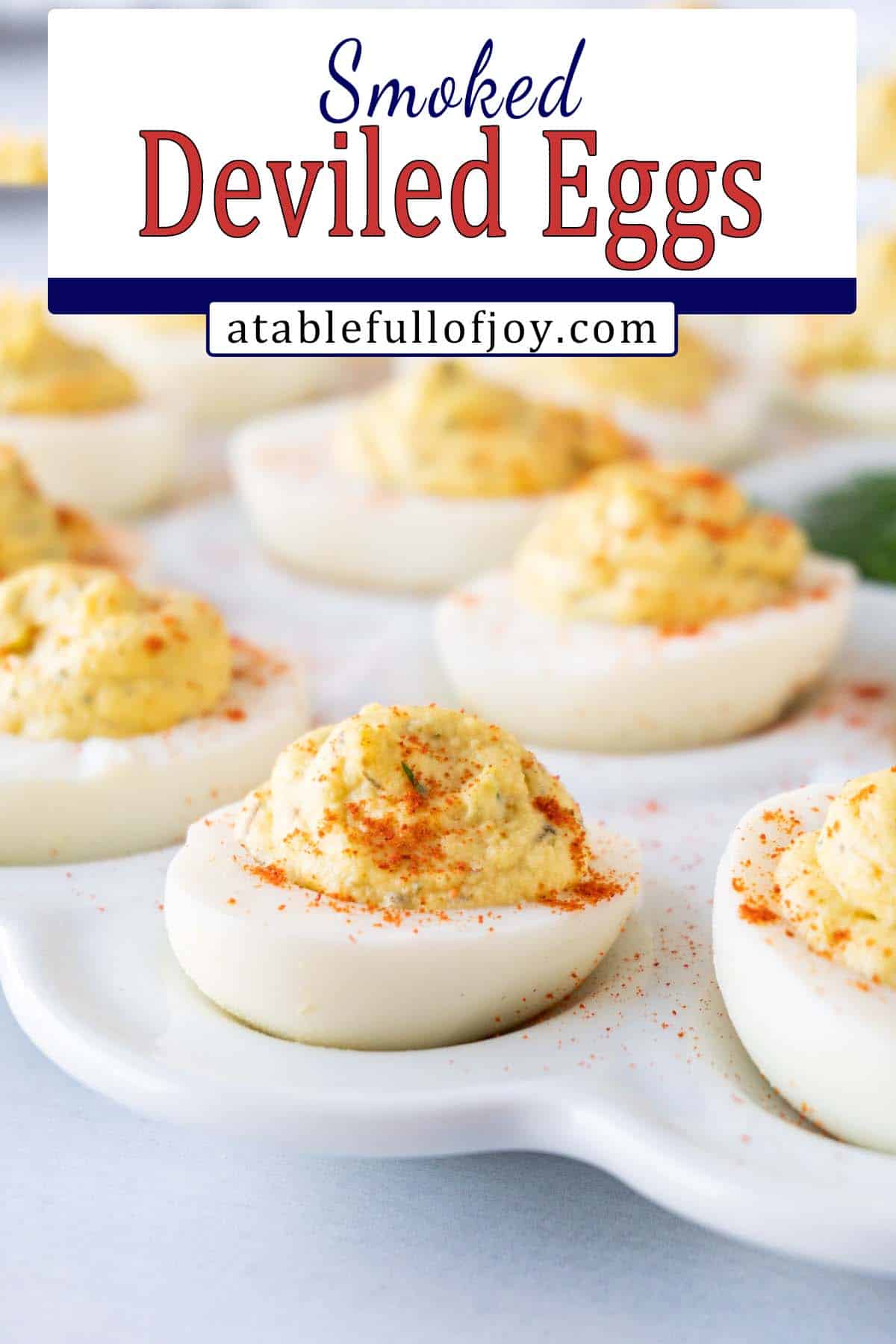 Watch how to make this recipe!
Want more? Subscribe to my newsletter and follow along on Facebook, Pinterest and Instagram for all of the latest updates.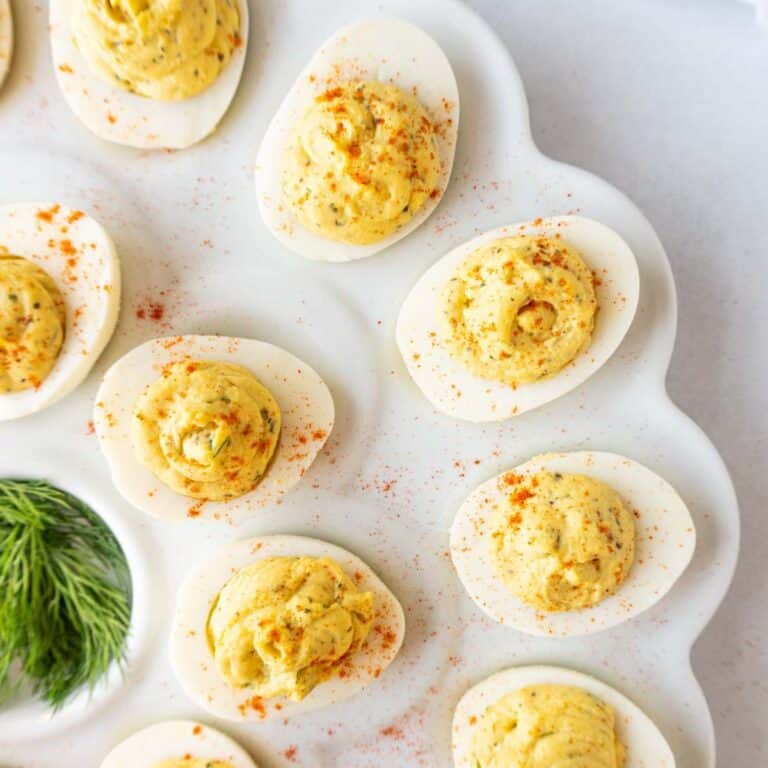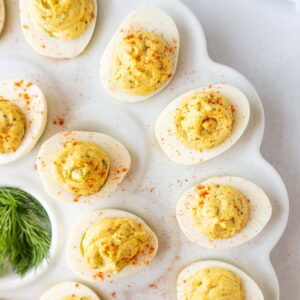 Smoked Deviled Eggs
Smoked Deviled Eggs are easy, full of smoky flavor, and extra delicious. These are the best deviled eggs and you will make them over and over again!
Ingredients
12

eggs*

½

cup

mayonnaise

2

tbs

mustard*

½

teaspoon

lemon juice

2

teaspoon

Italian seasoning

1

teaspoon

garlic powder

1

teaspoon

dill

Pinch

of salt

Pinch

of pepper

Paprika

for garnish
Instructions
Place eggs in a medium-large pot. Fill the pot with water so that the eggs are covered by about an inch of water. Bring water to a boil and let the eggs boil for 15 minutes. Remove from heat and place eggs in cold water adding ice if you have it. Let the eggs cool completely and then peel. See notes for instant pot instructions. *

Preheat smoker to 180°F with your favorite chips or pellets. Grease rack with pam.

Once eggs are completely cooled peel and place on greased racks in preheated smoker. Smoke for 30 minutes.

After 30 minutes remove from smoker and allow to cool. Then cut the eggs in half, separating the white from the yolk. In a medium sized bowl mash all the yolks.

Add mayonnaise, mustard and lemon juice to the mashed yolks and stir until creamy. If the mixture doesn't look fluffy enough you may need to add more mayo or mustard. Taste it and add more of what it needs. I usually start with adding a little more mayo if I need more volume.

½ cup mayonnaise,

2 tbs mustard*,

½ teaspoon lemon juice

Add the Italian seasoning, garlic powder, dill, salt and pepper to the yolk and stir until fully combined. Refrigerate mixture for at least 20 minutes.

2 teaspoon Italian seasoning,

1 teaspoon garlic powder,

1 teaspoon dill,

Pinch of salt,

Pinch of pepper

Put a dollop of the yolk mixture into each egg white and sprinkle with paprika and minced chives and enjoy!
Notes
Tips and Tricks
*I usually like to hard-boil 14 eggs, that way if some don't peel nicely, I don't have to use them.
*How to hard boil eggs in an instant pot?
If using an instant pot to hard boil the eggs, place the eggs on top of the trivet, add 1 cup of water, then set the instant pot to cook on High Pressure for 5 minutes, allow it to naturally release for 5 minutes, and then cool in an ice bath for 5 minutes. Allow eggs to cool completely before smoking them.
*You can use yellow or Dijon mustard- both work great!
*You can dollop the yolk mixture in with a spoon or use a piping bag and a fun tip to make them fancy.
Nutrition
Calories:
65
kcal
Carbohydrates:
1
g
Protein:
3
g
Fat:
6
g
Saturated Fat:
1
g
Polyunsaturated Fat:
3
g
Monounsaturated Fat:
2
g
Trans Fat:
1
g
Cholesterol:
84
mg
Sodium:
75
mg
Potassium:
37
mg
Fiber:
1
g
Sugar:
1
g
Vitamin A:
126
IU
Vitamin C:
1
mg
Calcium:
16
mg
Iron:
1
mg
More Smoked Recipes
Reader Interactions