This fun green jello is easy to make and great for any party! Especially those fireside gatherings you and your Hearthstone friends are going to!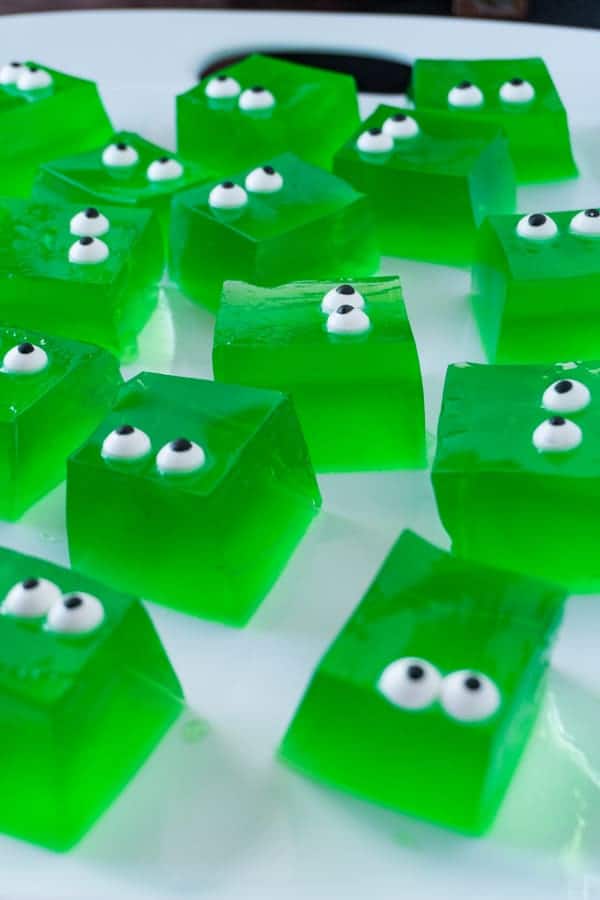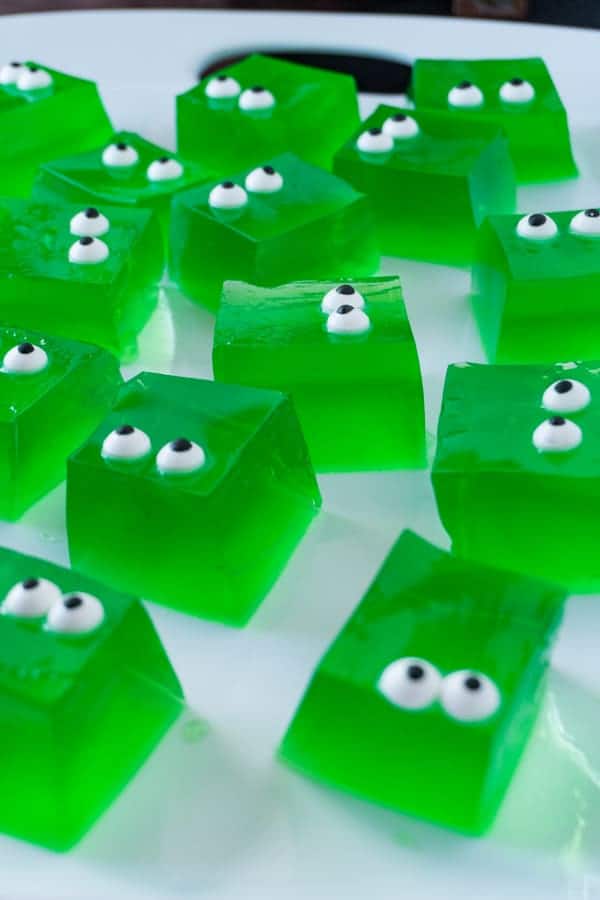 This green jello recipe is inspired by the awesome Hearthstone card Carnivorous Cube! This great card is from the Kobolds and Catacombs Expansion!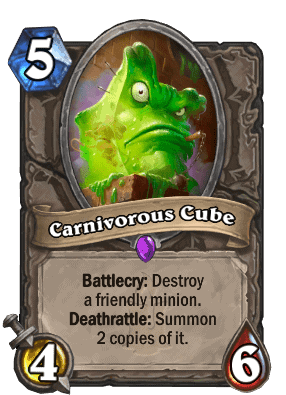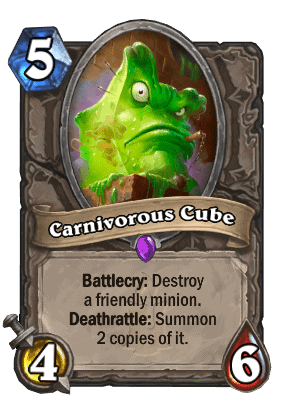 If you don't know what Hearthstone is- read all about it here! This recipe is part of my full Hearthstone Menu! Other tasty menu items include: Cone of Cold Ice Cream, Hot Sherazin Seed Dip (Spinach Artichoke Dip), Shadowdancer Sliders, Acidic Ooze Limeade, and Easy Innkeeper's Bread!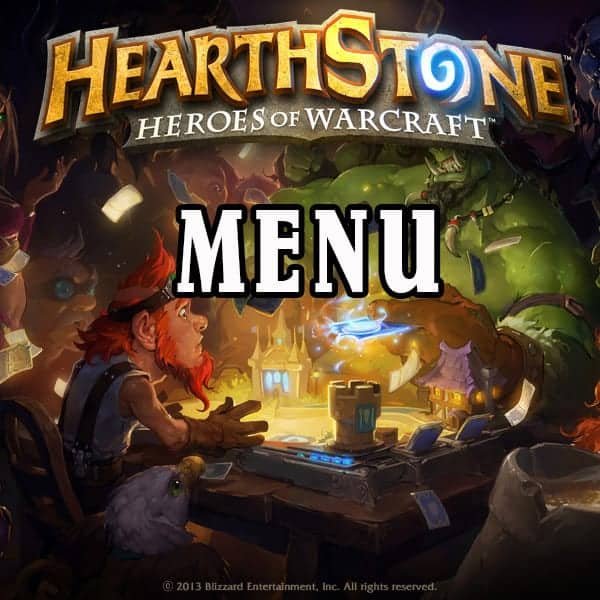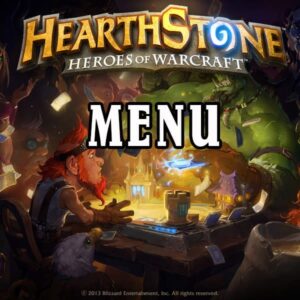 This green jello is tasty and super fun!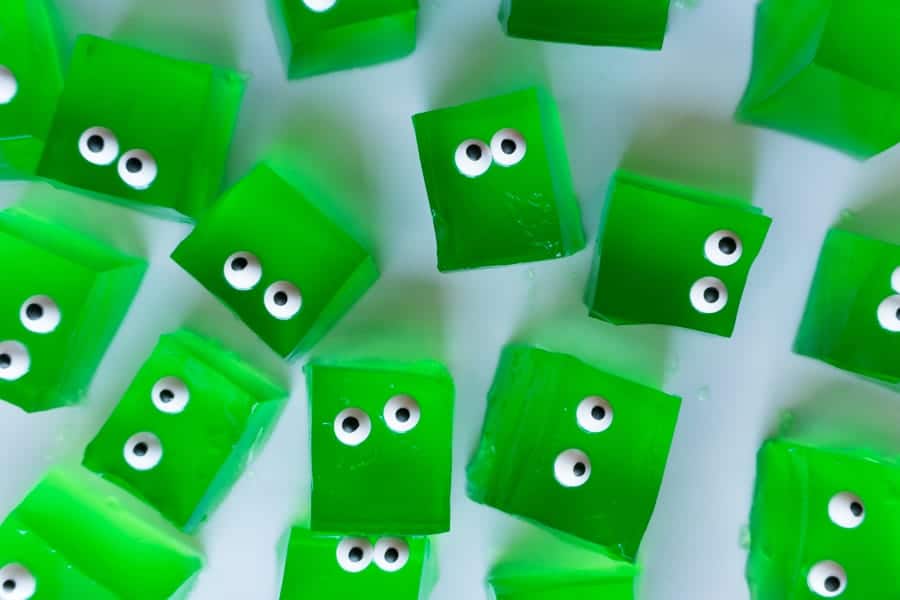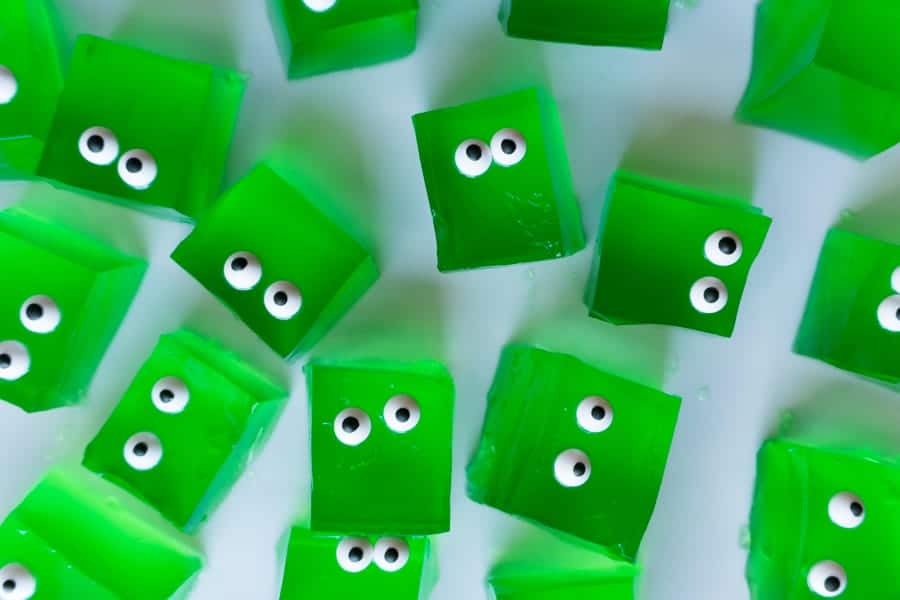 I decided to go with two green jello flavors for this recipe. The color combination of Green Apple Jello and Lime Jello worked perfect to make it the color of the Carnivorous Cube! And just so you know the eyes are just sitting on the jello. They slide off pretty easily. I did find them in the cake decorating isle at my local craft store- so they are edible and safe for food.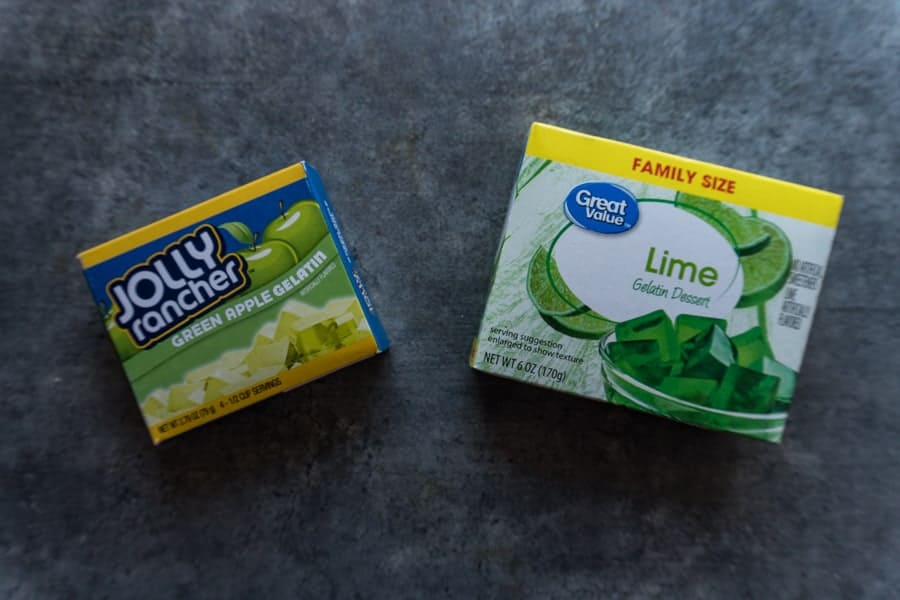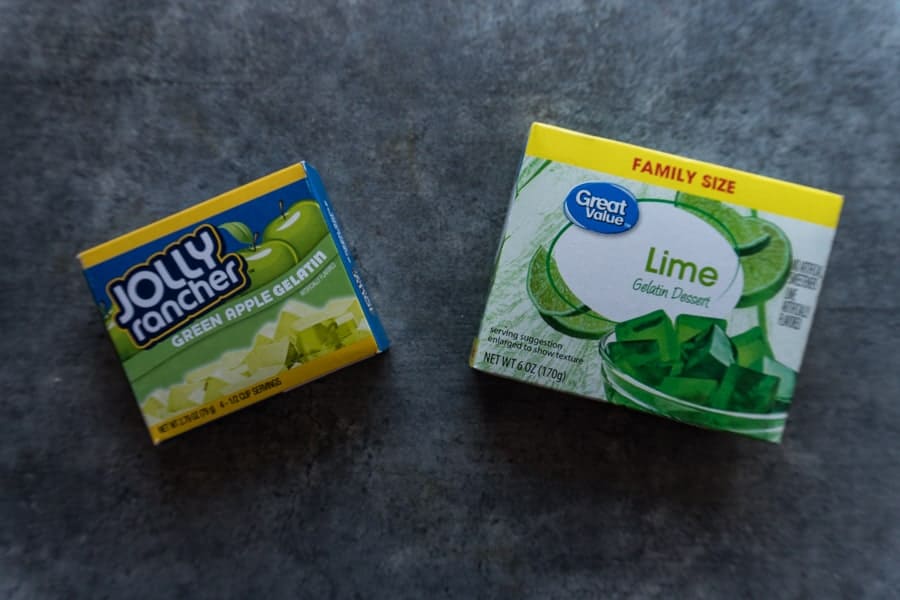 How to make cubed green jello:
Combine the gelatin powder with hot water and stir until dissolved.
Add in the cold water and then pour into square dish/pan.
Refrigerate for 5+ hours.
Slide a knife around the edges and then flip the jello onto a cutting board.
Then slice into cubes and add eyes!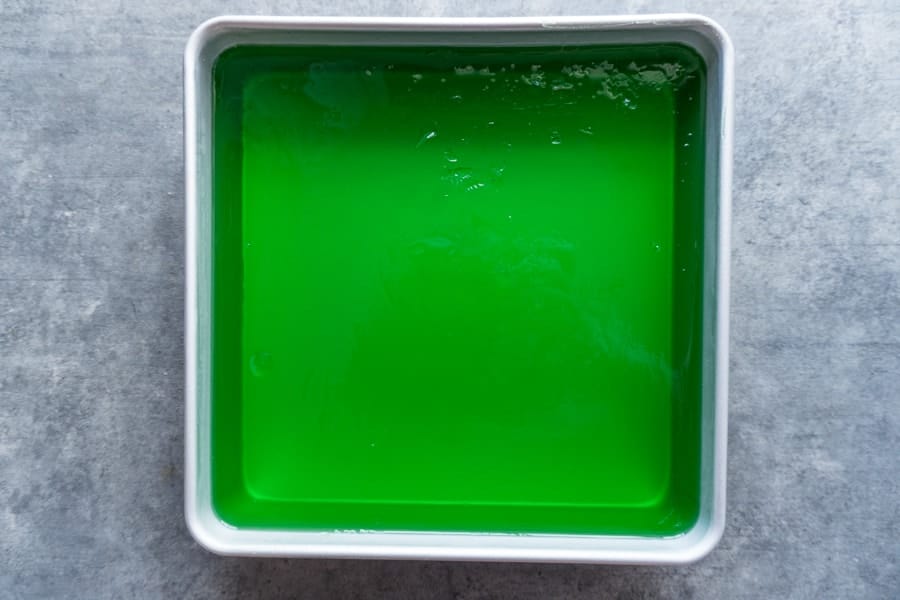 Carnivorous Cube Green Jello!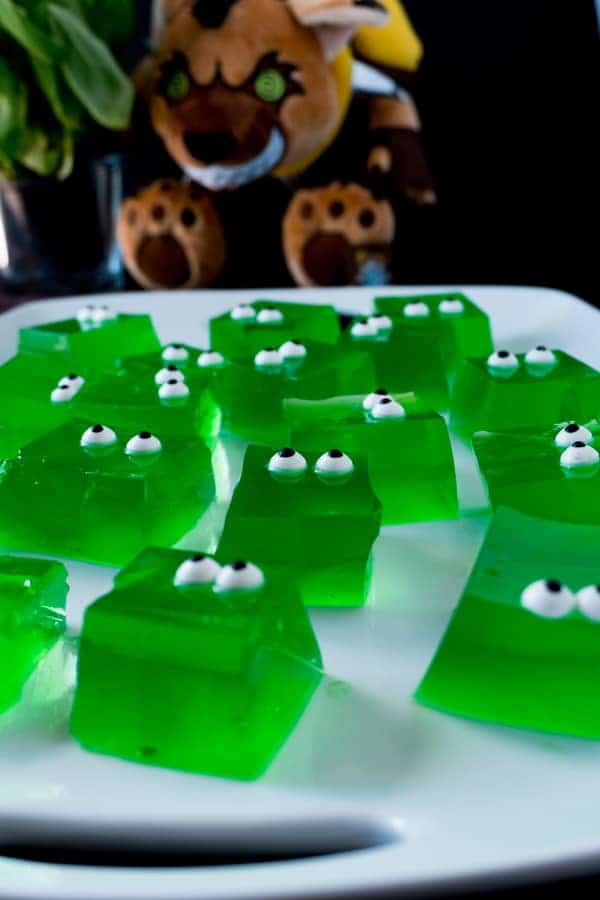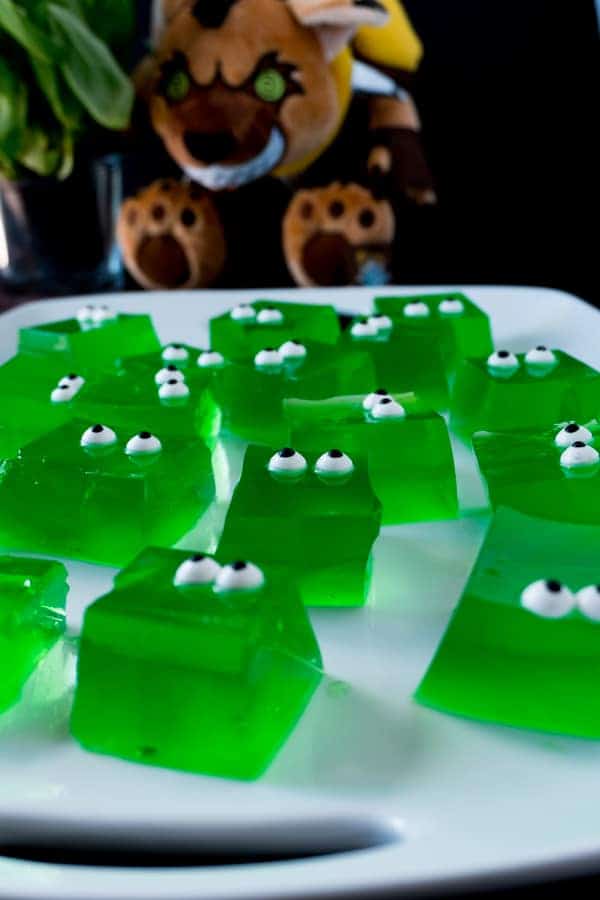 Green Jello Flavors are Lime
and Green Apple Combined!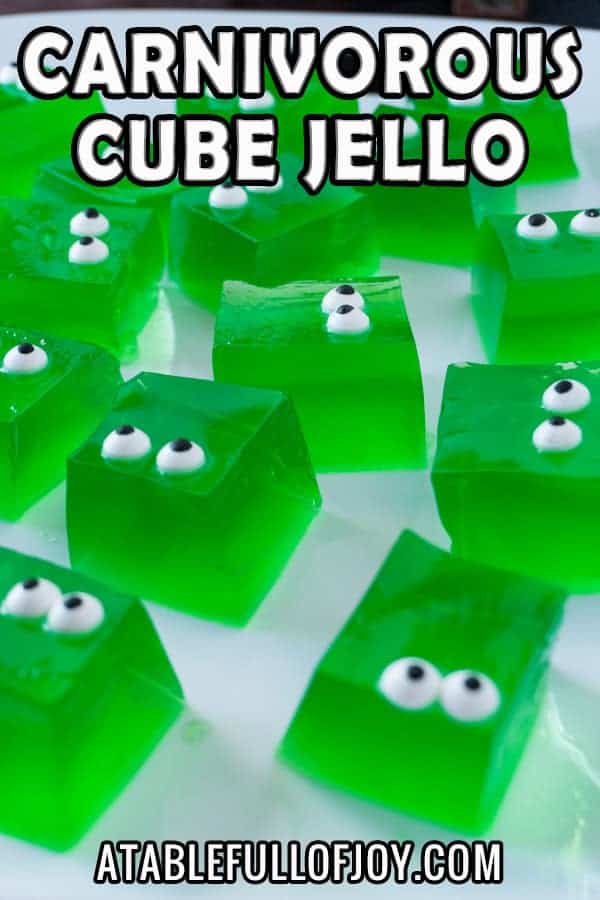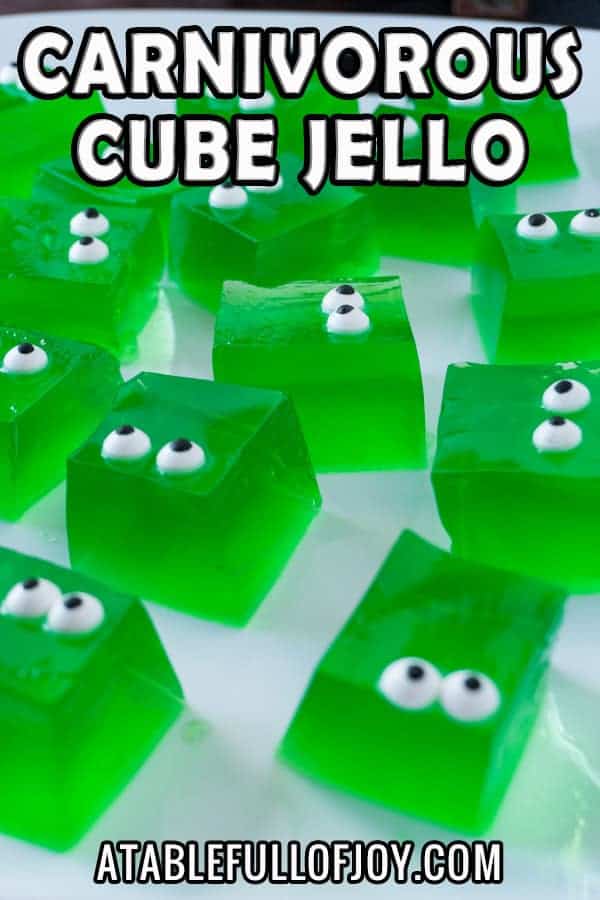 If you like this recipe make sure to check out my full Hearthstone Menu! You can find other great dishes like Card Pack Cakes, Dragon Fire Potion, and Stuffed Evolving Spores!
---
BE SURE TO FOLLOW ME ON FACEBOOK, INSTAGRAM, PINTEREST & TWITTER!
---
Want more? Subscribe to my newsletter and follow along on Facebook, Pinterest and Instagram for all of the latest updates.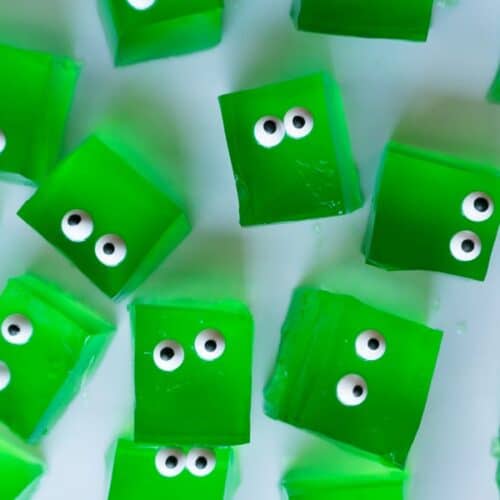 Carnivorous Cube Jello - Green Jello
This green jello is easy to make, tasty, and super fun! Sliced into cubes and added eyes make this a great party treat!
Ingredients
1

box

2.79 oz Jolly Rancher Green Apple Gelatin

1

box

6 oz Lime Gelatin

3

cups

hot water

3

cups

cold

1 8

x8 Square pan*

Candy Eyes*

optional
Instructions
In a large bowl add both packets of gelatin mixture and 3 cups of hot water.

Stir for several minutes until all the gelatin powder is dissolved.

Stir in all the cold water.

Pour in to square dish, cover with plastic wrap, and refrigerate for at least 5 hours.

After the gelatin has set up (after 5+ hours) remove from the fridge and run a thin spatula or butter knife along the edge of the dish, separating the jello from sides.

Place a large cutting board over the jello dish and then carefully flip the entire thing over, allowing the jello to come out of the pan.

Slice into cubes, add the eyes and enjoy!

If you are making these for a party you can make the jello and cut the cubes out ahead of time but don't place the eyes on until you are ready to serve. The candy eyes will dissolve over time but they have proved to be the slowest dissolving eye I could come up with (as opposed to using frosting or an edible gel for an eye).
Notes
*You can use a dish to put the jello in but the cubes won't be as thick. The smaller the dish you put the jello in, the thicker the cubes will be. *Use edible eyes that are safe for food- found in the cake decorating isle at your grocery store or craft store!
Nutrition
Calories:
48
kcal
Carbohydrates:
12
g
Protein:
1
g
Fat:
1
g
Saturated Fat:
1
g
Polyunsaturated Fat:
1
g
Monounsaturated Fat:
1
g
Sodium:
90
mg
Potassium:
85
mg
Fiber:
3
g
Sugar:
3
g
Vitamin A:
375
IU
Calcium:
8
mg
Iron:
4
mg
Hearthstone Card Image from Gamepedia
©2014 Blizzard Entertainment, Inc. All rights reserved. Hearthstone is a registered trademark of Blizzard Entertainment, Inc. in the U.S. and/or other countries.
Blizzard Entertainment is a trademark or registered trademark of Blizzard Entertainment, Inc. in the U.S. and/or other countries. All rights reserved.
Thank you Hearthstone for the some of the fun items given to me for my pictures!
Reader Interactions