Homemade Almond Milk, easy to make, deliciously smooth! Enjoy this homemade almond milk plain, add it to a smoothie or make it into delicious chocolate "milk."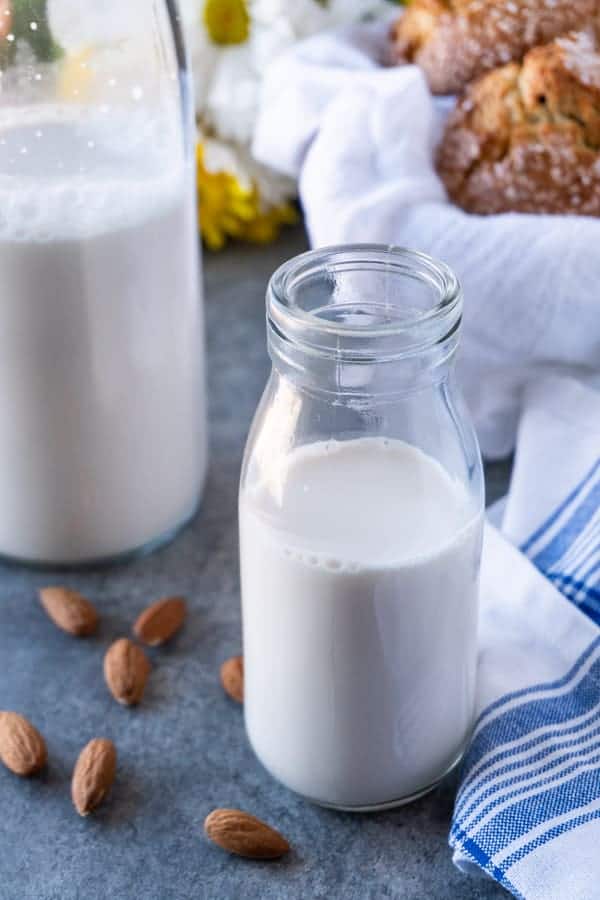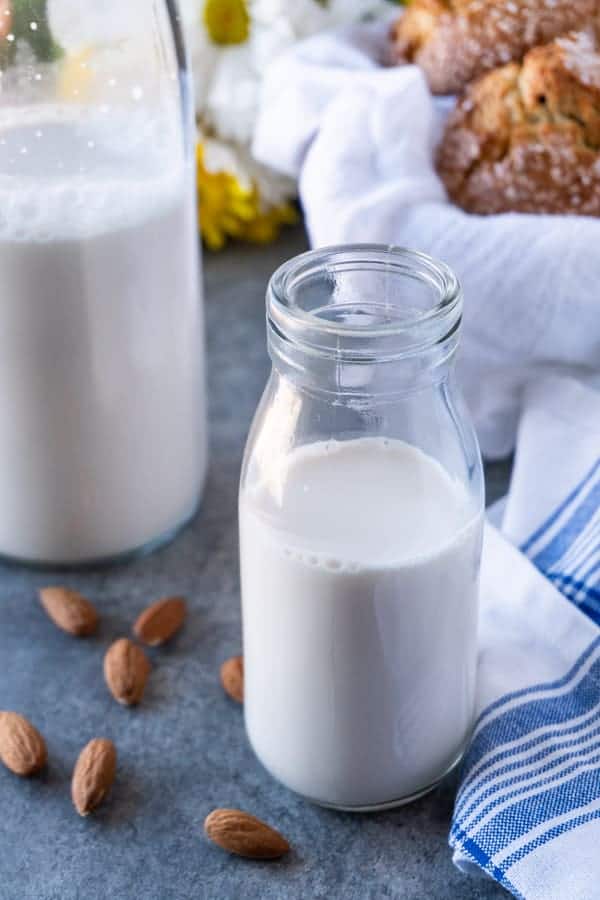 Homemade Almond Milk
Lately I've realized that milk doesn't always sit right with me. And although I will always love ice cream, cheese, and buttercream frosting- I thought it would be fun to try making my own almond milk!
This almond milk recipe is so simple and the end result is smooth and delicious!
Almond milk- and any nut milk for that matter (yum cashew milk!) is so easy to make- the hardest part is waiting for the nuts to soak!

How to make homemade almond milk:
Soak almonds overnight in water.
You'll notice after they've soaked overnight that they will look cloudy. Rinse them off and place them in a high speed blender.
Add filtered water to the almonds and then blend on high for about 30 seconds- or until the liquid looks smooth.
Strain the almond milk through a cheesecloth or a nut milk bag.
Refrigerate and enjoy!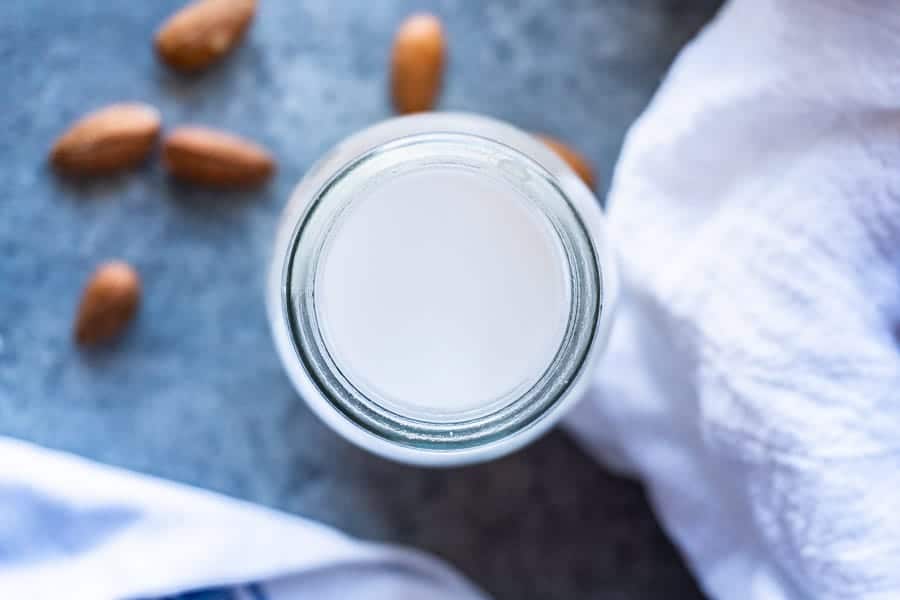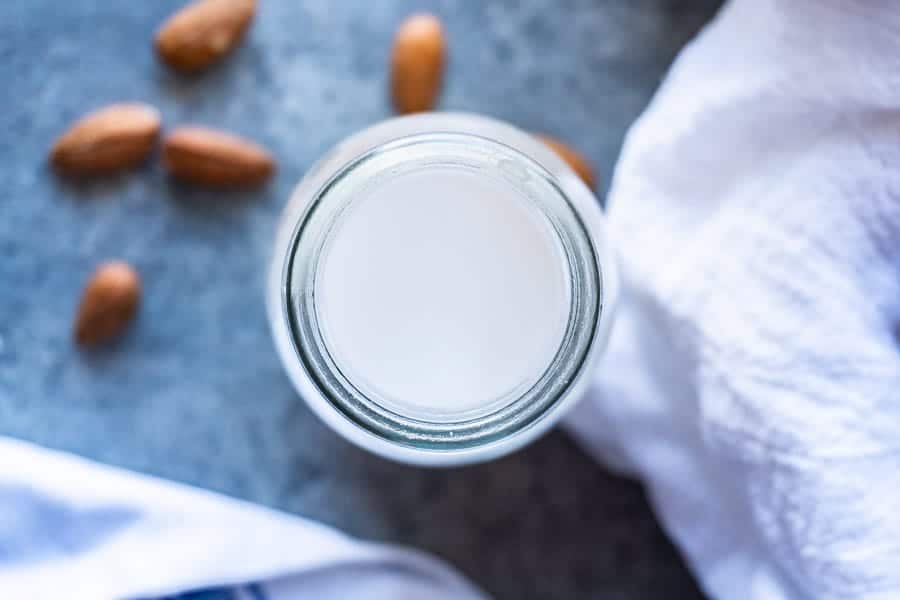 How long does homemade almond milk stay good for?
Consume within 3 day of making- which won't be hard because it's so good!
Can you freeze almond milk?
Yes! Simply pour into an ice cube tray, freeze and then pop them out into a ziploc baggie and keep them in the freezer. Use for iced coffee or for smoothies!
Is it normal for almond milk to separate?
Yep! I always give it a little shake or stir it when I take it out of the fridge to use.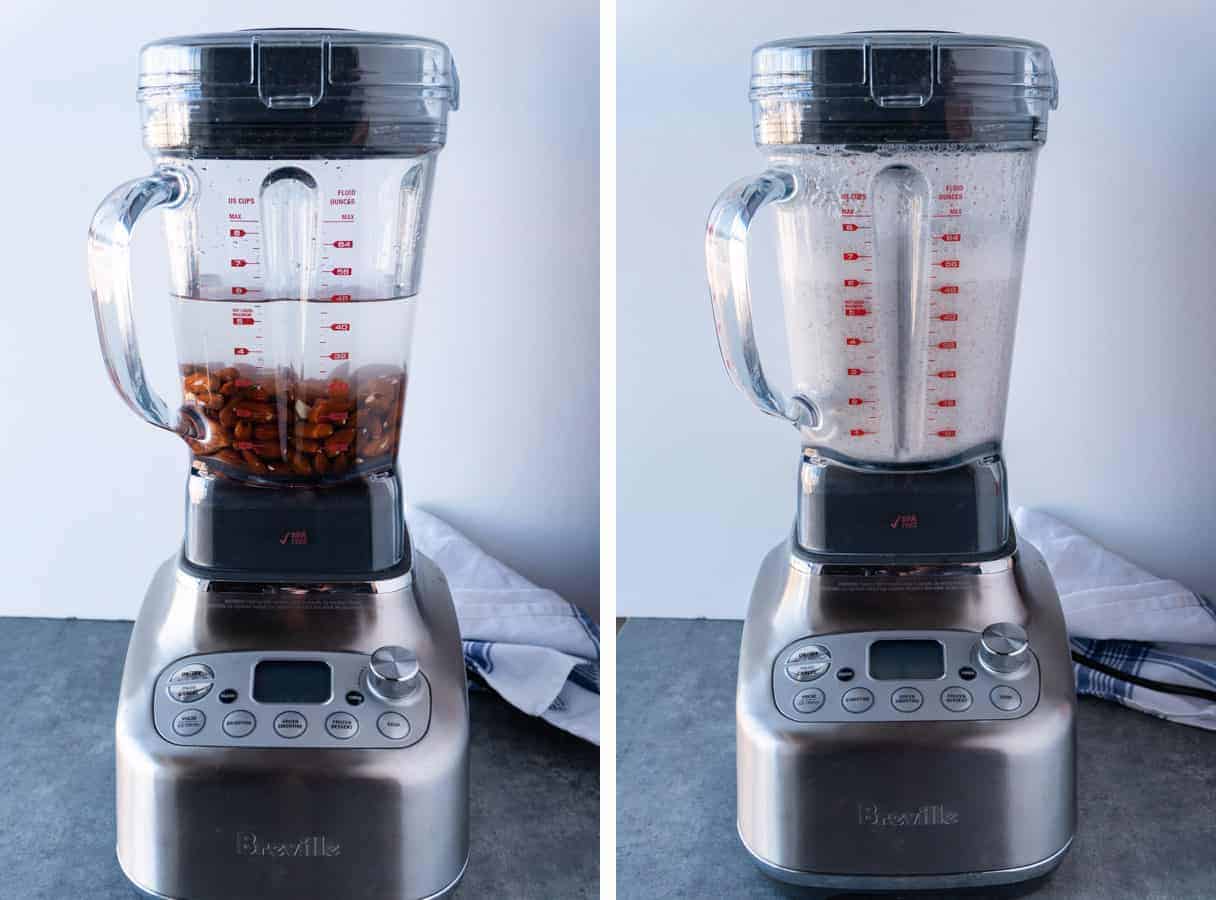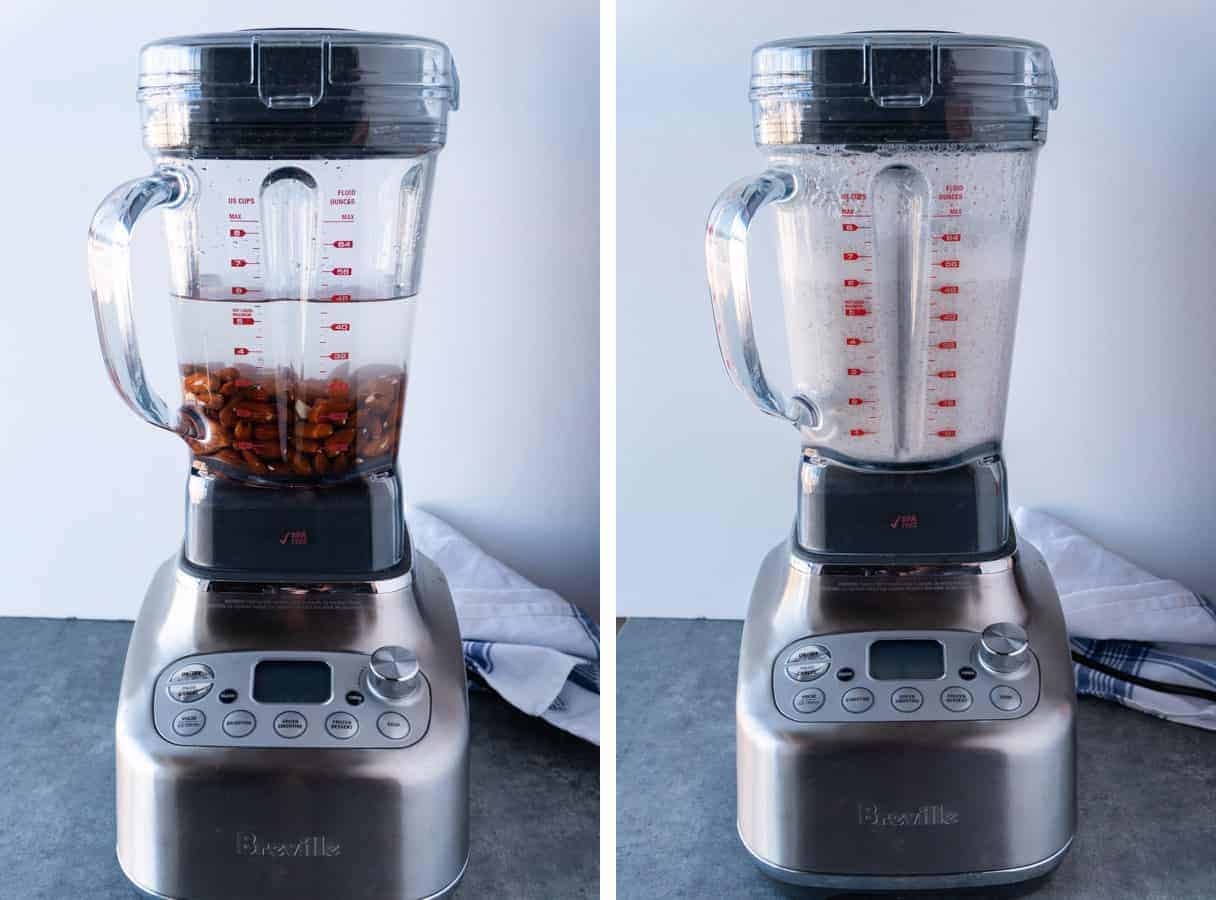 What kind of blender do I recommend?
I love using my Breville SuperQ Blender- it's amazing and makes the smoothest smoothies, delicious soups, and even cookies. Not to mention it makes almond milk in no time.
Other high powered blenders will work too.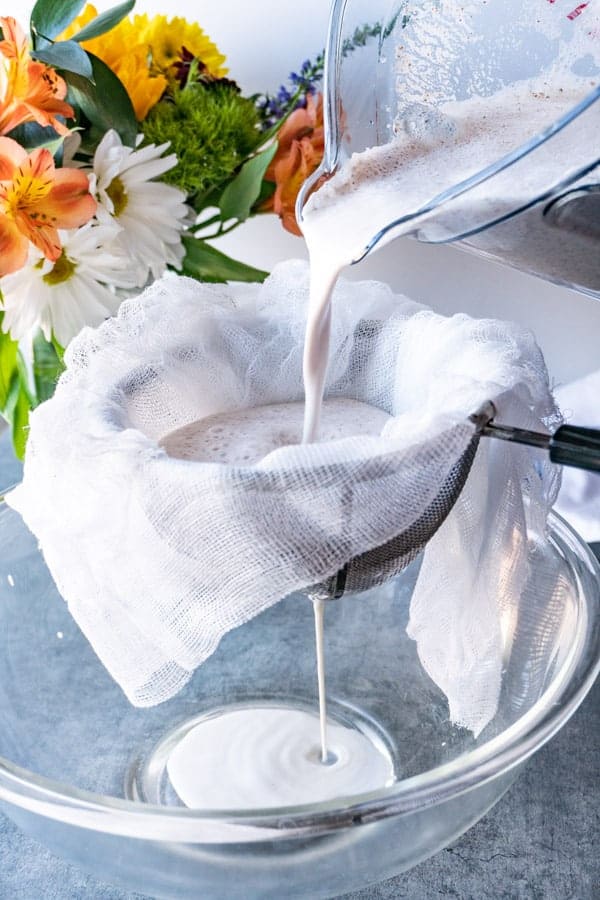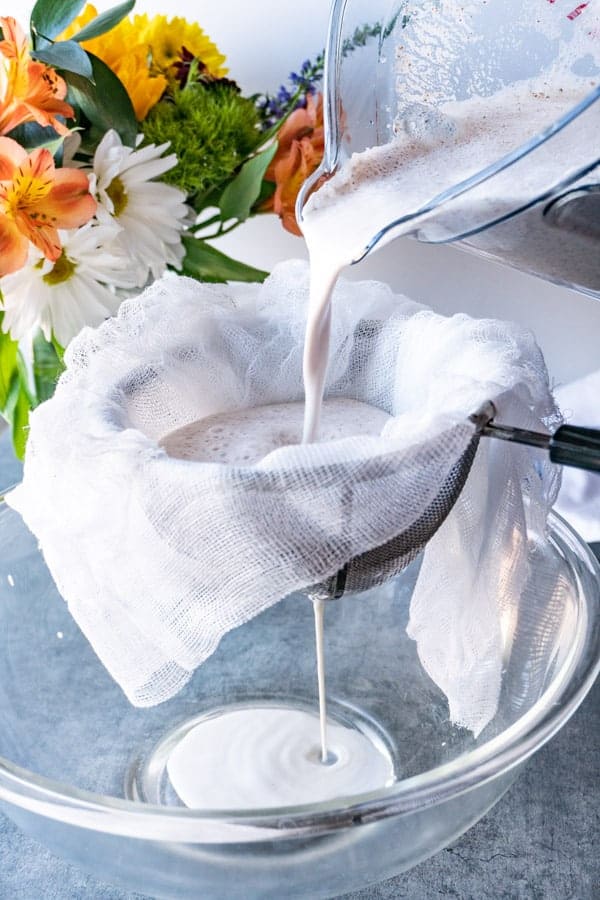 Help!  My almond milk is taking forever to strain!
Just be patient and do it in small batches- that's what I do!
Can I sweeten almond milk?
Yes! You can add a little vanilla, your sweetener of choice and a pinch of salt befre you blend everything.
If you like this recipe, make sure to checkout my delicious dairy free orange chocolate truffles (I use cashews for the cream!), my delicious zucchini roll ups, and my simple homemade mayo recipe!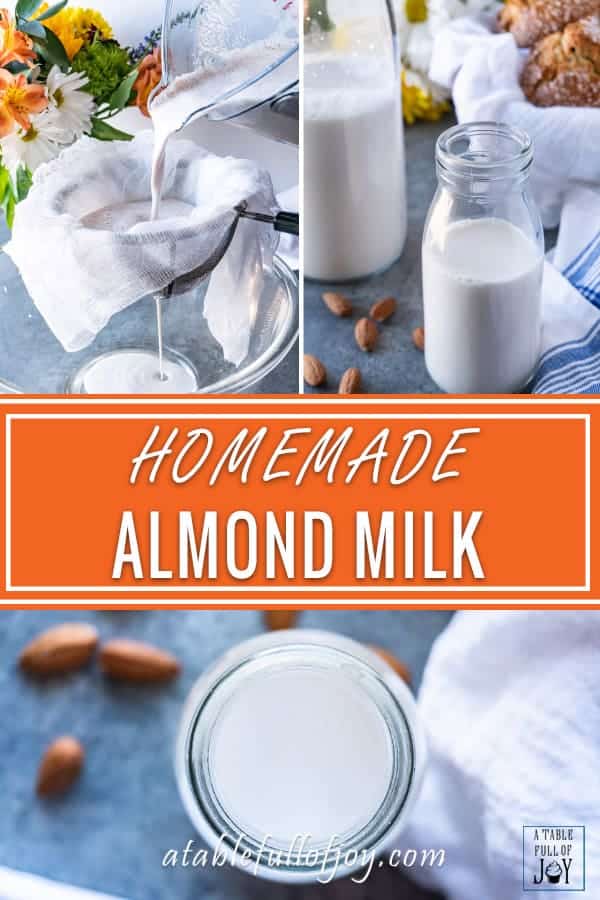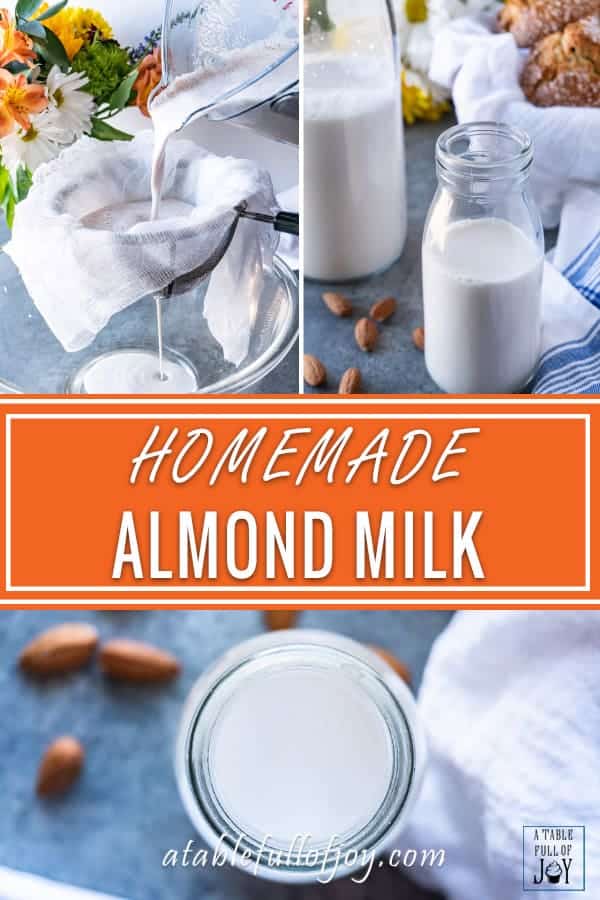 ---
BE SURE TO FOLLOW ME ON FACEBOOK, INSTAGRAM, PINTEREST, TWITTER & SIGN UP FOR MY EMAIL  NEWSLETTER!
---
Want more? Subscribe to my newsletter and follow along on Facebook, Pinterest and Instagram for all of the latest updates.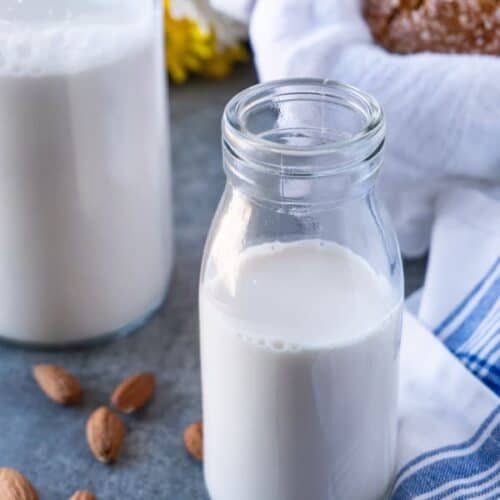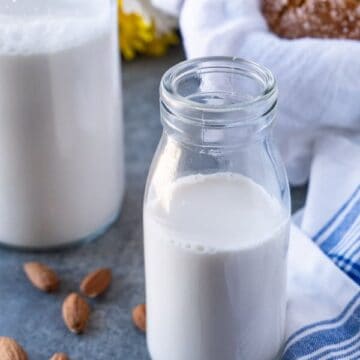 Homemade Almond Milk
Homemade Almond Milk, easy to make, deliciously smooth! Enjoy this homemade almond milk plain, add it to a smoothie or make it into delicious chocolate "milk."
Ingredients
2

Cups

Almonds

4

Cups

Filtered Water
Additional Items
Cheesecloth or Nut Milk Bag

Instructions
Instructions
Place almonds in a glass bowl or mason jar. Pour water over them until they are covered. The soaking water can be normal tap water or filtered your choice. (2 cups almonds).

Allow almonds to soak overnight or at least 4 hours, but overnight is preferred!

Once they are done soaking rinse the almond off then place in a high powered blender and add your filtered water (4 cups filtered water).

Blend on high for 30 seconds to 1 minute or until the almond milk looks smooth.

Using cheesecloth lined sieve or a nut milk bag strain the almond milk.

Store the almond milk in an air-tight container, in the refrigerator, for up to 3 days.

Enjoy!
Nutrition
Calories:
103
kcal
Carbohydrates:
4
g
Protein:
4
g
Fat:
9
g
Saturated Fat:
1
g
Sodium:
13
mg
Potassium:
126
mg
Fiber:
2
g
Sugar:
1
g
Calcium:
55
mg
Iron:
0.7
mg
I am an affiliate for Breville which means if you purchase any of their products using my links, I will earn a small percentage of the sale at no extra cost to you. Thanks!
Reader Interactions