These zucchini bites are a favorite at my house.  They are so easy to make and they taste incredible!
You can make them as a side dish or as a main course! Either way you need to make these zucchini bites ASAP!
Zucchini Bites
This zucchini recipe is a healthy low carb dinner idea inspired by one of my favorite restaurants. A few months ago my husband and I were in the DC area and went to one of our favorite restaurants called Burtons. It has healthy, delicious food that we always enjoy.
The last time we were there, we ordered their grilled zucchini bites and oh my goodness, a new found favorite food was discovered! I knew immediately I had to figure out how to make something similar back home. Well, here it is, and this super easy recipe does not disappoint!
Seriously, who can argue with four ingredients and a total cook and prep time of 20 minutes?! For something as delicious as this, making this is a no brainer!
How to make zucchini bites:
slice your zucchini into thin flat strips
add herb cheese and roll up
top with your favorite tomato sauce
bake for 15-20 minutes
My zucchini doesn't stay rolled up. Why?
If you slice your zucchini to thick it won't stay rolled. If that happens I recommend laying the slices flat, and making a lasagna type dish instead (with the zucchini  used instead of noodles!).
Can make zucchini lasagna instead?
This can easily be made into zucchini lasagna as well! Instead of rolling up the zucchini strips, lay them flat, spread the cheese over them and then put another layer of zucchini on top.
Repeat until out of ingredients! Top with your tomato sauce and parmesan, then bake.
Super simple and still delicious!
Why do you call this grilled stuffed zucchini? There is no grilling involved.
If I remember correctly that is what the restaurant called it and they must've grilled each zucchini slice before assembling the dish. You can do that too but it will make the dish take a little longer to make!
I've found they don't need the extra step of being grilled to still taste amazing!
We never have leftovers when we make this. I guess I just need to make way more!
Anyways, give them a try and let me know how you like them!
If you enjoyed this recipe check out my easy pasta salad, zucchini hash browns, my favorite green smoothie and our favorite chocolate chip cookies!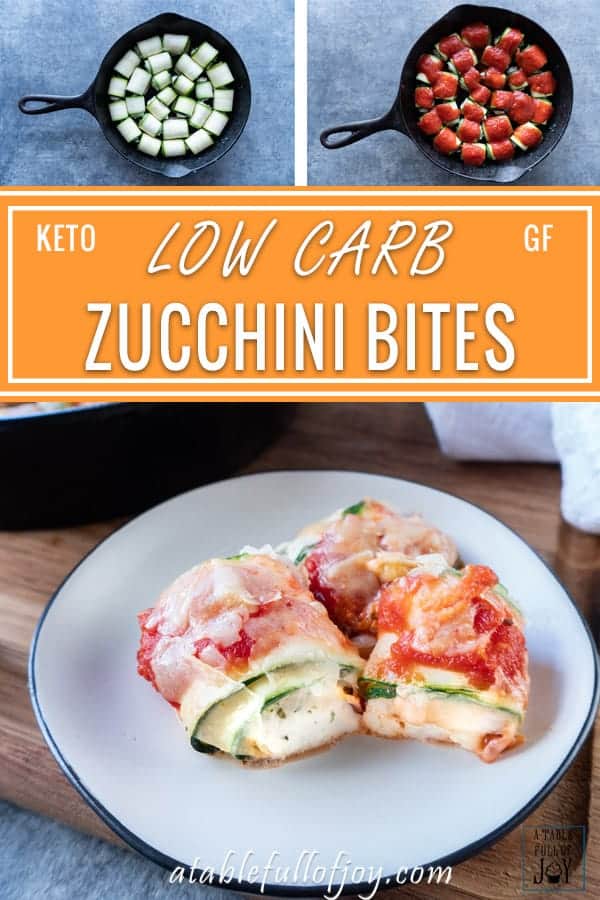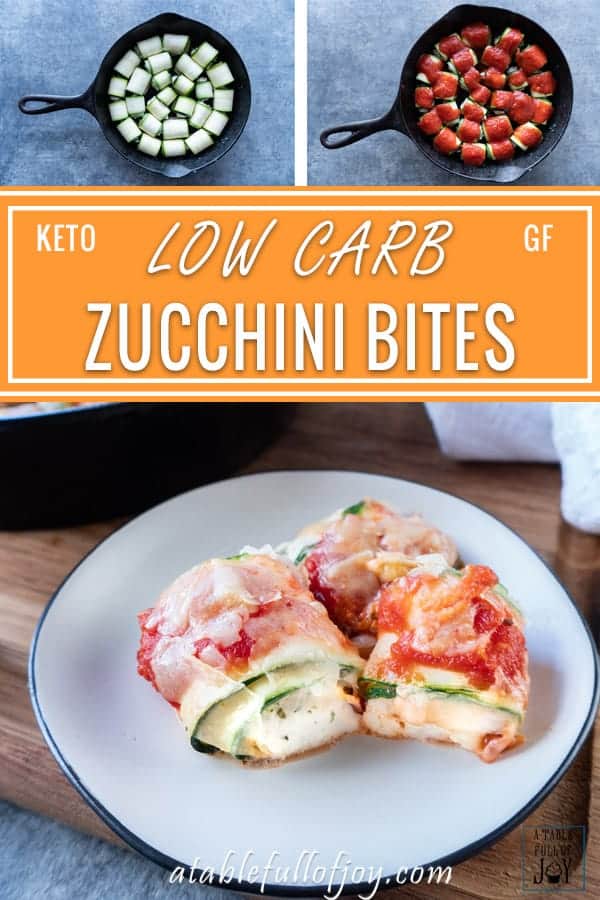 ---
BE SURE TO FOLLOW ME ON FACEBOOK, INSTAGRAM, PINTEREST, TWITTER & SIGN UP FOR MY EMAIL  NEWSLETTER!
---
Want more? Subscribe to my newsletter and follow along on Facebook, Pinterest and Instagram for all of the latest updates.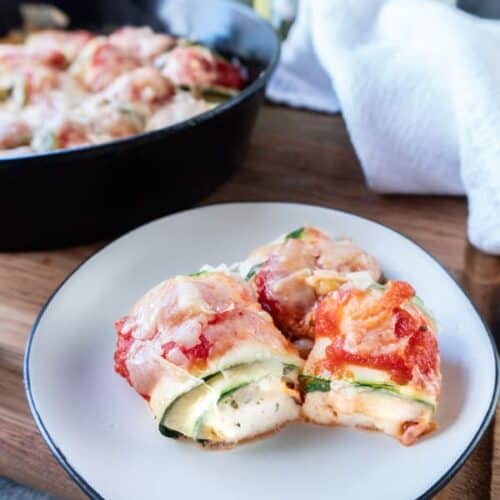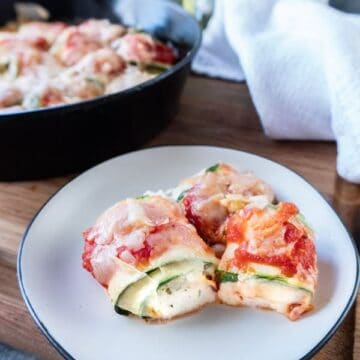 Grilled Stuffed Zucchini Bites
These stuffed zucchini bites are a fast easy healthy dinner! No pasta and they taste delicious There won't be any leftovers!
Ingredients
1

large zucchini sliced in long strips

⅛ inch thick

6.5

oz

herb cheese*

1

cup

spaghetti sauce

1

cup

parmesan cheese
Instructions
Preheat oven to 375˚F

Slice zucchini into thin strips (think 1/16th in). I used a mandolin to do this. If you cut it by hand the strips might not be as thin and you might need more zucchini, but it will still be delicious!

Layout the zucchini stips and place a spoonful of cheese on one end. Then roll up and place in your baking dish.

After all the zucchini slices have been rolled, top each one with a generous spoonful of spaghetti sauce.

Sprinkle parmesan cheese over entire dish.

Bake for 15-20* minutes

Enjoy!
Notes
Notes: *I used the Alouette Garlic and Herb Soft Spreadable Cheese for this recipe. It was located near the deli section of my grocery store where all the fancy cheese are kept. *My husband and I like these a little crunchy so I bake them for only 15 minutes. If you want a softer more noodle type texture cook longer. Depending on how thick your slices are you will need to adjust cook time accordingly.
Nutrition
Calories:
242
kcal
Carbohydrates:
5
g
Protein:
18
g
Fat:
16
g
Saturated Fat:
10
g
Cholesterol:
38
mg
Sodium:
894
mg
Potassium:
365
mg
Fiber:
1
g
Sugar:
4
g
Vitamin A:
1035
IU
Vitamin C:
13
mg
Calcium:
376
mg
Iron:
1.9
mg
Reader Interactions