*Disclaimer: I was given an advanced copy of the Sugar High cookbook for free so that I could try a few recipes and share them with you! Get your copy of Sweet & Savory Baking in Your High-Altitude Kitchen here!
I've been wanting to come up with a great hamburger bun recipe for a while but now I don't have to! This recipe for poppy seed burger buns from the Sugar High cookbook is everything I want in a hamburger bun!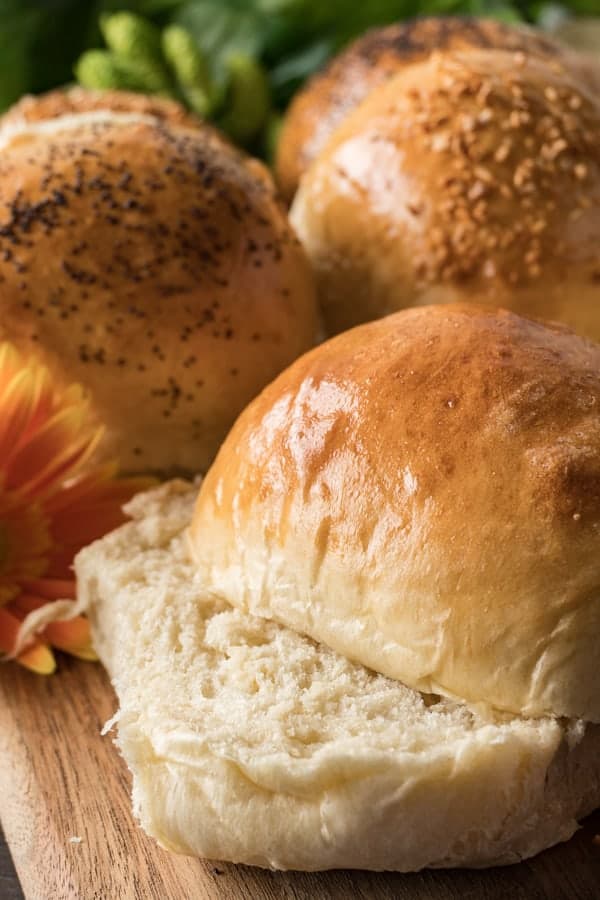 This cookbook is full of recipe tested high altitude recipes. It has tons of cakes, cookies, and other sweets, but also savory items like these hamburger buns! If you need another great cookbook I definitely recommend the Sugar High cookbook!
A hamburger bun recipe you will want to make over and over!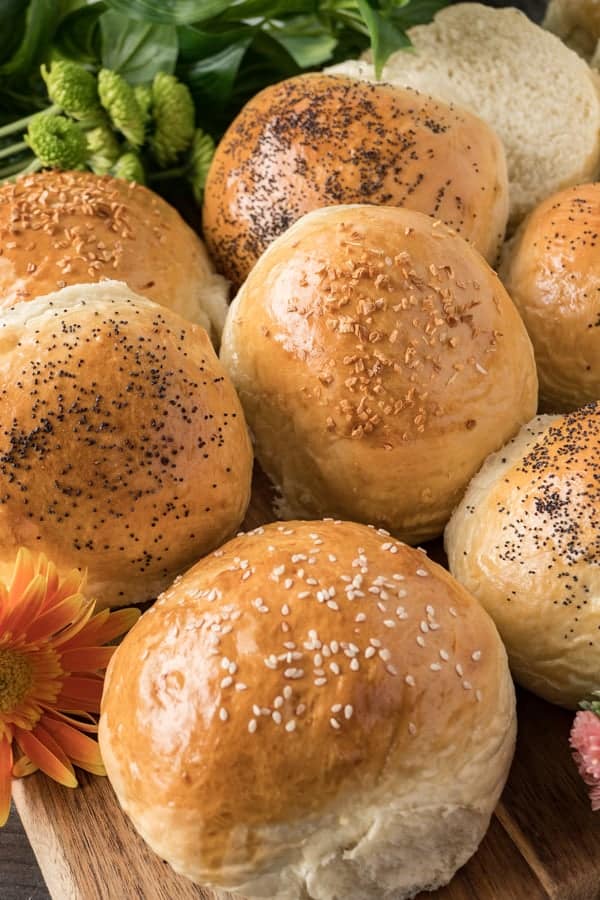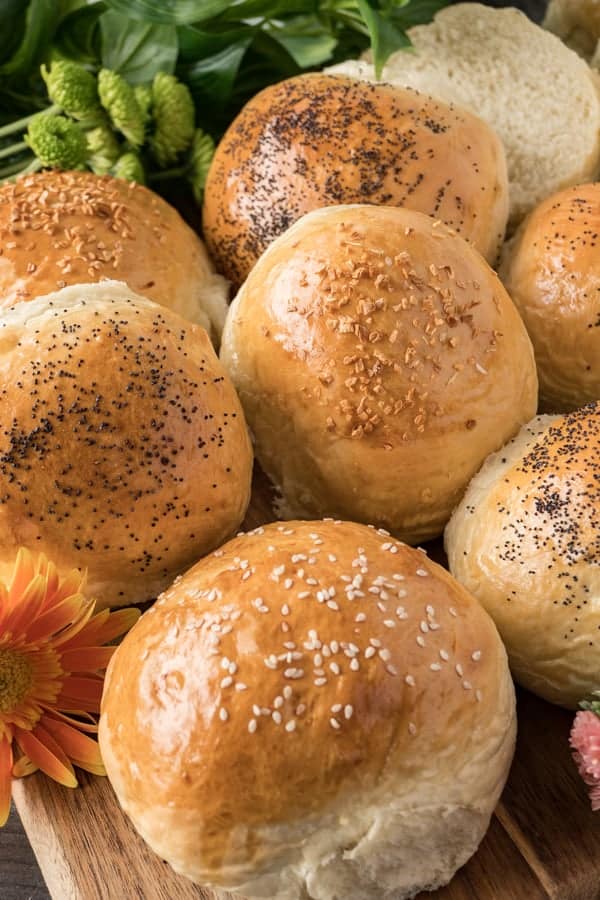 How to make this easy hamburger bun recipe:
Mix together the milk, water, melted butter, and honey and heat until ~105°F.
Add in the yeast and let sit 5 minutes.
Whisk together 1 egg and the salt in a separate large bowl. Then add in the milk mixture and combine.
Add in the bread flour, 1 cup at a time until it's fully incorporated, then knead the dough 10-15 times until it is smooth and not so sticky.
Let the dough rise in a lightly oiled bowl in a warm place, covered with plastic wrap until doubled in size (20-30 minutes).
Divide dough in to 8 equal pieces and roll into round rolls. Place on a large parchment lined baking sheet, cover with more plastic wrap and let sit for another 15 minutes.
Wisk up 2nd egg and then brush on top of the buns. Sprinkle with poppy seeds, sesame seeds, oniojn flakes or leave plain.
Bake at 375°F for 15-20 minutes, until a rich golden brown.
Cool, slice and enjoy with your favorite burger!






It's important not to over proof your dough when it is rising for the 20-30 minutes! Over proved dough can lead to sunken bread,  large air pockets, and just overall failure of the bread to bake properly.
Good Housekeeping stated these rules for telling what stage your dough is at which I found very helpful:
"How to tell if your bread dough is over-proved:
'If the indentation remains and the dough doesn't bounce back, it's been over-proved.'
How to tell if your bread dough is under-proved:
'If it completely bounces without any indentation left, it's under-proved.'
How to tell if your bread dough is ready for the oven:
'If the indentation bounces back but half way, that means it's been proofed correctly and you can pop that into the oven to bake.' "
Homemade Hamburger Buns- easy and delicious!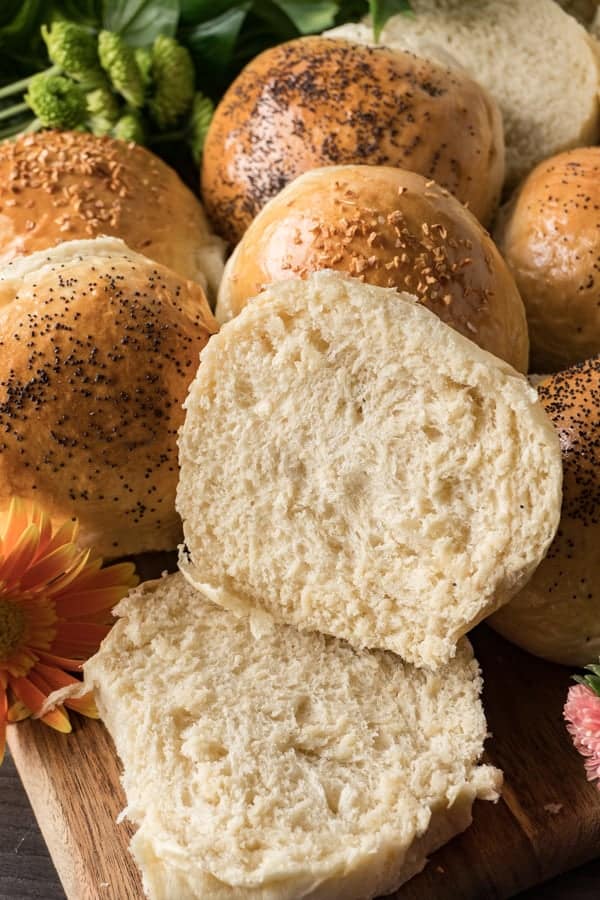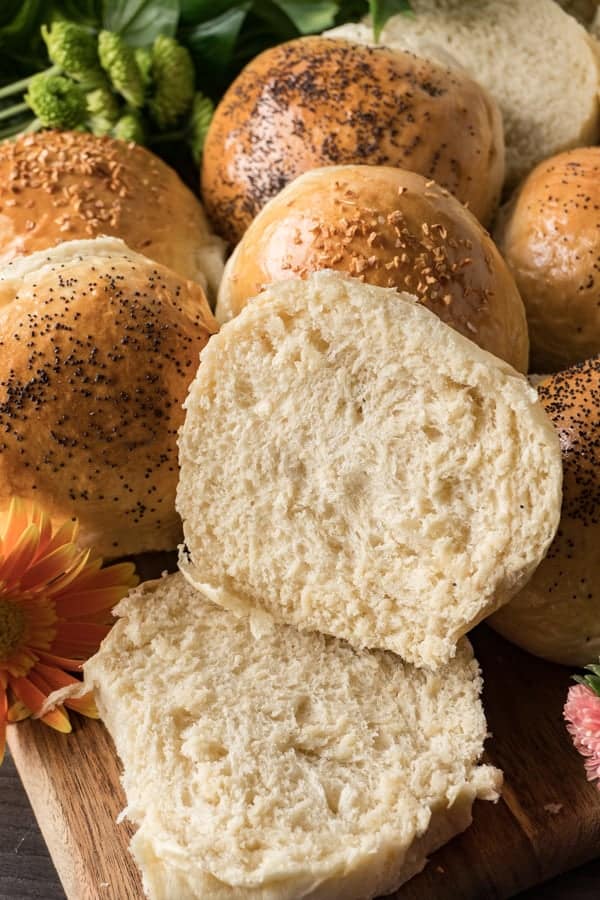 If you like this recipe make sure to try my Fully Loaded Green Chile Cheeseburger and make these buns for it! YUM! Or  divide the dough into 16  (or more!) equal pieces to make sliders! Also, don't miss out on other tasty treats like my peach iced tea, hot spinach artichoke dip, and piñata cupcakes.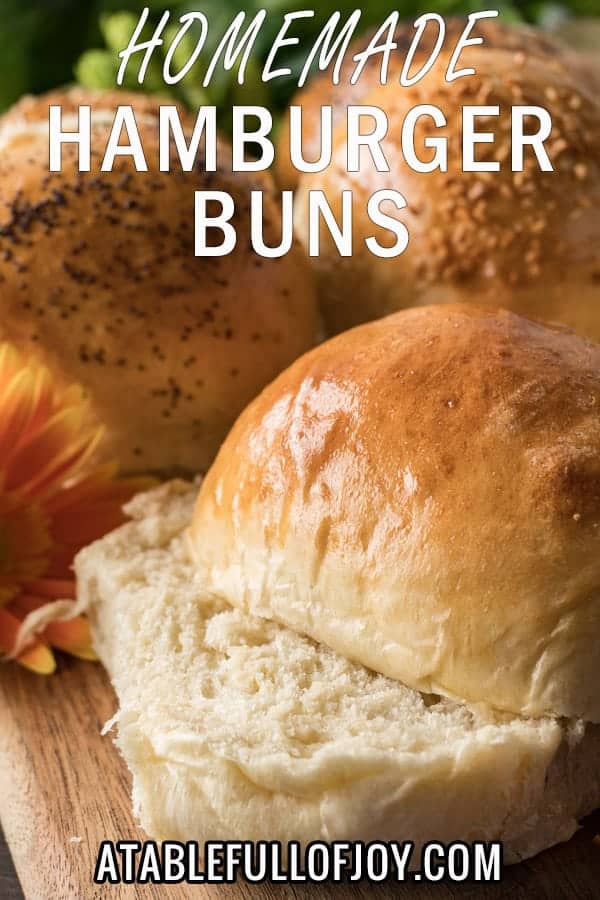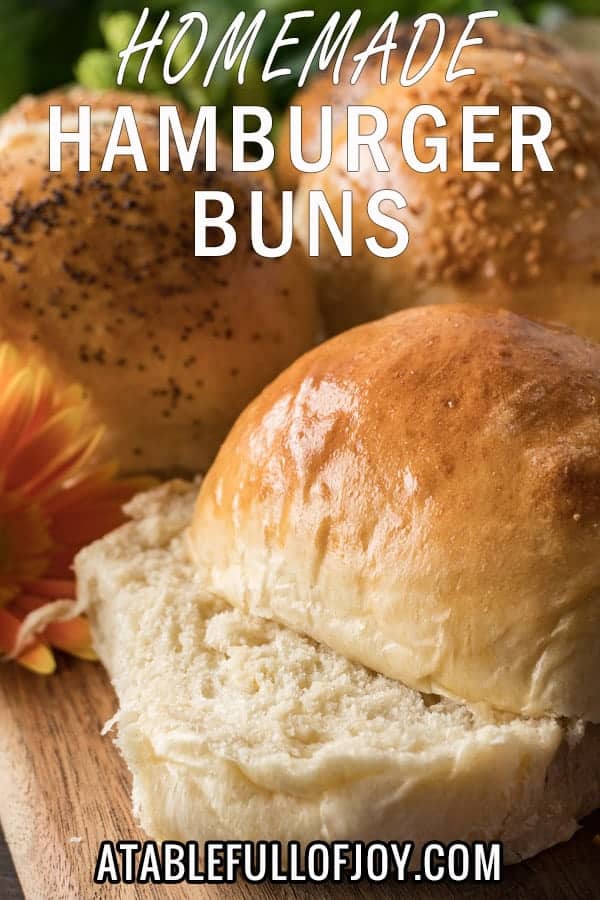 ---
BE SURE TO FOLLOW ME ON FACEBOOK, INSTAGRAM, PINTEREST, TWITTER & SIGN UP FOR MY EMAIL NEWSLETTER!
---
Want more? Subscribe to my newsletter and follow along on Facebook, Pinterest and Instagram for all of the latest updates.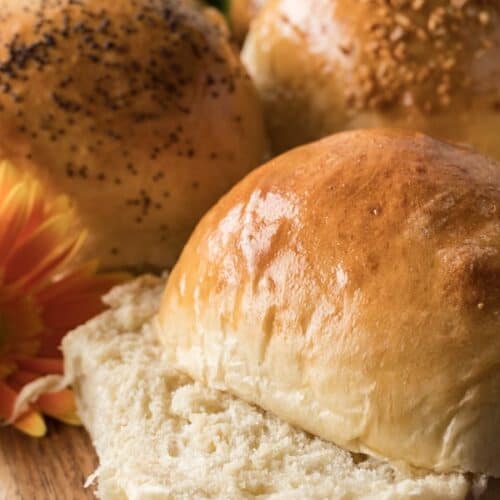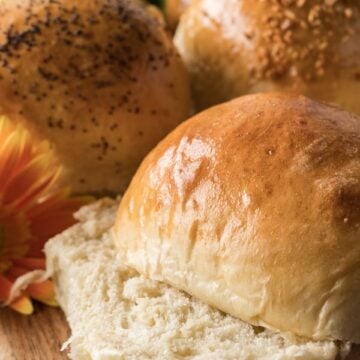 Hamburger Bun Recipe
This hamburger bun recipe is easy, delicious, and perfect for any dinner or bbq!
Ingredients
1

cup

whole milk

1

cup

water

½

cup

unsalted butter

melted

3

tbs

honey

2

tbs

active dry yeast

2

eggs

2

teaspoon

salt

5 ½

cups

bread flour

2

teaspoon

poppy seeds

onion flakes, sesame seeds (optional)
Instructions
In a saucepan, warm the milk, water, melted butter, and honey until it reads between 100°F and 110°F on an instant-read thermometer. Remove from the heat, stir in the yeast, and let stand until foamy, about 5 minutes.

In a large bowl, or the bowl of a stand mixer fitted with the paddle attachment, stir together 1 of the eggs and the salt. Add the milk mixture and stir until combined. Add the flour, 1 cup at a time, stirring between each addition, until all the flour has been added and the mixture is slightly sticky. Scrape the dough out onto a lightly floured work surface, and knead 5 o 10 times, or until the dough is smooth and no longer sticky. Place the dough in a lightly oiled large bowl. Cover with plastic wrap and let rise in a warm place until the dough has doubled in size, 20 to 30 minutes. Keep an eye on the dough- you do not want it to rise too much.

Line a large baking sheet with the parchment paper or a nonstick mat, and preheat the oven to 375°F. Divide the dough into 8 even sections. Fold in the corners of each dough section to create a smooth, round top, and then roll each one into a ball using the palms of your hands. Evenly space the dough balls on the baking sheet, and cover with plastic wrap. Let them rest until they have risen by about another third, 10 to 15 minutes.

Beat the remaining egg and generously brush it over the rolls. Sprinkle with poppy seeds. Bake the rolls until rich golden brown, 15 to 20 minutes. Cool, slice crosswise, and enjoy.
Notes
Recipe from Sugar High: Sweet & Savory Baking in Your High-Altitude Kitchen, ©2018 by Nicole Hampton, Graphic Arts Books®, reprinted by permission. You can order your copy of this cookbook from: http://www.sugarhighcookbook.com/
Reader Interactions