Candied Orange Peels (or any candied citrus peel!) is an easy and delicious way to use up your citrus scraps! Dip them in chocolate or leave them plain- either way you can't go wrong with this candied citrus peel recipe!
Summer may be winding down but you can make candied citrus peels year round! Just pick whatever citrus is in season and use that!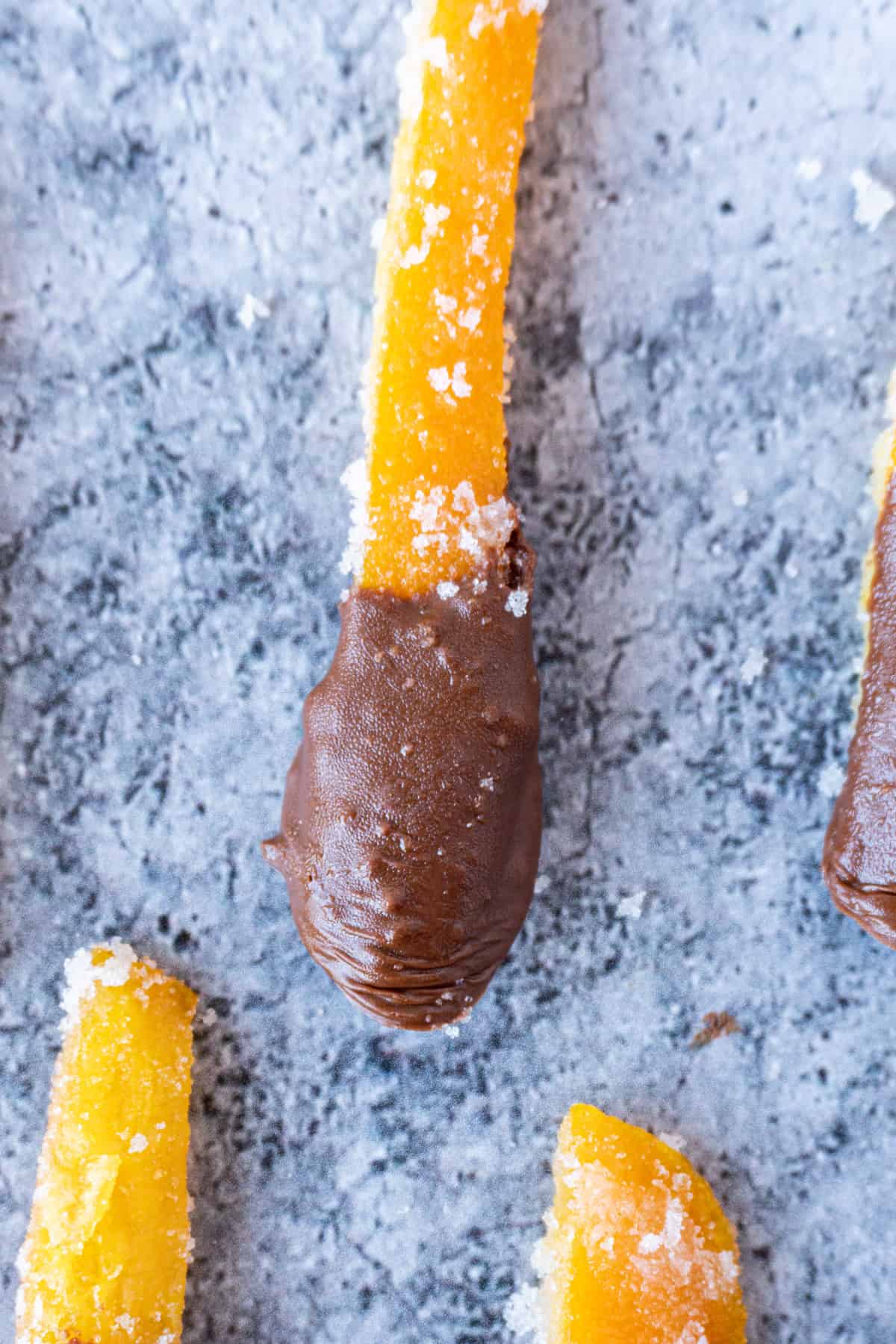 Check out my other favorite Citrus Recipes:
In the summer I love to use leftover lemon peels from making my homemade lemon squares, but in the winter I love making candied orange peels.
If you dip the candied orange peels in chocolate, they taste just like those chocolate oranges you can buy during Christmastime. My favorite!
You may remember when I made candied cranberries and these are actually very similar in how to make them!
I love easy dessert recipes and this is one that checks that box.
How to make candied citrus peels?
Rinse orange or other citrus fruit and peel. Slice into thin strips.
Boil in water for 10 minutes then strain and set aside.
Mix together the sugar and water and get it boiling.
Add in the orange peels and boil another 10 minutes.
Remover from sugar water and all to air dry/get sticky for a few hours or overnight.
Roll peels in sugar and then dip in melted chocolate.
Enjoy!
How to make candied citrus peels with any citrus:
Just use the same steps in this recipe, however, depending on the type of citrus you may get more or less peel. For example, one lemon will make far less candied citrus peels compared to a grapefruit.
Why do you boil the peels twice?
The first boil is to soften the peel and to reduce any bitterness from the pith. The second boil is to infuse the peel with the simple syrup and make them sweet.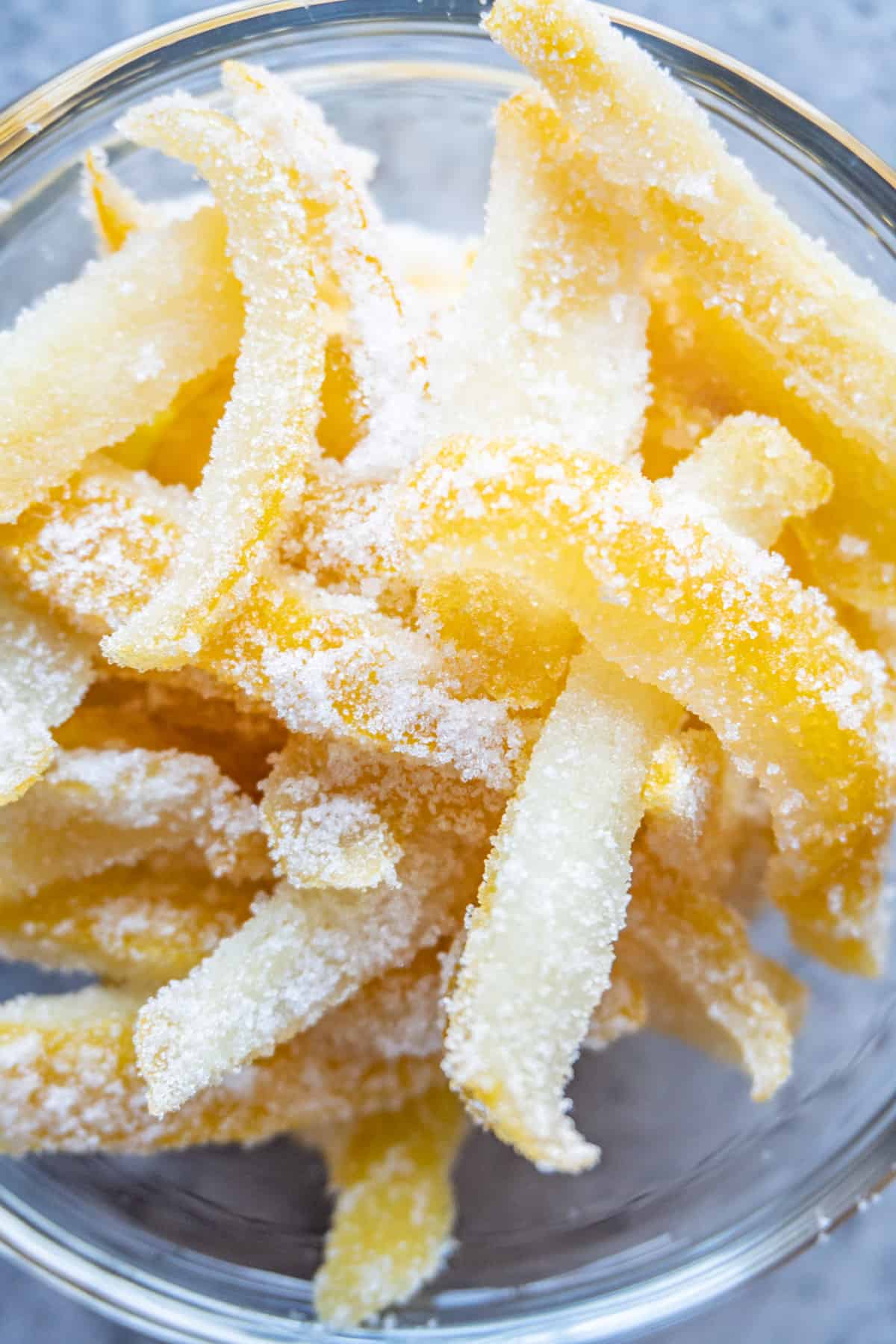 Do I need to take the pith off? What about extra fruit stuck to the peel?
You can leave the pith on- it will actually give a little bit of heft to the peel which makes it more enjoyable to eat. I do recommend scraping off any excess fruit because it will turn mushy if you leave it on.
Are Candied Citrus Peels supposed to be hard or soft?
When I've had them, they are usually soft just due to the amount of liquid in them. They will stay sticky. If you carefully lay them out to dry so they aren't touching any other pieces they will dry better.
What do you mean by "let them dry"?
I mean let them drain completely and become tacky/sticky. That way the sugar will stick nicely when you roll them in it.
Don't forget to save the sugar water that you used and make some delicious lemonade or sweet tea with it!
How long does candied citrus peel last?
Up to a month when stored in and airtight container in a cool, dry place.
What is my favorite citrus peel?
Orange is my favorite especially dipped in chocolate. Lemon was second and I liked that better without chocolate.
Now it's your turn- What is YOUR favorite citrus peel?
If you like this recipe make sure to check out these other tasty treats: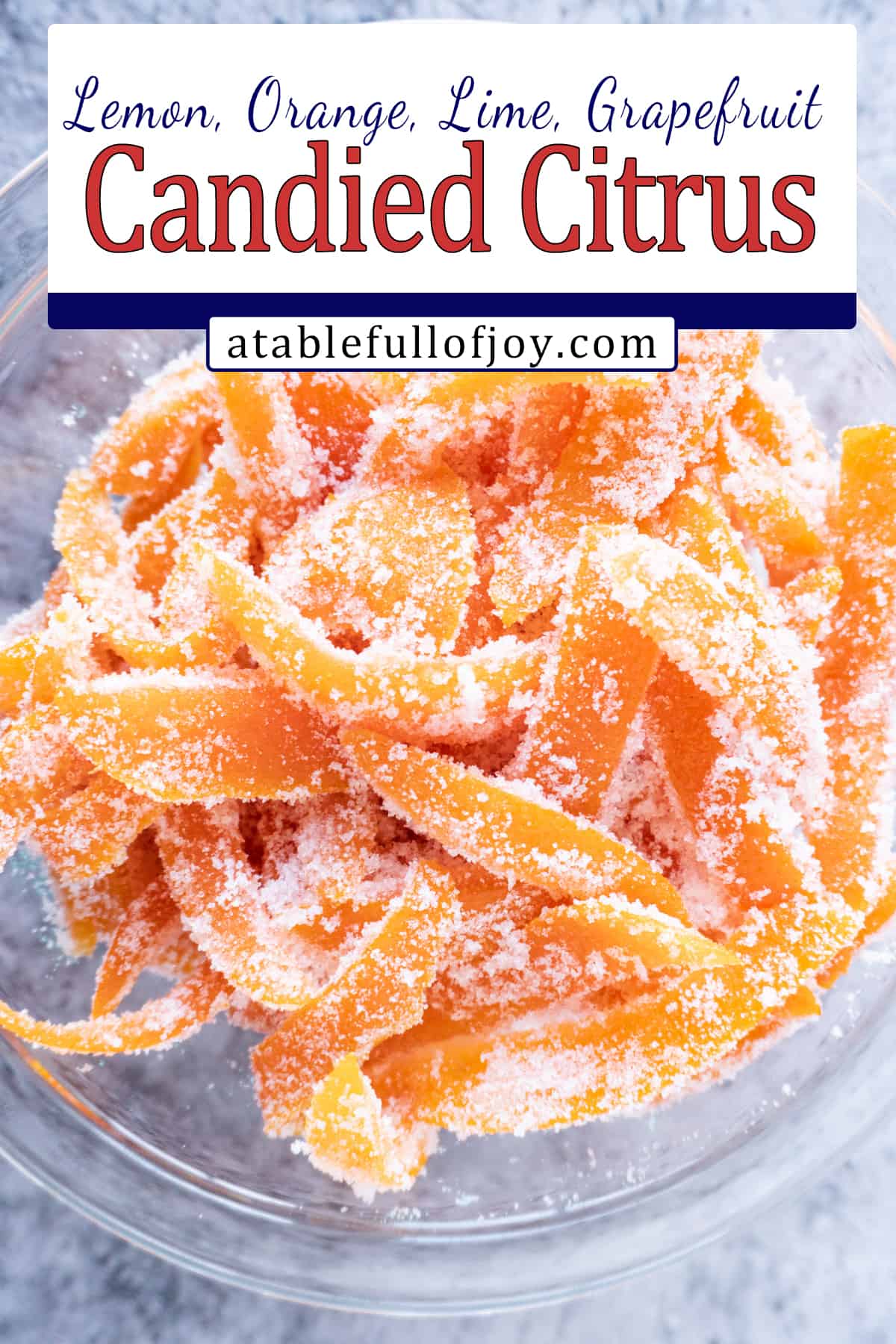 Don't miss my most recent recipes:
Watch how to make this recipe!
Want more? Subscribe to my newsletter and follow along on Facebook, Pinterest and Instagram for all of the latest updates.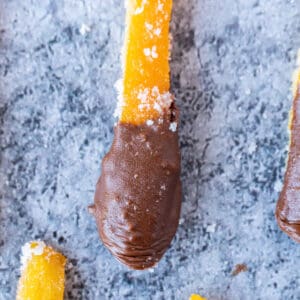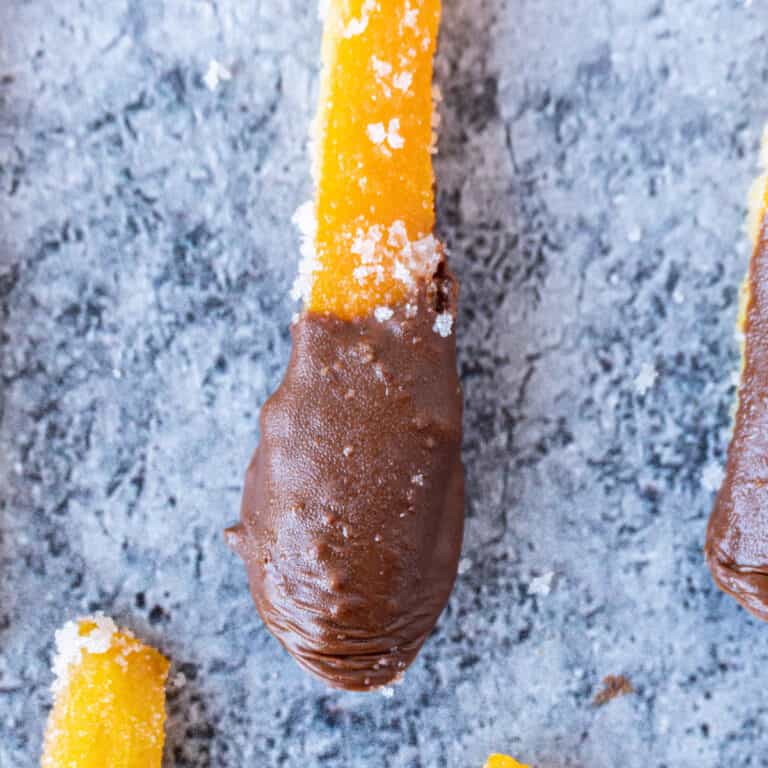 Candied Citrus Peel Recipe
Candied Citrus Peel Recipe, an easy and delicious way to use up your citrus peels! Whether it's oranges, grapefruits, lemons, or limes- these candied citrus peels are amazing!
Ingredients
Citrus Peel of choice

4

grapefruit peels

4

orange peels

6

lemon peels

6

lime peels

1

cup

sugar

1

cup

water

2

cups

sugar

for dipping

1

Cup

Chocolate Chips

optional
Instructions
Rinse fruit and peel. Scrape away any extra fruit that is still attached to the peel. Leaving the pith (the white part on the peel) is okay.

Slice peels into thin strips.

Fill a medium sauce pan halfway with water and bring to a boil. Place sliced peel strips into boiling water a boil for 10 minutes. Stirring occasionally.

Using a slotted spoon remove peels from water and place on a cooling rack.

Dump the water from the sauce pan out and add 1 cup of fresh water and 1 cup of sugar. Heat over medium heat, stirring until sugar is dissolved and the water is boiling.

Add the boiled citrus peels to the sugar water, stir and allow to boil for 10 minutes.

Using a slotted spoon remove peels from the sugar water and place on a cooling rack. You can save the sugar water (aka simple syrup) and use it to make lemonade, or even my mint juleps!

Allow to dry for 2 hours or overnight. Try to separate the pieces to allow maximum air flow.

Toss candied citrus peels in sugar and enjoy!

If you want to dip these in chocolate (which I highly recommend), simply melt chocolate chips in microwave, dip each peel piece and place on a piece of parchment paper (or wax paper). Allow chocolate to harden and enjoy!
Notes
Tips and Tricks
Store any candied citrus in an airtight container in a cool, dry, place for up to a month!
Nutrition
Calories:
121
kcal
Carbohydrates:
31
g
Protein:
1
g
Fat:
1
g
Sodium:
37
mg
Fiber:
1
g
Sugar:
30
g
Post updated on 6/5/21
Reader Interactions