These mini lemon Hearthstone Card Pack Cakes not only taste amazing, but I thought they turned out looking great too! Perfect for every Hearthstone fan!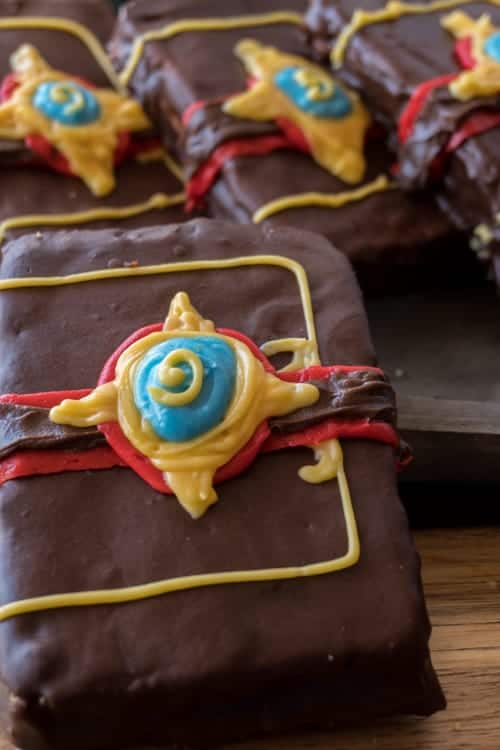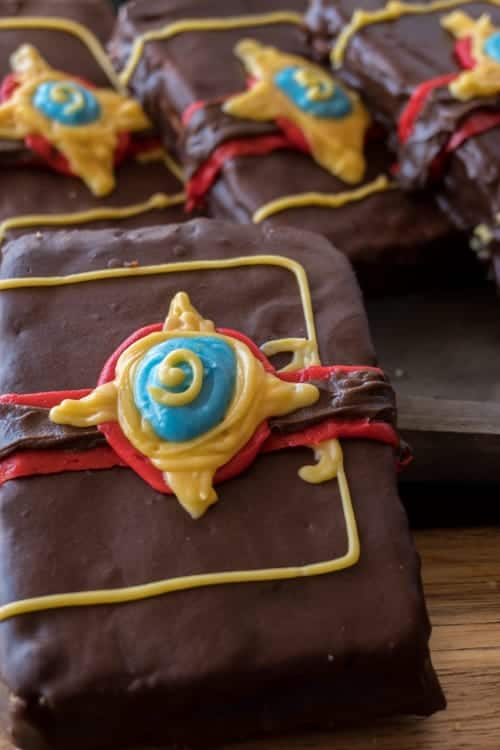 Today's recipe is to celebrate Hearthstone giving away free golden packs, all you have to do is sign in! Who doesn't love free packs!? Well, you will love these mini lemon cakes just as much or more as free card packs!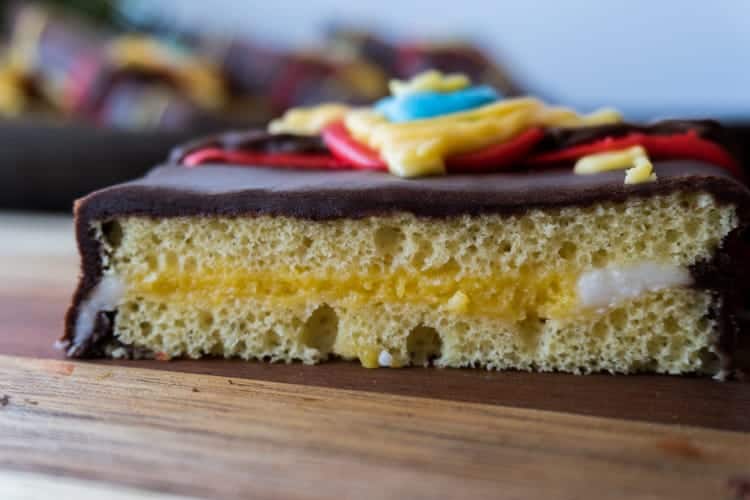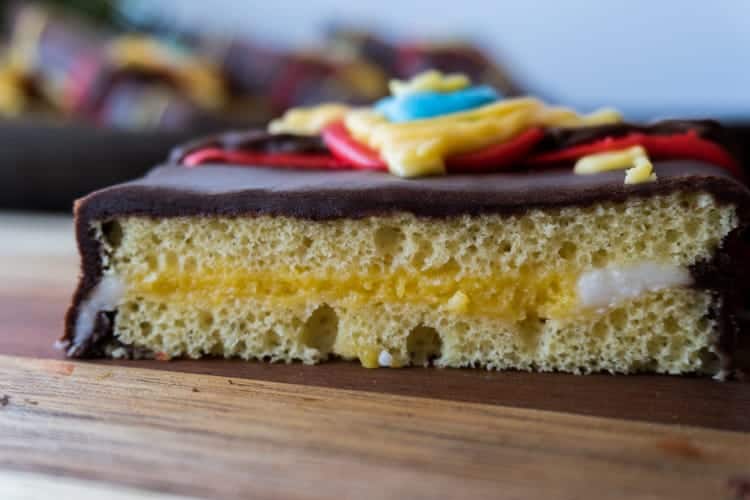 Now if you don't know what Hearthstone is- read all about it here! Also check out my full Hearthstone Menu!

Now, back to these awesome Hearthstone Card Pack Cakes- Mini Lemon Cakes!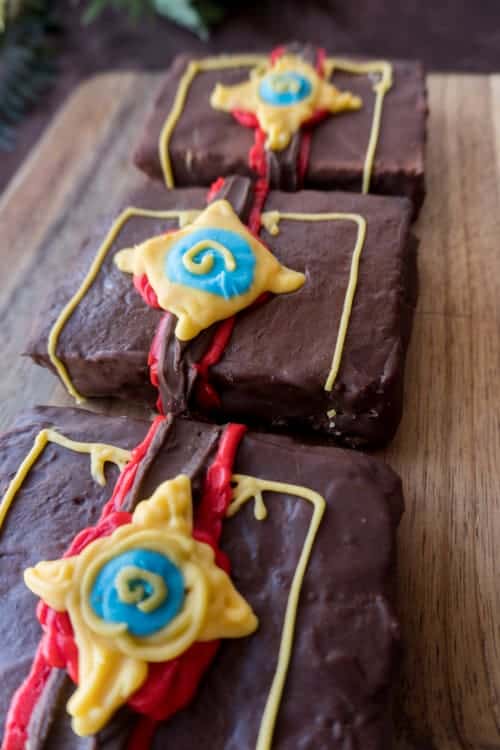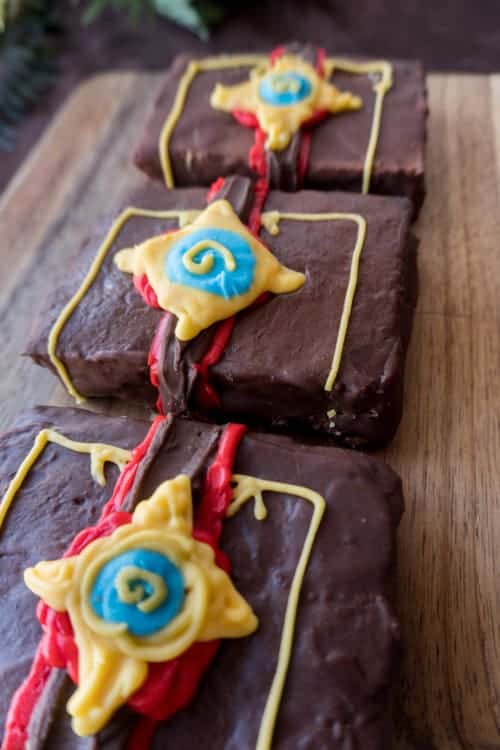 If you don't want to decorate these lemon mini cakes to look like card packs have no fear! They will still taste just as good! I might recommend skipping the chocolate frosting, though, in lieu of covering them in the lemon butter cream or just the lemon curd- or both. But do whatever makes you happy!


Honestly they weren't that hard to make or decorate, I am overall pleased with how they look, and over the moon happy with how delicious they are.

How to make lemon cake:
Don't get mad- but I do use a boxed cake mix for this BUT I spruce it up!
Use lemon cake mix or yellow cake mix (I used yellow because  the store didn't have a lemon one when I went)
Add butter
Add whole milk
Mix in the lemon instant pudding
Add lemon juice
Mix thoroughly
Bake in a butter pan (I used two rimmed baking sheets so they would be thin cakes) at 325°F for 12-15 minutes or until golden brown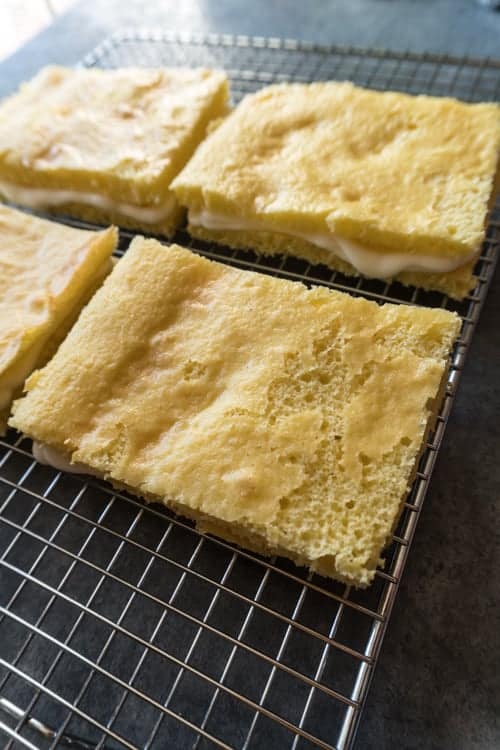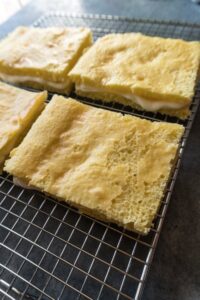 Adding butter instead of oil, milk instead of water, and adding in the lemon pudding mix is something my sister always does to her cakes and they always taste amazing! So now I am sharing her method with you!

How to make lemon curd:
In a cold saucepan whisk together sugar, eggs, and salt
Slowly whisk in lemon juice
Move sauce pan to stove and whisk mixture over medium low heat until it thickens, usually 15-20 minutes
During the whisking the curd will become foamy and that's okay! The foam will go away when it becomes thick.
After the curd thickens, remove from heat and stir in butter

These mini lemon cakes are so good!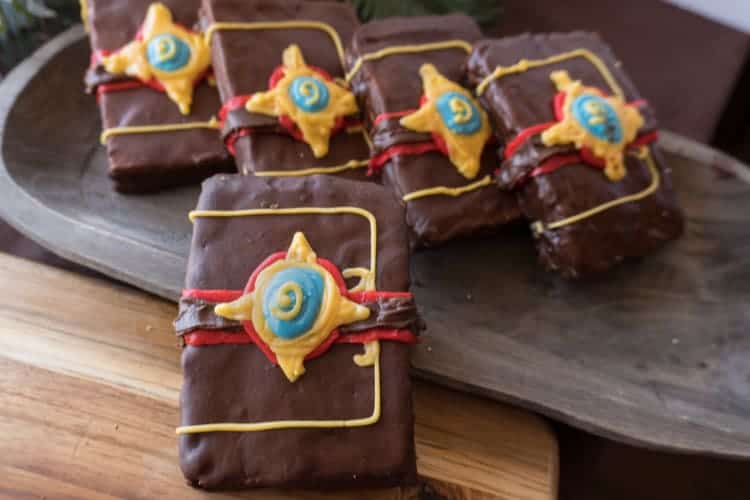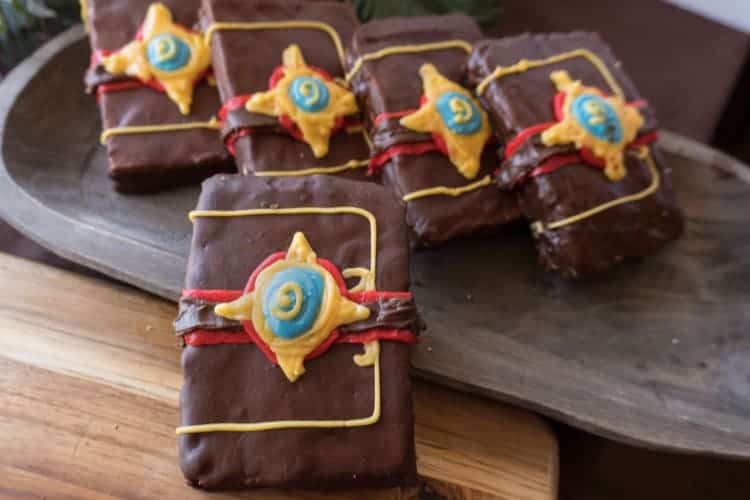 They are moist, easy to make, and super fun to decorate!

If you are interested in playing Hearthstone, I highly recommend it and you might as well start today and get a free pack of golden cards! If you don't want to play, at least make this lemon cake recipe and let me know how you like it!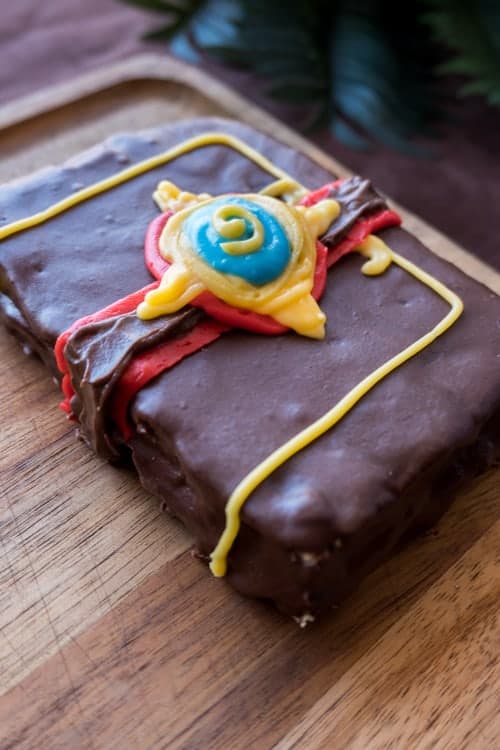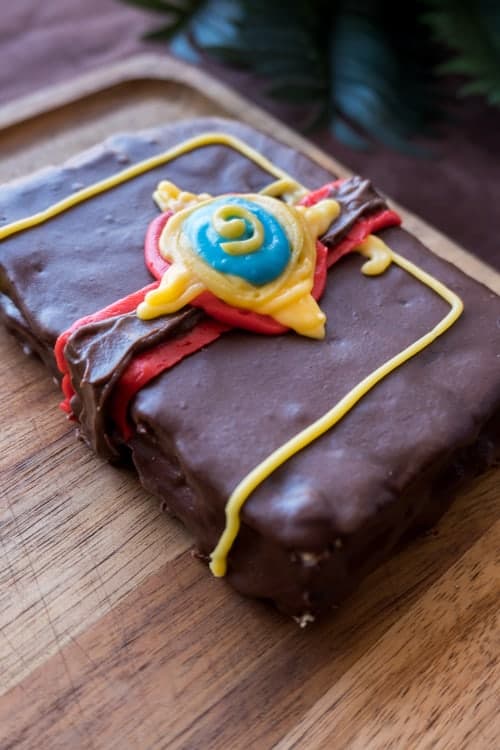 What golden cards did you get today? What is your favorite golden card animation? Did you make these and WOW your friends (yes pun intended!)? Tell me all about it in the comment below!
For other great recipes check out my Hearthstone Menu! I also recommend my strawberry cupcakes with chocolate frosting, or my easy chocolate striped popcorn! Another fun themed dessert is my Portal Chocolate Cake!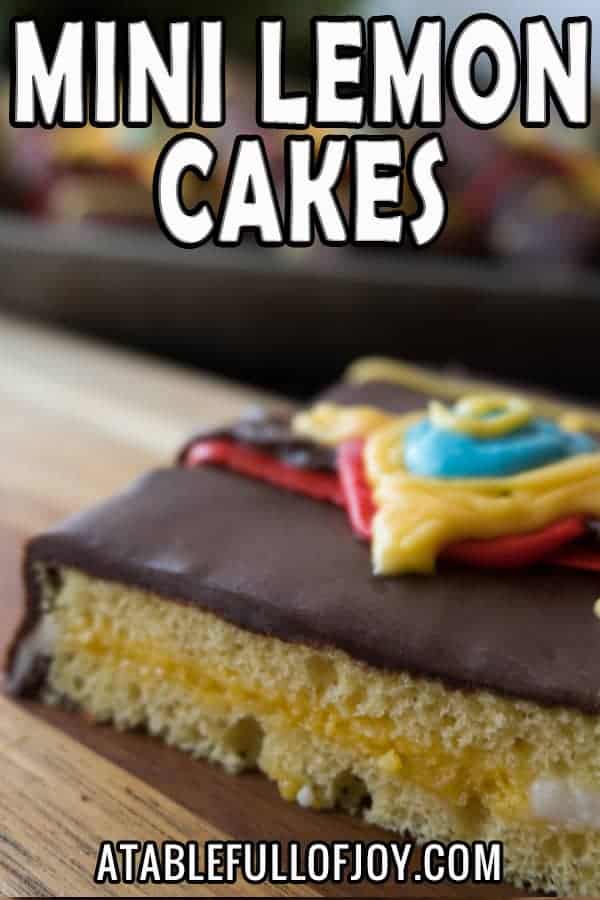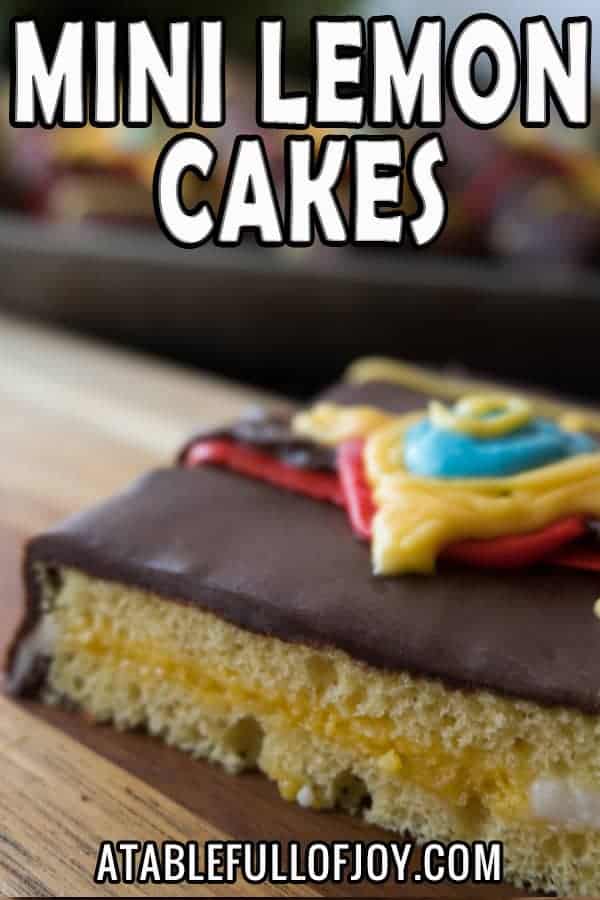 ---
BE SURE TO FOLLOW ME ON FACEBOOK, INSTAGRAM, PINTEREST & TWITTER!
---
Want more? Subscribe to my newsletter and follow along on Facebook, Pinterest and Instagram for all of the latest updates.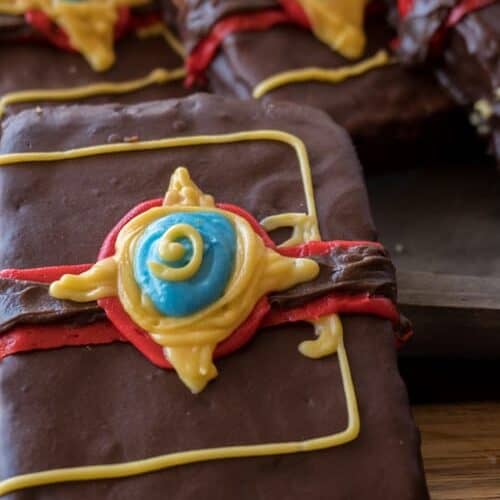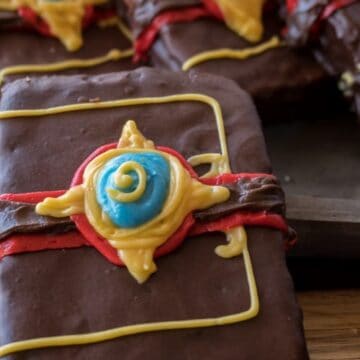 Hearthstone Golden Card Packs - Lemon Cake
These lemon cakes are perfectly lemony, sweet and delicious! Easy to make for every Hearthstone fan!
Ingredients
For the Mini Lemon Cakes
1

box cake mix- I used yellow

but lemon cake mix is ideal*

1

cup

whole fat milk

3

eggs

⅓

cup

butter

softened

3

tbs

lemon juice

1

box lemon instant pudding mix
For the Lemon Curd
½

cup

sugar

3

eggs

Pinch

of salt

½

cup

lemon juice

5

tbs

butter

cut into chunks
For the Lemon Butter Cream Frosting*
½

cup

butter softened

3-5

Cups

powdered sugar

3

tbs

heavy cream

2

tbs

lemon juice

Zest from 1 lemon

Food Coloring Gel

blue and yellow, optional
For the chocolate frosting- (only needed if decorating cakes as Hearthstone card packs)
1

cup

butter

melted

1

cup

cocoa powder

6

cups

powdered sugar

6

tbs

heavy cream

2

teaspoon

vanilla
Additional Items
Red Frosting- I used store bought Betty Crocker Icing*

"3.5x5" paper cut out to cut the card pack shapes
Instructions
How to make lemon cake:
Preheat oven to 325 and butter two large rimmed baking sheets*.

Mix together thoroughly the cake mix, milk, eggs, butter, lemon juice and instant pudding.

Divide batter in half, and pour each half into a buttered baking sheet.

Bake for 12-15 minutes, or until they start to get golden brown on top.

Remove from oven and allow to cool completely.
How to make lemon curd:
In a cold sauce pan whisk together sugar and eggs.

Add a pinch of salt and then slowly pour in the lemon juice continuously whisking.

Once the lemon juice is fully incorporated, move your sauce pan to the stove.

Over medium low (emphasis on the low) heat, whisk your curd continuously.

Foam will start to form and that's a good sign!

Whisk for 15-20 minutes until the curd thickens and the foam is all gone.

Remove from heat.

Stir in butter chunks, letting them melt and cool the curd as you mix them in.

I stick my lemon curd in the fridge so it would cool even more before layering it in-between the cake, but eating it warm is delicious too!
How to make the best lemon frosting:
In a medium sized bowl mix together the butter, powdered sugar, and heavy cream. Alternating between adding the powdered sugar and heavy cream to the butter, stirring and then repeating.

Add in the lemon juice and zest, mixing thoroughly. Done!

If you are dying your frosting you will need to divide your frosting up into 3 different bowl. I used white to rim the cakes, yellow to decorate on top, and blue to decorate on top. You need the least of blue frosting and you can use all yellow to pipe around the rim of the cakes to make this easier! So you decide- either divide the frosting into two or three bowls and add your food coloring until you get the colors you want.
How to make the best chocolate frosting:
In a medium sized bowl mix together your butter and cocoa powder.

Stir in the heavy cream and powdered sugar, alternating between the two and stirring, so as to not create clumps.

Stir in the vanilla and you are done!
To assemble card packs:
Cut your cooled cake into 16 rectangles (8 each baking sheet). I measured and cut out a piece of paper that was 3.5"x5", then used that as a stencil to cut around for each rectangle.

Pipe a border of lemon frosting on top of 8 of the rectangles, creating a moat to hold the lemon curd in.

Spoon roughly 1 tbs or a little more of lemon curd into the center of the 8 rectangles you just piped frosting around. Spread the lemon curd into a thin layer.

Take another rectangle- one of the 8 that have no frosting on them and place that over the lemon curd creating a sandwich.

Repeat with all the rectangles and then refrigerate. Go make the two batches of chocolate frosting now if you haven't already.
Chocolate Covering
After the cakes have refrigerated for at least 20 minutes, place each on a wire rack (I use a cooling rack), and then place that rack on a rimmed baking sheet- the ones you used to bake the cakes in should work fine.

Microwave about ½ cup of chocolate frosting for 10-15 seconds in a microwave safe dish. I like to use a measuring cup because I can easily pour the frosting out of it. You want the frosting to be runny.*

Pour the frosting over one of the cakes, smoothing it out and making sure to get the sides covered too (I used a rubber spatula to get the sides but a butter knife or spoon works too!). You will want to work kind of quickly because once the frosting sets up it will show uneven lines if you try to smooth it out. I like set the cakes on the wire rack so any leftover frosting just drips down into the baking sheet and doesn't make a huge mess.

Repeat for the rest of the cakes.
Decorating the card packs
Using the yellow frosting and a small round piping tip and frosting bag, pipe the yellow lines.

Using a slightly larger round piping tip, pipe the red frosting lines (not the circle yet!)

Using a flat piping tip, pipe the chocolate frosting in-between the red lines, smoothing it out with a butter knife if necessary.

Using the red frosting, pipe a red circle in the middle, followed by using the yellow frosting pipe on triangles and then a circle connecting them.

Using the blue frosting and a round piping tip, fill the center of the yellow circle with a nice blue layer.

Using the yellow frosting pipe a little Hearthstone symbol.

Done- now go WOW (pun intended haha!) your friends and eat these yummy cakes up!
Notes
*I used yellow cake mix because that's all the store had but using a lemon cake mix would make it even more lemony!
*If you are just wanting to make these as normal mini cakes, just make a batch of the Lemon Frosting or Lemon Curd and drizzle either or both over your cake then enjoy!
*I used store bought red icing because it is almost impossible to get that bright of red using the Gel colors I have- or it would take way more coloring than I want to use. It was much easier just to buy red icing premade.
*You can use a 9x13 pan or several round cake pans, or even mini cake pans if you want a normal mini lemon cake and not card packs, just adjust the cook time appropriately and frost with lemon frosting or drizzle with lemon curd!
*I did try thinning the frosting with milk and then pouring it over the cakes- both to save on frosting and to see if it would work, but it looked horrible and wasn't a nice pretty layer, so I recommend just warming up the frosting and pouring it over.
Lemon curd recipe adapted from 84th and 3rd
Nutrition Facts are just for the cake- not the frosting or curd
Nutrition
Serving:
8
g
Calories:
386
kcal
Carbohydrates:
55
g
Protein:
5
g
Fat:
17
g
Saturated Fat:
10
g
Cholesterol:
97
mg
Sodium:
584
mg
Potassium:
99
mg
Fiber:
1
g
Sugar:
29
g
Vitamin A:
505
IU
Vitamin C:
2
mg
Calcium:
179
mg
Iron:
2
mg
Hearthstone Card Image from Gamepedia
©2014 Blizzard Entertainment, Inc.  Hearthstone is a registered trademark of Blizzard Entertainment, Inc. in the U.S. and/or other countries.
Blizzard Entertainment is a trademark or registered trademark of Blizzard Entertainment, Inc. in the U.S. and/or other countries. All rights reserved.
Reader Interactions