Hot Fresh Mickey Disneyland Beignets are a must have when visiting the parks, but now you can make them at home! This Disneyland Beignets recipe is easy, and produces those fluffy, soft, delicious beignets everyone loves!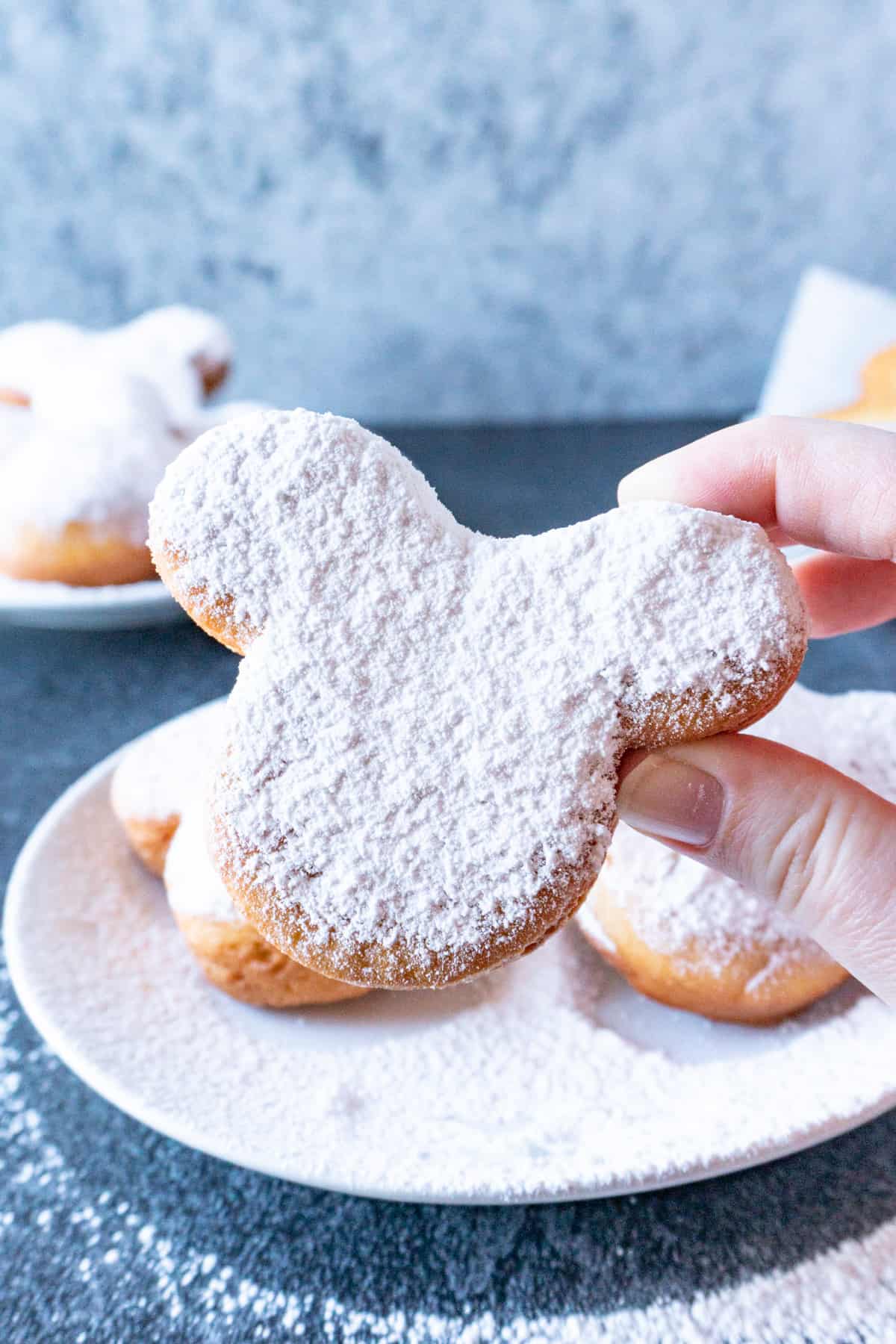 If you are looking for some of the other tasty Disneyland Beignets recipes make sure to try the Candy Cane Beignets and the Hot Cocoa Beignets!
Going to the parks pretty much requires a stop at the Mint Julep Bar at Café Orleans in Disneyland. Not only for a tasty mint julep but for a bag full of fresh warm beignets!
Where can I buy Mickey Mouse Beignets?
Beignets can be purchased at the parks for $4.99 for 3 or $8.49 for six. There is nothing like shaking that bag full of beignets and the poof of powdered sugar that comes out once it's opened!
However, even if you can't make it to the parks, you can make beignets at home!
Does Disneyland sell beignet mix?
Not Disneyland but there is a mix sold in Downtown Disney. This box of Café Du Monde Beignet Mix is sold at the Ralph Brennan Jazz Kitchen in Downtown Disney and is the closest thing to a Disney Beignet Mix that you will find, and now you can buy it on amazon and even at some local grocery stores! (affiliate link)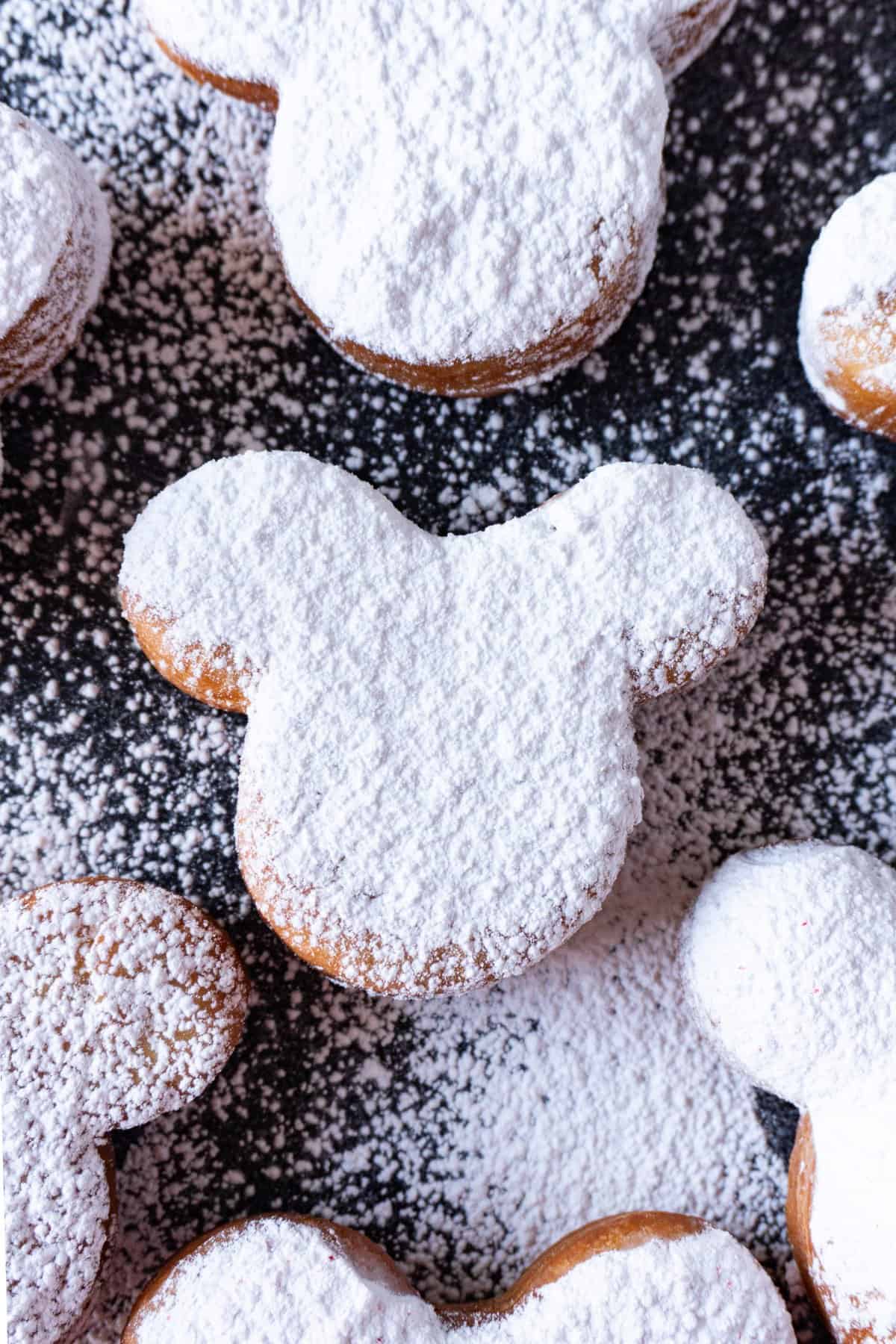 Is this the original Disneyland beignets recipe?
Yes and No. The original recipe that was released from the Disney Parks website was altered from a larger batch recipe before they released it to the public and when I tested it the beignets were ok but not what I was used to from the parks.
After a few tweaks, primarily to the yeast amount, I think the recipe here is better, mainly because the proportions of the ingredients are perfect for a smaller batch.
What you need for Disneyland Beignets?
Active Dry Yeast
Sugar
Warm Water
Shortening
Salt
Heavy Cream
Large Egg
Flour
Vegetable oil for frying
Mickey shaped Cookie Cutter- if you don't have this you can cut the beignets into rectangles and fry them that way!
If you love Disney Copycat recipes don't miss:
What are Disney Beignets made of?
Disney Beignets are a dough mixture made of flour, sugar, a yeast, that are fried and dusted with powdered sugar.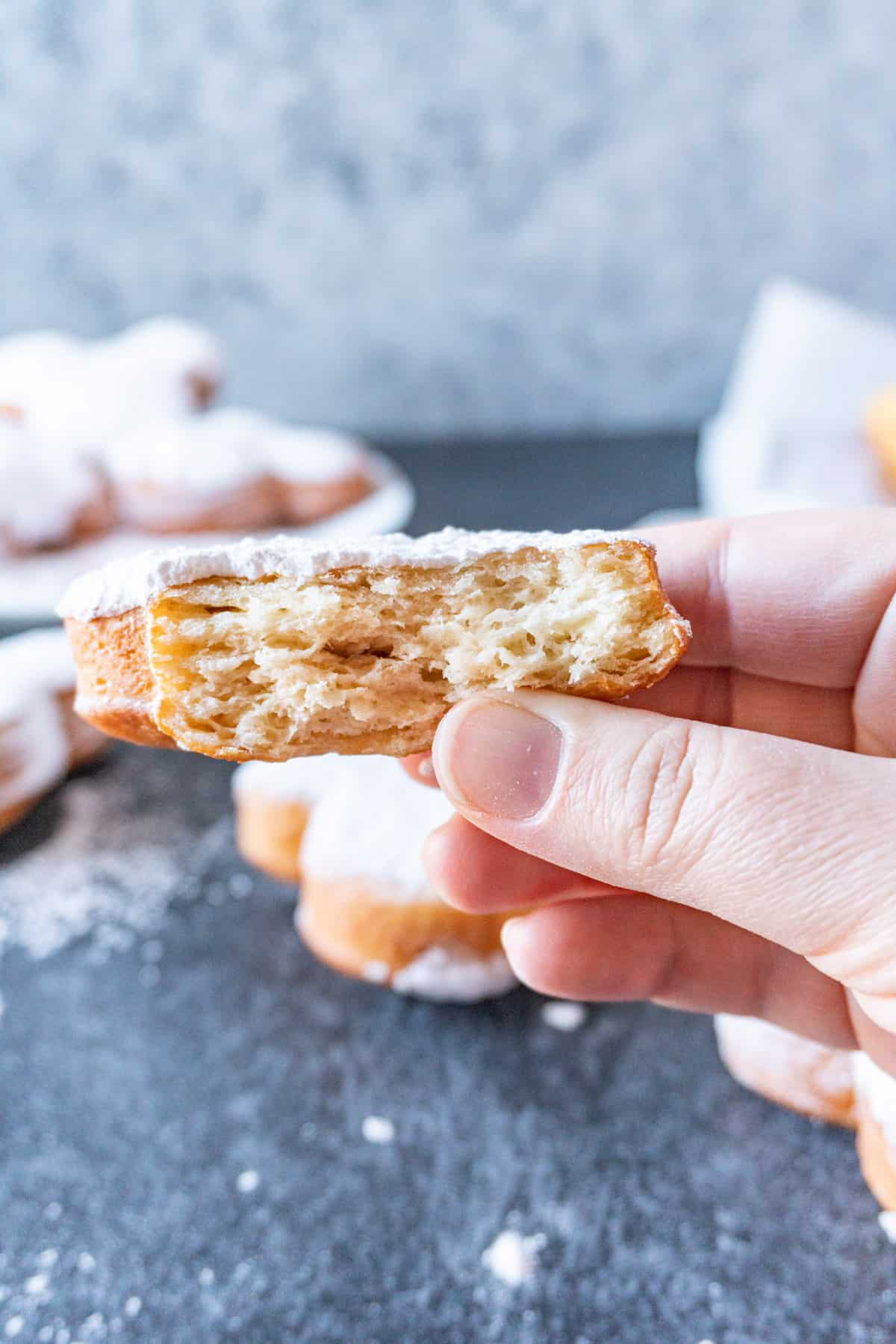 How to make Disneyland Beignets?
Activate yeast.
Mix dough and allow to rest for 30 minutes.
Roll out dough then cut into shapes.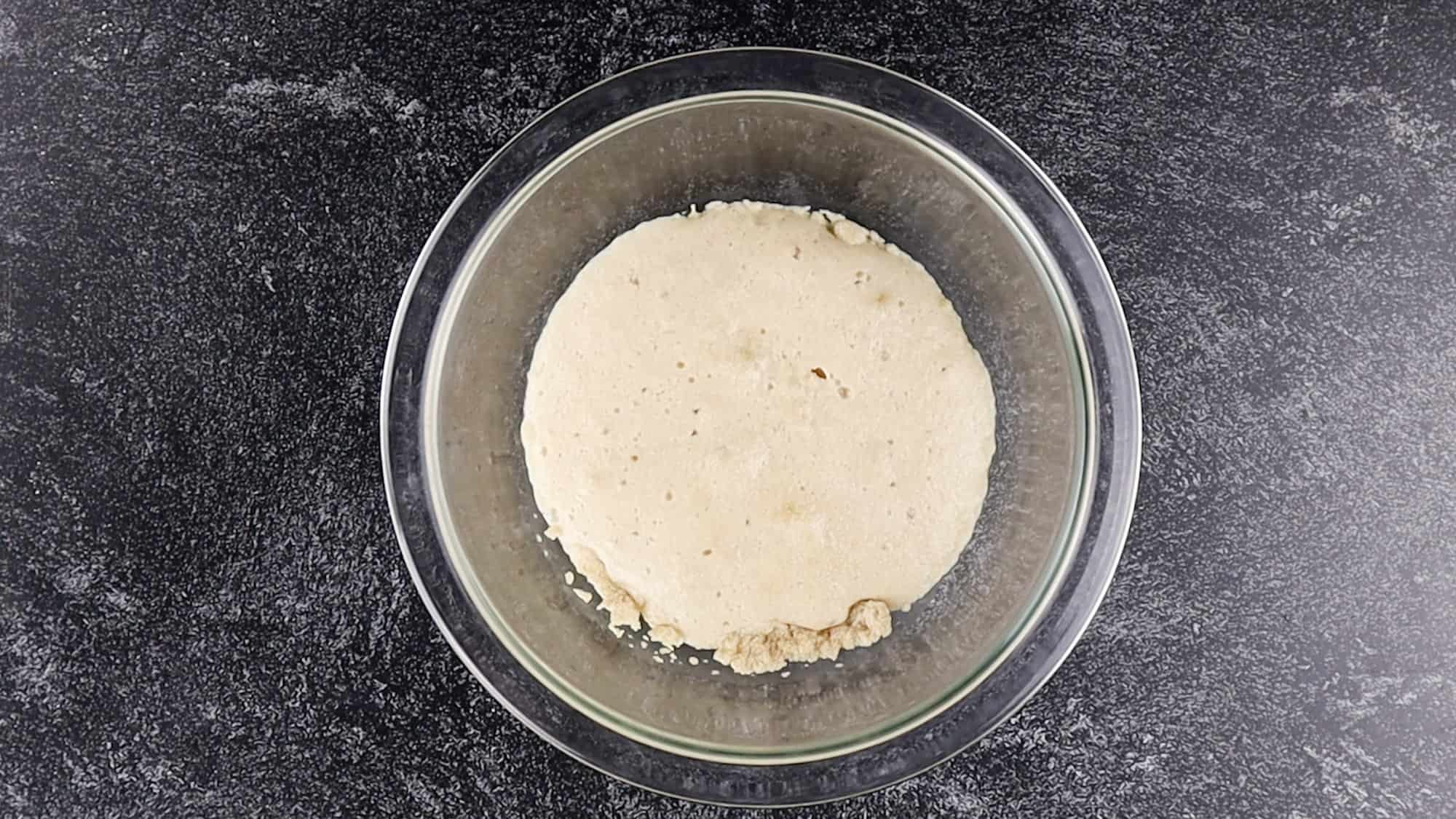 Allow shapes to rise for 1 ½ hours.
Fry until golden brown.
Dust with powdered sugar.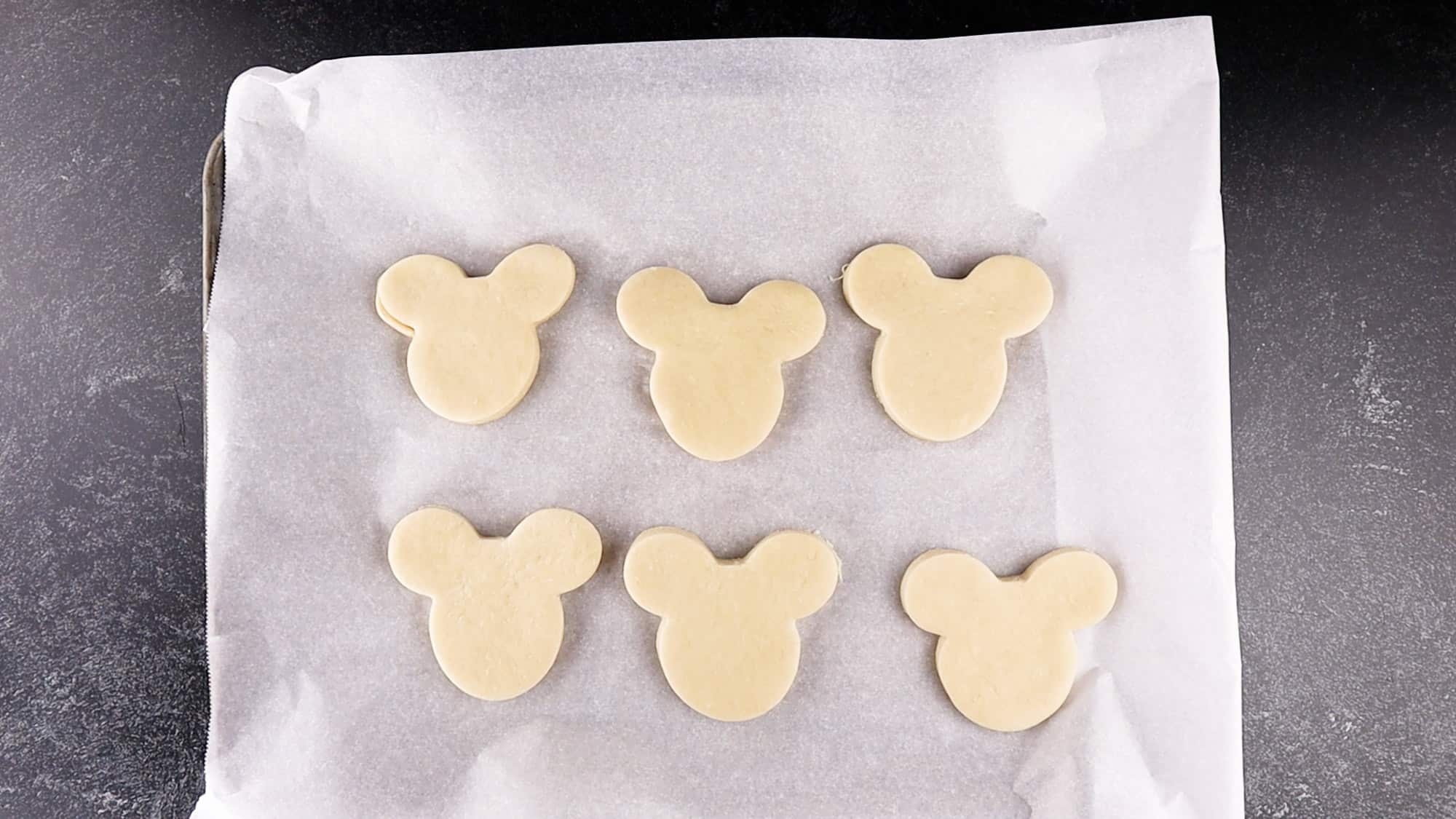 Tips for the best beignets:
Dough: I like to fold the dough in on itself after it rests for 30 minutes to get a nice smooth surface. This isn't absolutely necessary, but it will make for a smoother and more uniform beignet after frying.
Rising: Make sure your cut out dough rises in a warm place. If your house is cold simply preheat your oven to the lowest temperature (mine goes as low as 170°F for example), then once preheated turn our oven off and place your cut out beignets in the oven to rise. This is what I did since my house is pretty cold.
Frying Temperature: When frying, keep your oil around 350°F. If it gets too much hotter it will cook the beignets too fast and if gets too much cooler it will take too long to cook the beignets and they will get too greasy.
I love this thermometer from Thermoworks (affiliate link).
Fry your beignets for 15-30 seconds a side- until they are golden brown.
Beignets are best when eaten fresh and warm.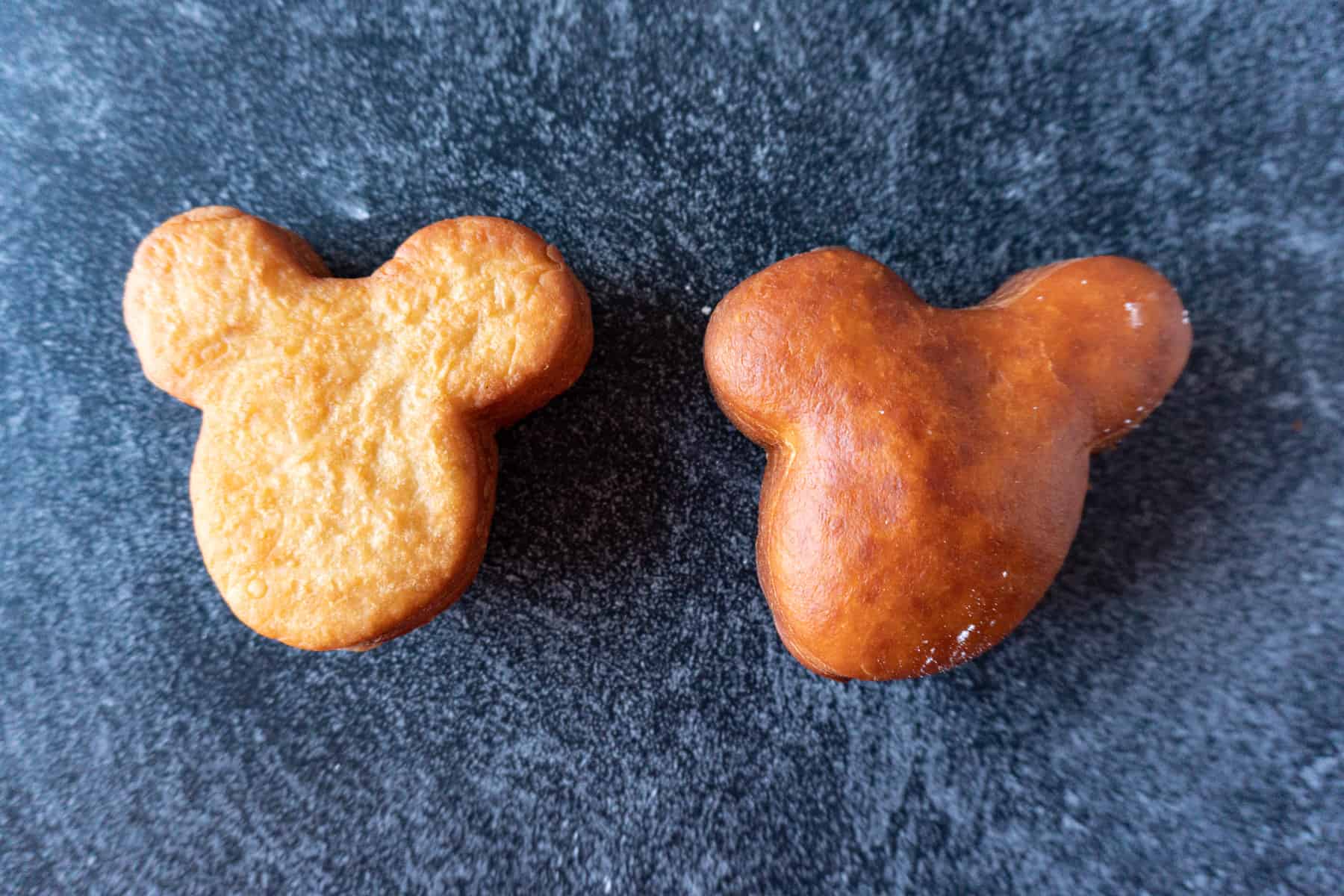 Temperature? How important is it?
Temperature of the water for activating the yeast needs to be between 105°F and 110°F is important. Too hot and it will kill the yeast and you won't get a rise, too cold and you won't activate the yeast you won't get a rise.
If you don't have a thermometer to check the water temp you can tell if the yeast is activated if the mixture gets very foamy after 10 minutes.
What is your favorite treat at Disneyland? Let me know in the comments below!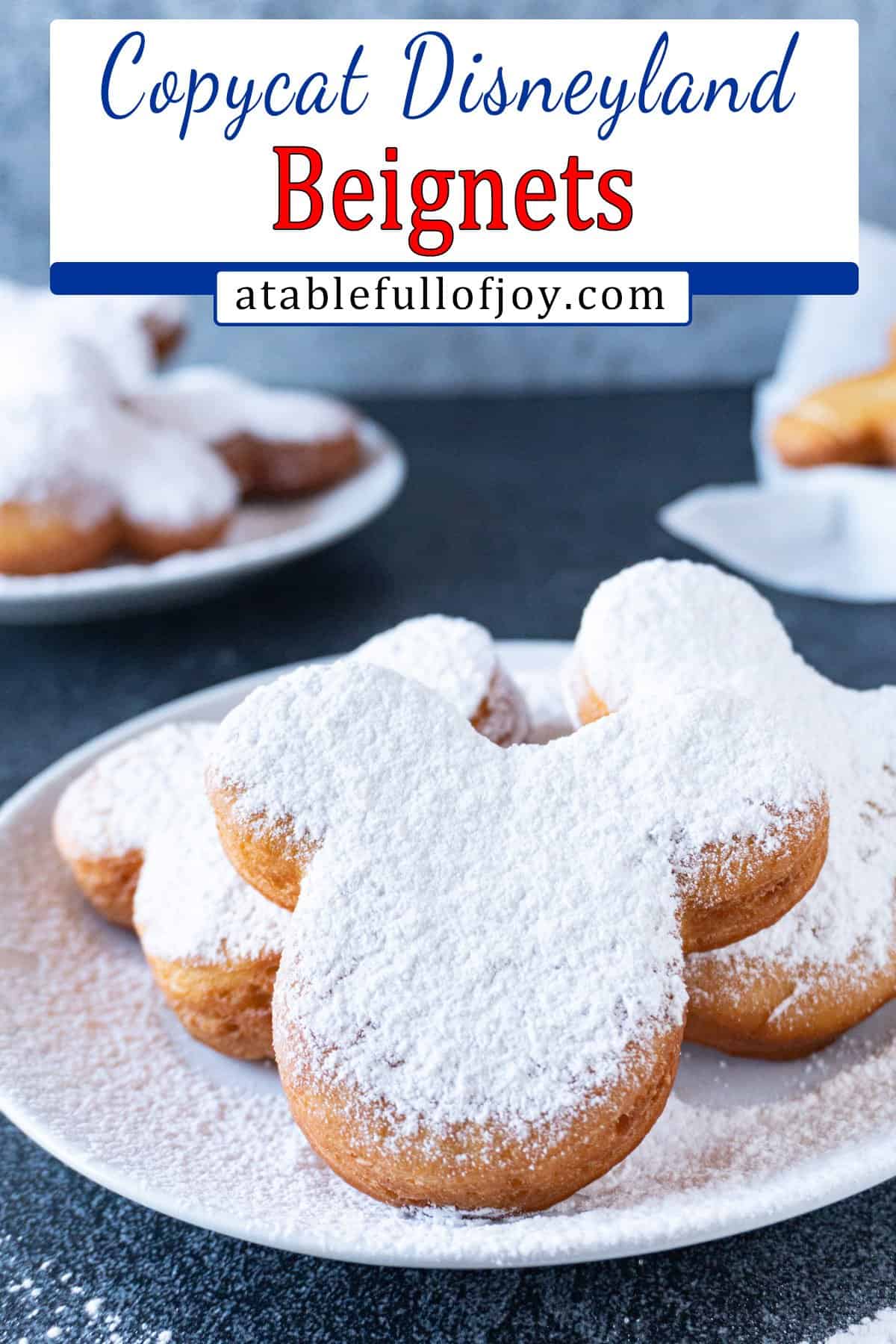 Watch how to make this recipe!
Want more? Subscribe to my newsletter and follow along on Facebook, Pinterest and Instagram for all of the latest updates.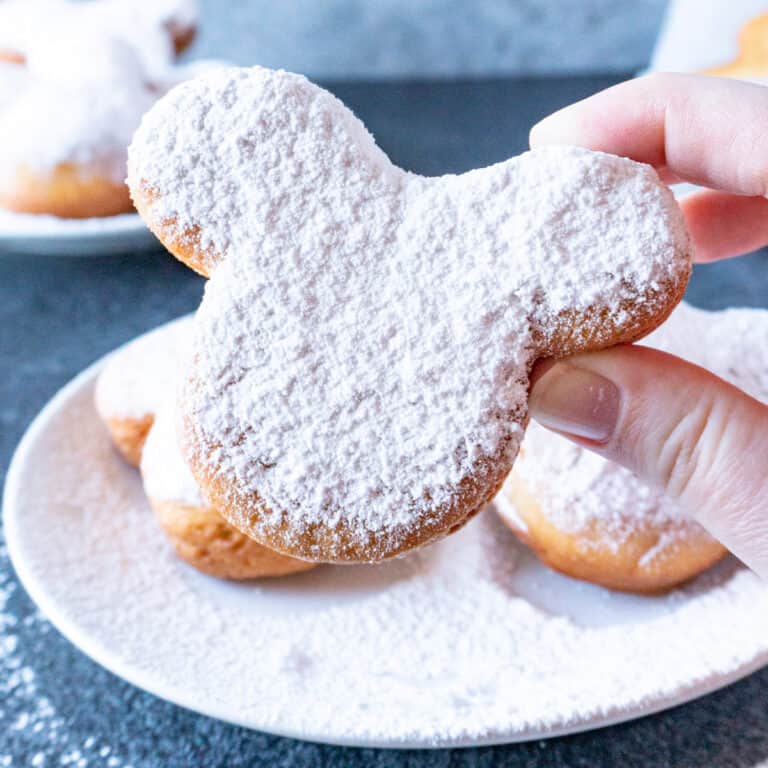 Disneyland Beignets Recipe
Hot Fresh Mickey Disneyland Beignets are a must have when visiting the parks, but now you can make them at home! This Disneyland Beignets recipe is easy, and produces those fluffy, soft, delicious beignets everyone loves!
Ingredients
2 ¼

teaspoon

active dry yeast

2

teaspoon

sugar

¼

cup

warm water

105°

¼

cup

sugar

2

tablespoons

vegetable shortening

½

teaspoon

salt

½

cup

heavy cream

1

large egg

4

cups

all-purpose flour

½

cup

boiling water

Vegetable oil for frying

Powdered sugar
Instructions
In a small bowl combine yeast, sugar, and warm water. Make sure the water is no hotter than 110°F or else you will kill the yeast. Let the mixture sit for ~10 minutes, the mixture should get bubbly and foam will appear- this is a sign the yeast is working!

2 ¼ teaspoon active dry yeast,

2 teaspoon sugar,

¼ cup warm water

In the bowl of stand mixer (or you can use an electric hand mixer) with the paddle attachment combine the sugar, shortening, salt, heavy cream, egg, flour and boiling water. Once combined mix in the yeast mixture.

¼ cup sugar,

2 tablespoons vegetable shortening,

½ teaspoon salt,

½ cup heavy cream,

1 large egg,

4 cups all-purpose flour,

½ cup boiling water

Using the dough hook attachment mix on medium speed, mix the dough until just combined. Cover with a light towel and let dough rest for 30 minutes.

After 30 minutes, remove dough to a clean surface and roll to ¼-inch thickness. I like to roll out the dough to a small rectangle then fold it in half, then half again. This will create a smooth surface. Then roll out to a ¼ of an inch thickness.

Cut beignets either into 2 ½ to 3-inch squares or with a Mickey Mouse cookie cutter.

Lightly cover cut dough with a towel and let dough rise in a warm area for 1 ½ hours. They will grow taller but they don't spread too much.

Fill a large pot fill with 3 inches of vegetable oil. Heat oil to 350°F over medium-high heat.

Fry beignets until golden brown for 30-45 seconds each side, flipping over each beignet as soon as they brown on the first side. Once golden brown on both sides carefully remove each beignet with tongs and place on paper towels to soak up extra grease.

While beignets are still warm sprinkle with powdered sugar topping.
Notes
Tips and Tricks
If your house is cold simply preheat your oven to the lowest temperature, for example my oven's lowest temperature is 170°F. Once preheated turn oven off and put the cut-out beignets inside and allow to rise. With the oven off it stay warm but won't be too hot for the dough.
The original beignet recipe found on the Disney Parks site worked ok but I found that adding a little more yeast and sugar to the yeast mixture really helped with a better rise.
Nutritional info is an estimate and does not include the oil for frying or the powdered sugar sprinkled on top,
Nutrition
Calories:
188
kcal
Carbohydrates:
30
g
Protein:
5
g
Fat:
5
g
Saturated Fat:
2
g
Polyunsaturated Fat:
1
g
Monounsaturated Fat:
2
g
Trans Fat:
1
g
Cholesterol:
20
mg
Sodium:
86
mg
Potassium:
65
mg
Fiber:
1
g
Sugar:
4
g
Vitamin A:
132
IU
Vitamin C:
1
mg
Calcium:
13
mg
Iron:
2
mg
Reader Interactions