Strawberry Shortcake Marshmallow Wands- the tasty and fun treat from California Adventure you can now make at home! Marshmallows, caramel, and strawberry shortcake are the perfect combo for dessert!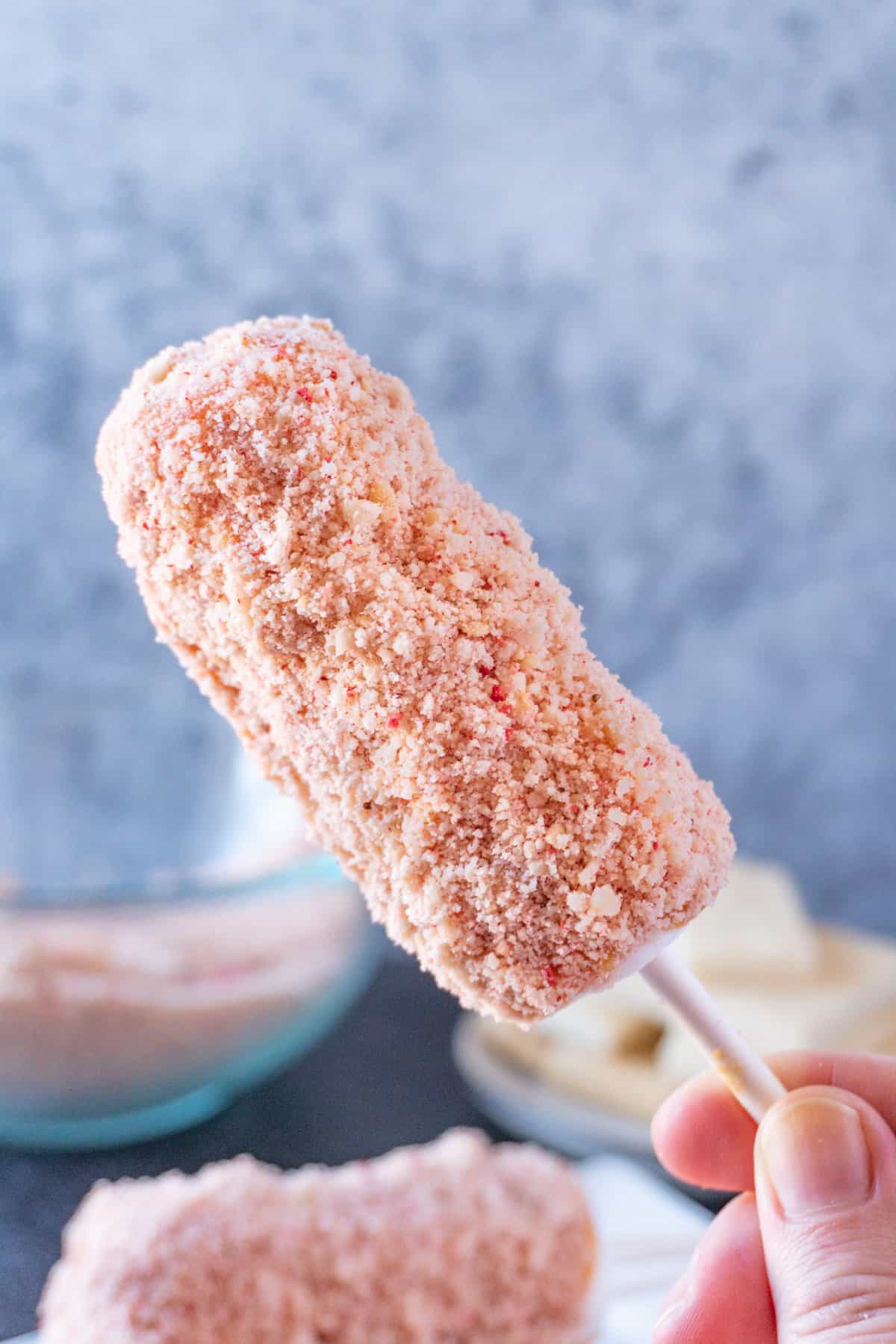 Debuting in early 2020 at Bing Bong's Sweet Stuff at Disneyland Resorts California Adventure, these tasty Strawberry Shortcake Marshmallow Wands were an instant favorite at the park.
They are made up of marshmallows dipped in caramel and then generously covered in freeze-dried strawberries and shortbread cookie crumbs. Yum!
At the park you can get one for $5.49 but I wanted to teach you guys how to make them at home! Just in case you can't make it to the park this summer.
This easy recipe is something that will remind you of those tasty Strawberry Shortcake Ice Cream Bars and the fun of Disneyland at the same time.
If you like this recipe make sure to check out these other tasty copycat recipes:
How to make Strawberry Shortcake Marshmallow Wands:
Place your Marshmallows on your cake pop sticks
Line a baking sheet or two with parchment paper
Crush your shortbread cookies and mix with your freeze-dried strawberry pieces
Melt your caramels and mix with heavy cream
Dip your marshmallow wands in the caramel, scrape off and then cover in the shortbread cookie crumb mixture
Place on prepared baking sheet and allow to set up- then enjoy!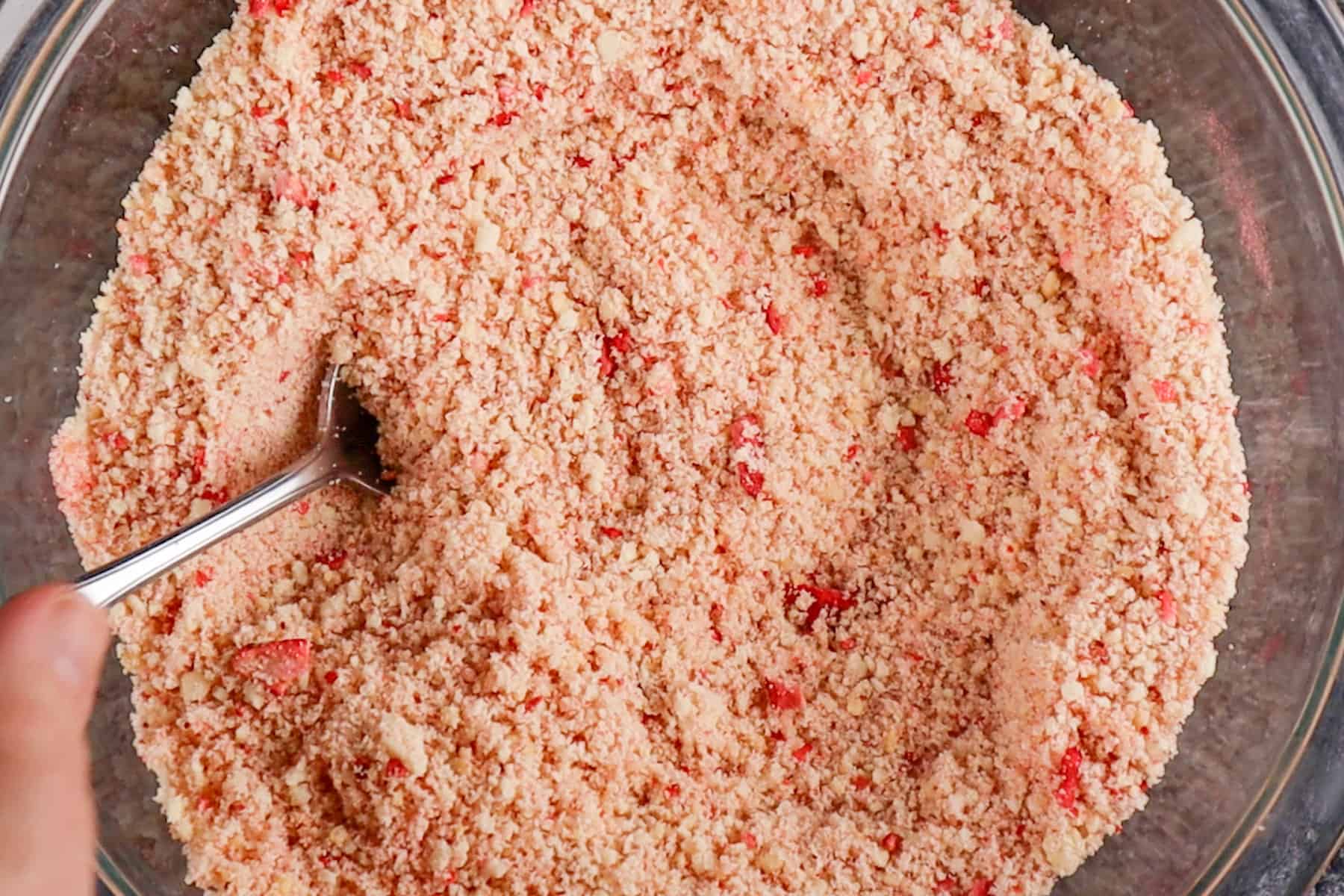 It really is that simple to make these tasty treats. Your favorite park treat can now be yours at home.
What marshmallows do I use?
I used the regular Jet Puffed marshmallows- 3 to a stick and they were perfect. Some brands of marshmallows are smaller and you might want to add 4 marshmallows to a stick if so.
What caramels do I recommend?
I love using the Werther's soft chew caramels but that being said any melting/baking caramels should work. In this recipe I used the caramel baking pieces- just to show that it works regardless of the brand used.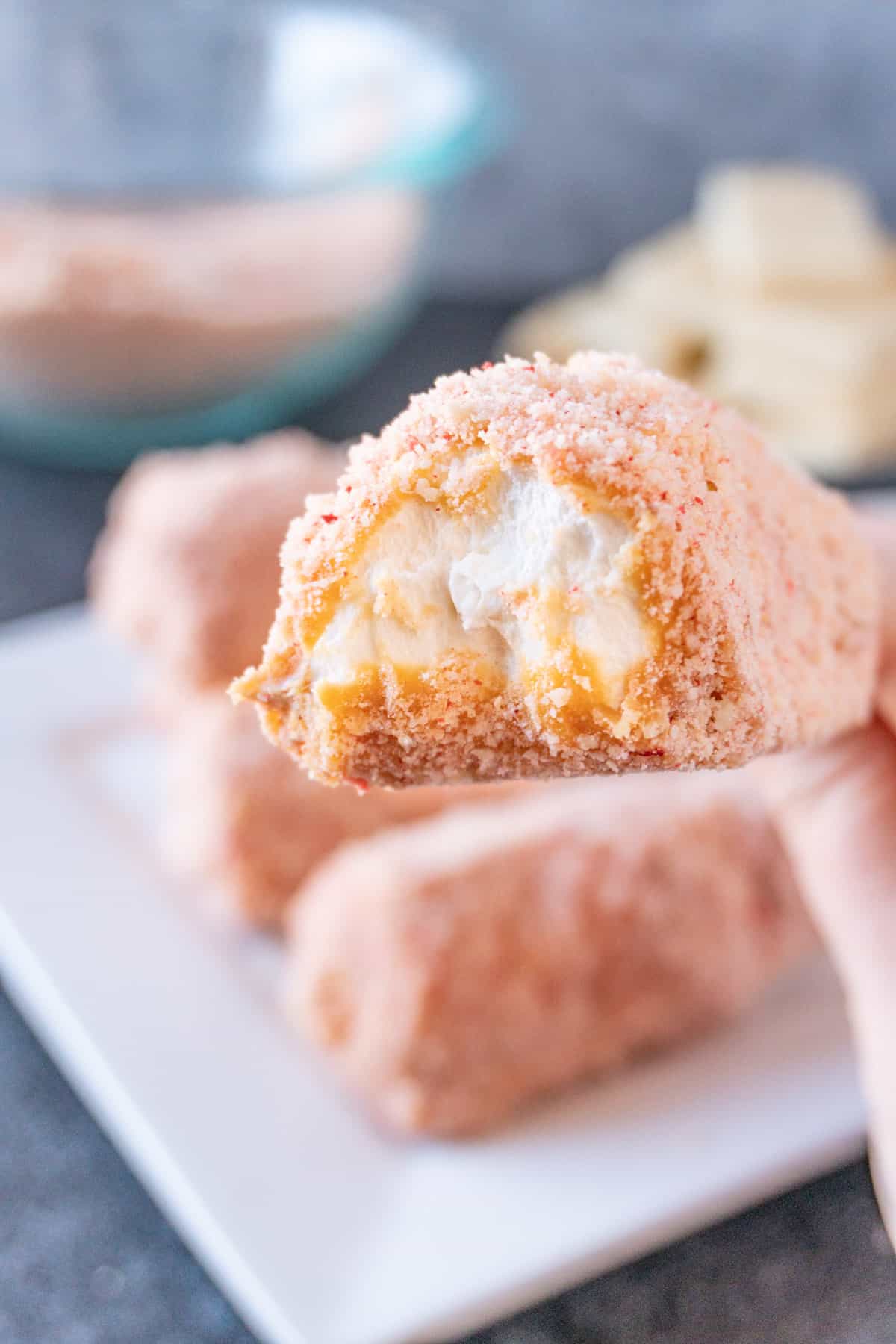 How to store marshmallow wands?
Store in a gallon ziploc baggie or an airtight container. Eat within a week of making.
What shortbread cookies did I use?
I used leftover cookies from my shortbread cookie recipe over on my food blog A Table Full of Joy. However, you can pick up shortbread cookies from the grocery store if you don't want to make them yourself.
What other copycat recipes do you want to see? Let me know in the comments below!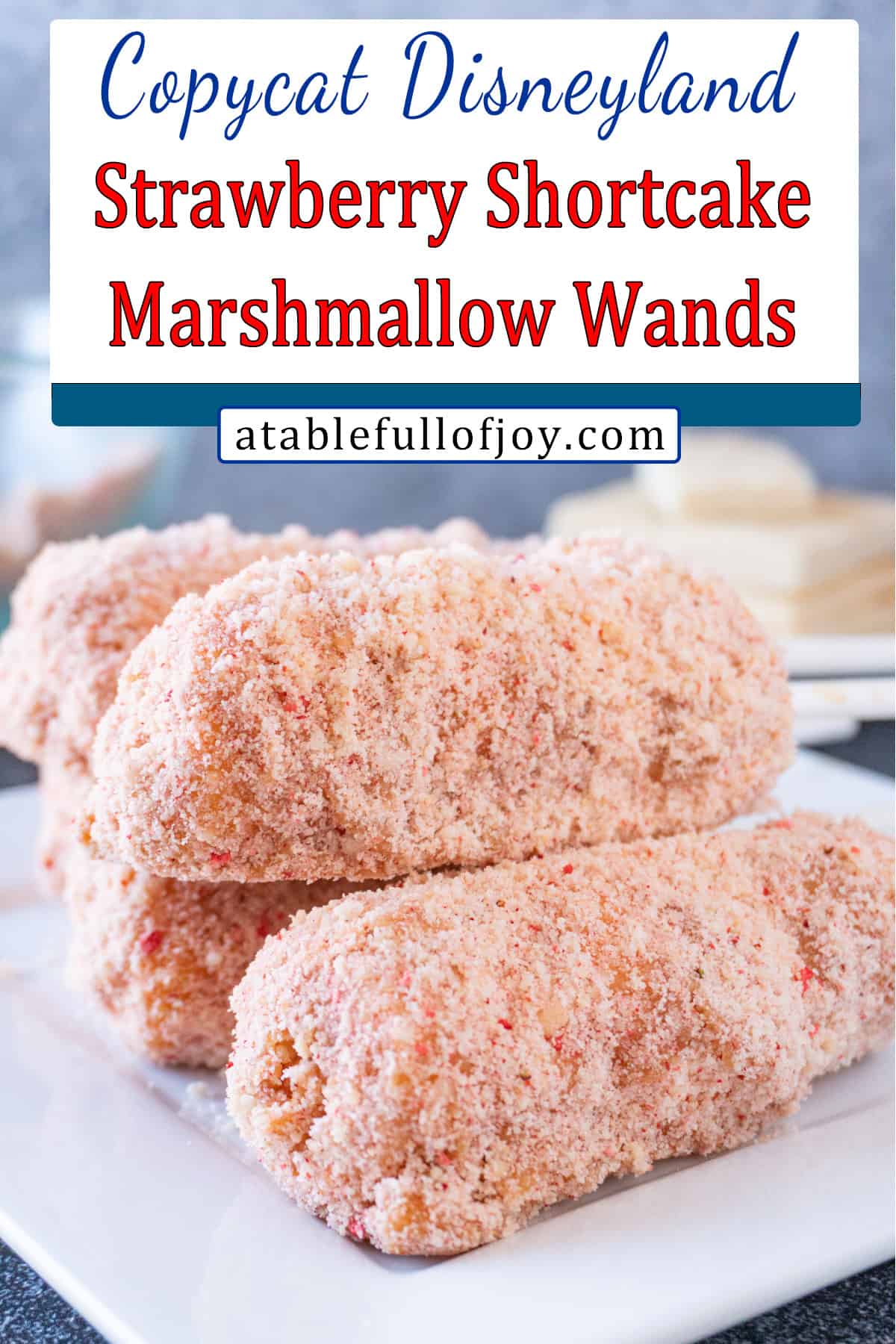 Watch how to make this recipe!
Want more? Subscribe to my newsletter and follow along on Facebook, Pinterest and Instagram for all of the latest updates.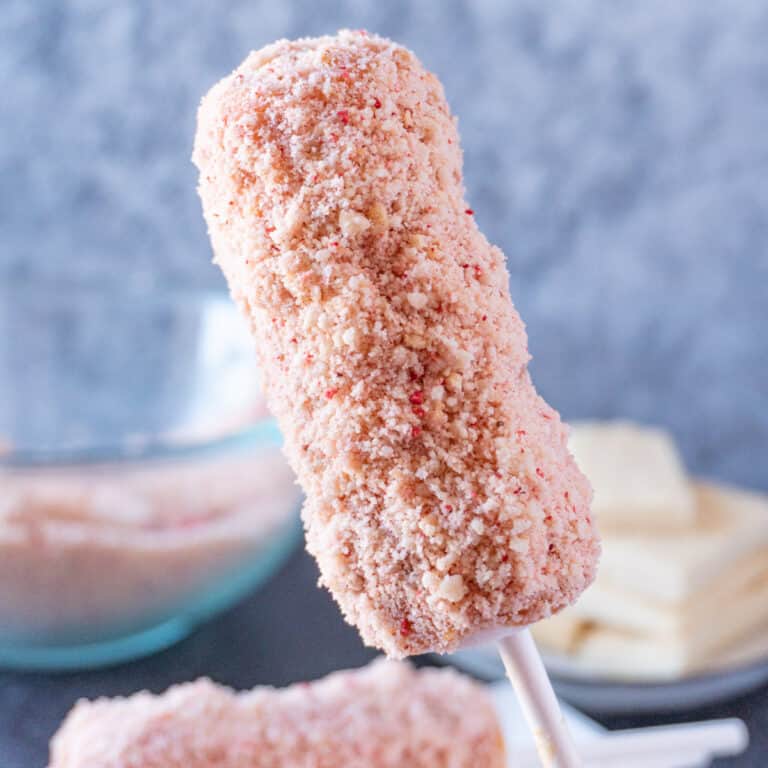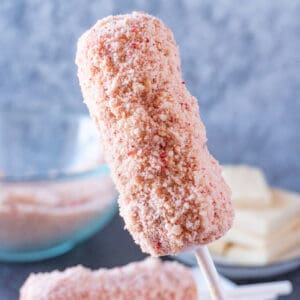 Strawberry Shortcake Marshmallow Wands
Strawberry Shortcake Marshmallow Wand- the tasty and fun treat from California Adventure you can now make at home!
Ingredients
10

oz

marshmallows

large/normal sized

4

cups

crushed shortbread cookies

¼-1/2

cup

freeze dried strawberries crumbled

20

oz

melting caramels

5

tbs

heavy cream

18

Cake Pop Sticks
Instructions
Line 2 baking sheets with parchment paper. Place 3 marshmallows* on each cake pop stick and place on the prepared baking sheets.

10 oz marshmallows,

18 Cake Pop Sticks

Crush the shortcake cookies and mix with the freeze-dried strawberries. A little freeze-dried strawberry goes a long way so start with mixing in ¼ cup, taste, then add more if need be.

4 cups crushed shortbread cookies,

¼-1/2 cup freeze dried strawberries crumbled

Place the caramels in a microwave safe bowl. Add the heavy cream and microwave on 50% power for 2-3 minutes, stirring every 30 seconds until caramel is fully melted and the heavy cream is incorporated.

20 oz melting caramels,

5 tbs heavy cream

Dip the marshmallows on the cake pop sticks into the melted caramel.

Scrape off excess caramel and roll/cover in the shortcake strawberry mixture. Set on parchment lined baking sheets and refrigerate for ~10 minutes until caramel is full set up. Keep wands refrigerated and in an airtight container/ ziploc baggie for up to a week.
Notes
Tips and Tricks
Regular marshmallows vary in size based off of the brand. I found that the Jet Puffed brand were large and perfect for 3 marshmallows per wand. If you have smaller marshmallows, place 4 per wand, however you might need another bag of marshmallows to make 18 wands.
I love using Werther's soft chews caramels- like I did for the Peppermint Wands, but any caramel baking/melting caramels will work.
Using a food processor to crush all the cookies is super easy but be careful to not over process them into dust. I made a batch of my shortbread cookies for this recipe (it's so easy), but you can use store bought cookies as well.
After putting the crumb mixture on the caramel covered marshmallows feel free to redid them in the crumbs to really get a good covering.
Nutrition
Calories:
468
kcal
Carbohydrates:
74
g
Protein:
5
g
Fat:
18
g
Saturated Fat:
6
g
Polyunsaturated Fat:
6
g
Monounsaturated Fat:
4
g
Cholesterol:
7
mg
Sodium:
276
mg
Potassium:
162
mg
Fiber:
1
g
Sugar:
43
g
Vitamin A:
120
IU
Vitamin C:
40
mg
Calcium:
54
mg
Iron:
2
mg
Reader Interactions