Easy Easter Cake, homemade yellow cake, almond butter cream (speckled!), peep layers and candy eggs on top! So cute and so easy!
Creating pretty cakes has definitely take a little time and practice to achieve but I wanted to come up with a simple Easter cake that I think anyone could make! Scroll all the way to the end of the page to see my attempt at an Easter cake in 2018 (warning it's pretty funny- but it was the best I could do at the time!)
Check out some of my other cakes!
I had a lot of fun making this cake. From the different colored frostings, speckling the outside, and adding peeps in between the cake- it was just plain fun!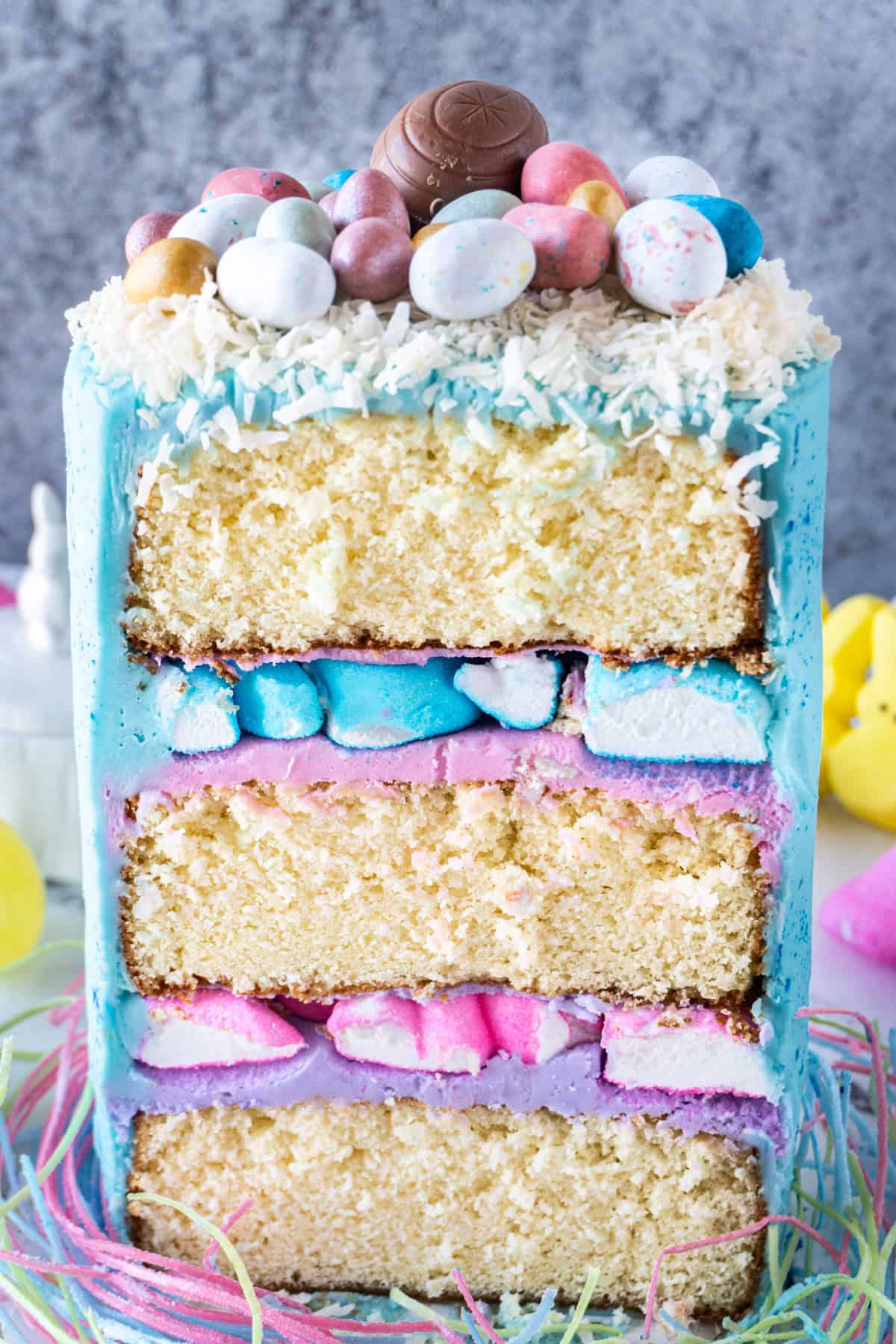 How to make this festive cake:
Bake your cake and allow to cool completely
Whip up your frosting. You will need ⅔rds cup pink, ⅔rds cup purple, the rest light blue
Assemble your cake by layering cake on the bottom, pink frosting, peeps, a little leftover pink frosting (to help the next cake layer stick to the peeps), 2nd cake, purple frosting, peeps, little leftover purple frosting, 3rd cake layer
Crumb coat the cake with blue frosting, then refrigerate/freeze for 10 minutes
Final coat the cake, making sure to smooth down the sides.
Mix a drop or two of water with some blue food coloring and using a clean food safe paint brush flick the blue water onto the cake.
Add coconut on top to form a nest, then add your favorite Easter egg candies!
I also found some edible grass that I wrapped around the bottom.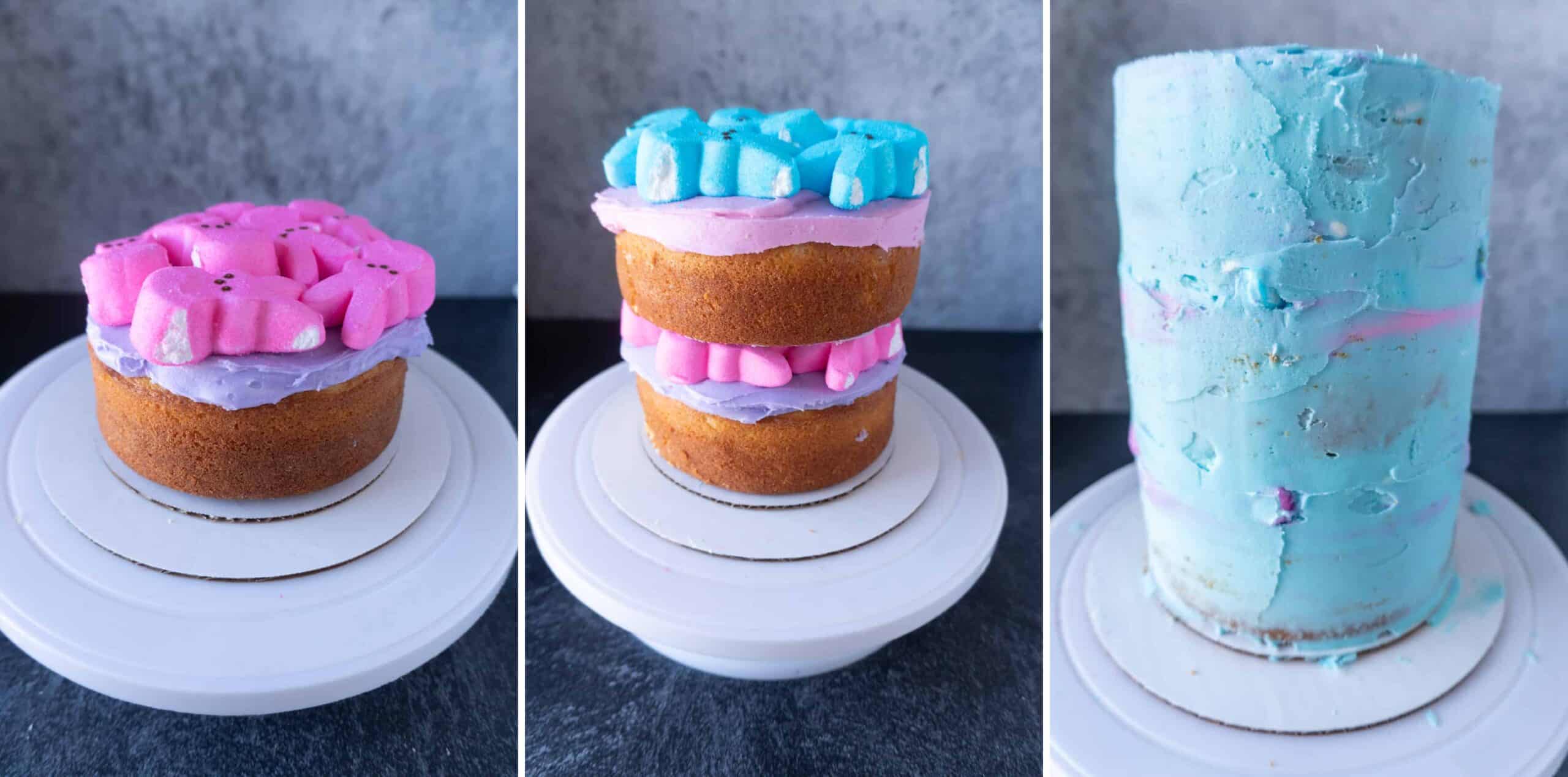 Do I have to make the cake from scratch?
Although it's my favorite yellow cake recipe I also love to doctor a cake mix if the need arises!
For an even easier yellow cake you can doctor a boxed cake mix! Simply grab your favorite yellow cake mix, add in ½ cup vegetable oil, 2tbs vanilla, ¾ cup sour cream, ¾ cup heavy cream and 3 eggs! Bake according to my directions here!
How do you get your cakes to come out from the cake pans without sticking?
Simply spray with a flour based non stick baking spray (found near Pam in the baking isle), or swipe butter or shortening on the inside surface of the cake pan and then dust with flour.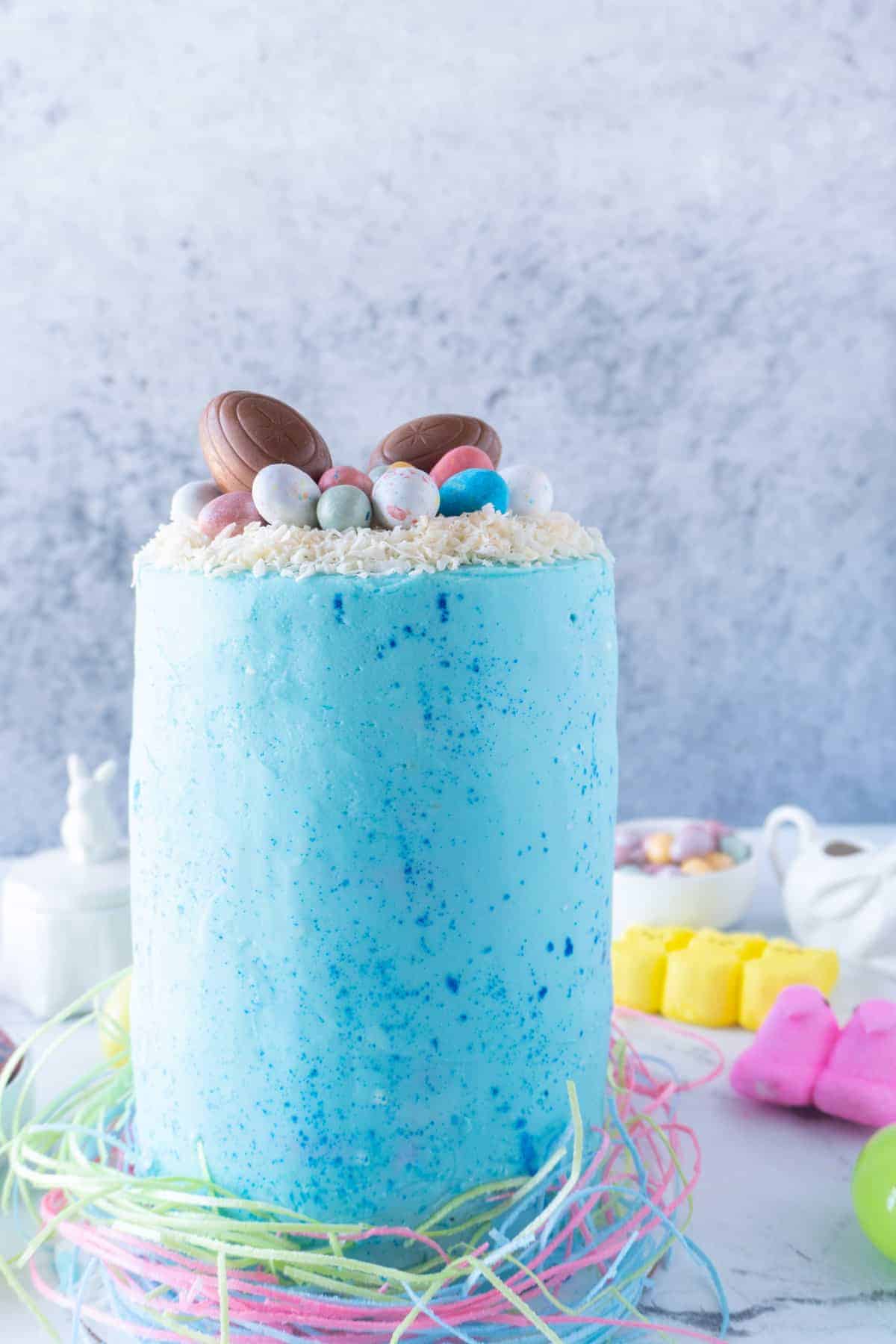 More cake tips:
This recipe makes 3 6in round cakes or 2 9in round cakes
When layering the peeps try to make sure no parts of the peeps stick out past the cake. If they do it will make getting a smooth side when frosting impossible.
Use the bunny peeps to create a nice stable flat surface for the next cake layer.
I used unsweetened coconut flakes for the top because that was what I had in the house- but sweetened will work great too.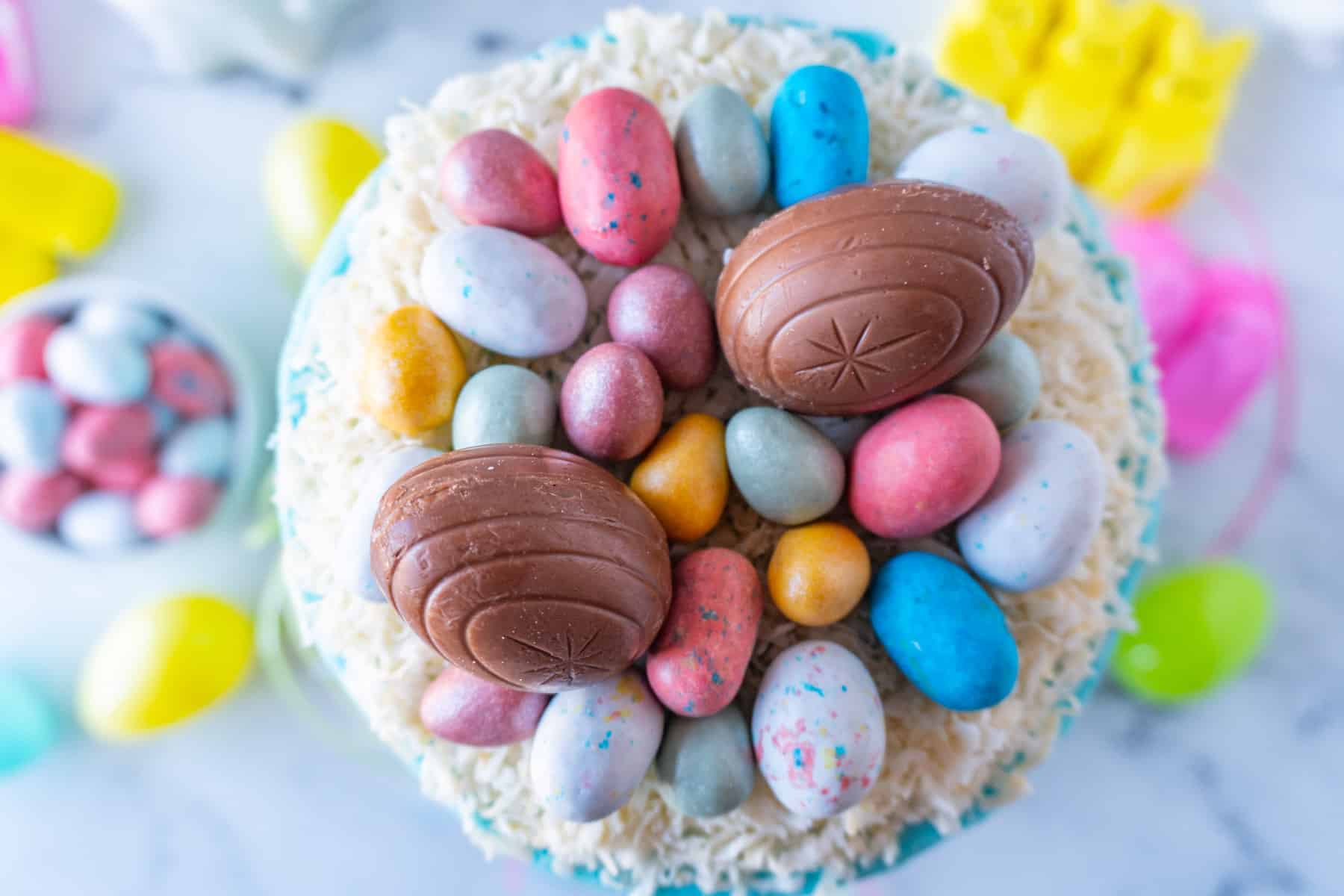 Let's talk peeps for a second. You either love them or hate them.
I love them- but instead of making an entire peep cake- I thought I'd just incorporate them in a more subtle way.
If you don't like peeps- just leave them out. Easy peasy!
I hope you enjoy this cake as much as I do. Share it with coworkers or take it to Easter dinner and let me know how every likes it!
For more Easter Recipes check out: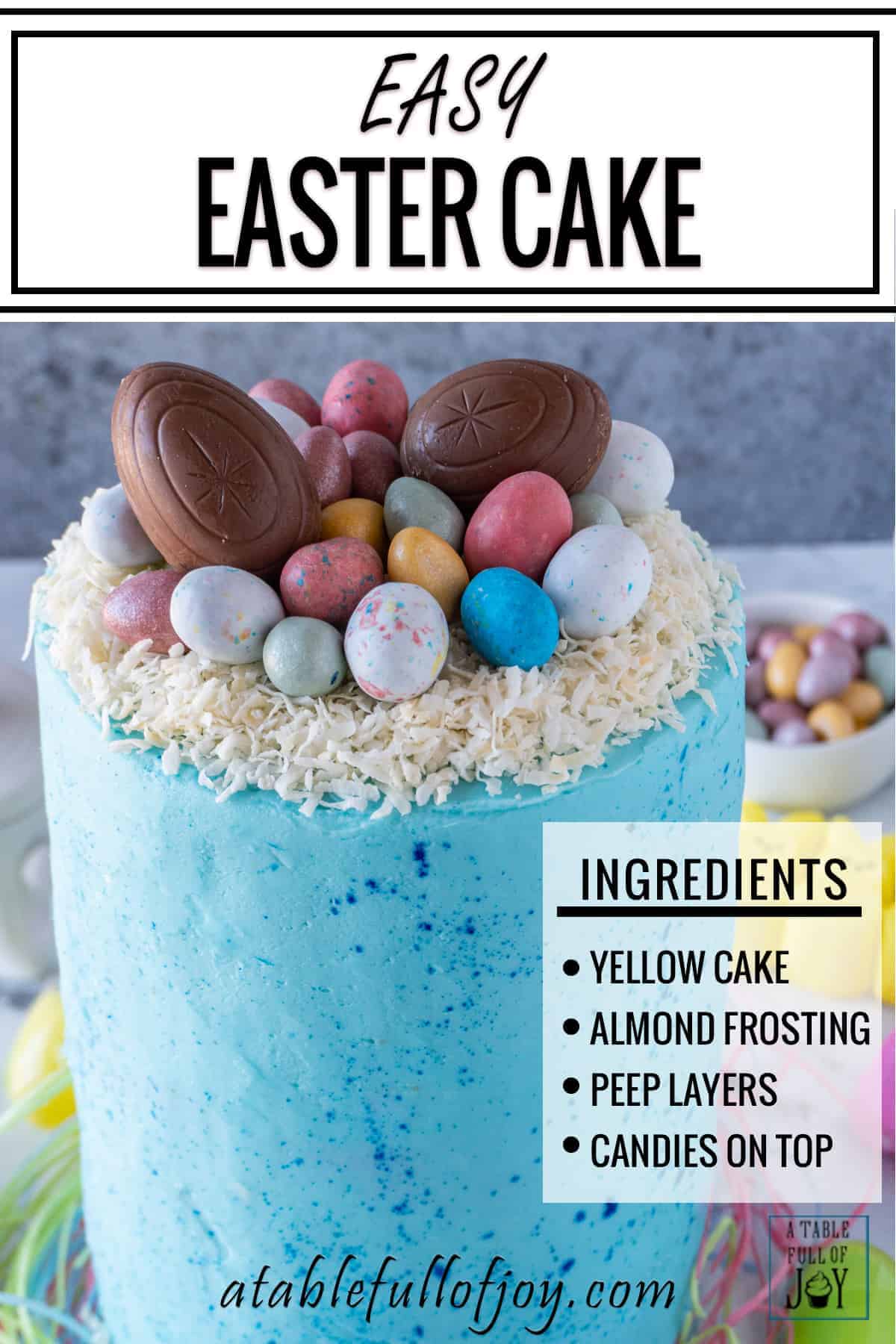 ---
BE SURE TO FOLLOW ME ON FACEBOOK, INSTAGRAM, PINTEREST, TWITTER & SIGN UP FOR MY EMAIL  NEWSLETTER!
---
Want more? Subscribe to my newsletter and follow along on Facebook, Pinterest and Instagram for all of the latest updates.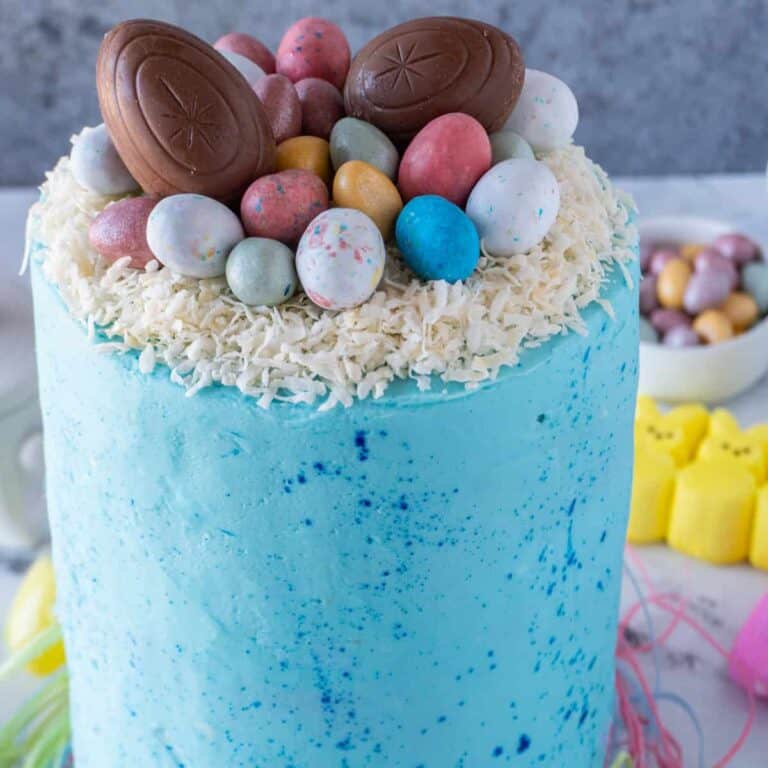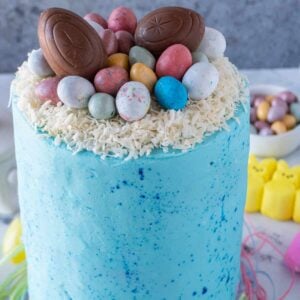 Easy Easter Cake
This fun and easy Easter cake will satisfy any sweet-tooth! Yellow cake, Almond Buttercream, and some Peeps for good measure!
Ingredients
Yellow Cake- makes 3 6inch round cakes
2 ½

cups

cake flour

1 ¼

teaspoon

baking powder

¼

teaspoon

baking soda

¾

teaspoon

salt

1 ¾

cup

sugar

divided

1

cup

buttermilk

at room temperature

10

tbs

unsalted butter plus amore for greasing the pans

3

tbs

vegetable oil

2

teaspoon

vanilla

6

large egg yolks

at room temperature

3

large egg whites

at room temperature

Pinch

of Cream of Tarter
Almond Buttercream- you will need 2 batches of this!
½

cup

butter softened

1

teaspoon

vanilla extract

1

teaspoon

almond extract

pinch

salt

¾

cup

heavy cream

5

cups

powdered sugar

Food Coloring

blue, pink, purple
Additional Items
15

Peeps

Easter Candies for decorating

optional

1

cup

Coconut

sweetened or unsweetened

Edible Easter Grass

Optional
Instructions
For the cake
Preheat oven to 350°F. Grese the inside of your cake pans with butter and then dust with flour- or spray with a floured non stick baking spray.

Melt the 10 tbs butter in the microwave then set aside and let it cool slightly.

Combine flour, baking powder, baking soda, salt, and 1 ½ cups sugar in a large bowl, set aside. (2 ½ cups cake flour, 1 ¼ teaspoon baking powder, ¼ teaspoon baking soda, ¾ teaspoon salt, 1 ½ cups sugar)

Whisk buttermilk, melted butter, oil, vanilla and egg yolks until well combined, set aside. (1 cup buttermilk, melted 10 tbs butter, 3 tbs vegetable oil, 2 teaspoon vanilla, 6 large egg yolks)

Using a stand mixer or electric hand mixer and the whisk attachment, whisk egg whites and cream of tartar on medium speed until foam appears (about 1 minute). Then whisk on high until the egg whites become cloud like (1-2 minutes). (3 large egg whites, pinch of cream of tarter)

Slowly add remaining ¼ cup of sugar to the egg whites and whisk until stiff peaks form (3-5 minutes). Move egg whites to a different bowl.

In the stand mixer bowl with the paddle attachment add the flour mixture. While whisking on low speed, slowly add the buttermilk mixture, then increase the speed to medium high and make sure it is fully incorporated.

Using a large spoon or rubber spatula fold in, by hand, ⅓ of the egg white mixture into the batter. Then carefully fold in the remaining egg white mixture making sure there aren't any white streaks when done.

10. Pour the batter into the prepared cake pans. Bake for 20-25 minutes, or until a toothpick inserted comes out clean. If baking more than one cake layer at a time, bake the cakes on the same oven rack to ensure even baking.

11. Let the cakes cool completely before frosting.
Almond Buttercream
Using a stand mixer or hand mixer with the paddle attachment, cream the butter on medium/high until light and fluffy looking. (½ cup butter)

Add in vanilla, almond extract, salt and heavy cream and mix until combined. (1 teaspoon vanilla extract,1 teaspoon almond extract, ¾ cup heavy cream)

Add in powdered sugar 1 cup at a time allowing each cup to fully incorporate. Do this until all the powdered sugar is added. (5 cups powdered sugar)

Measure out ⅔rds cup and place in a separate bowl with a little pink gel food color, measure out another ⅔rds cup and place in a separate bowl with some purple gel food coloring. Set the remain ⅔rds cup aside and make your second batch of frosting. (If you are making larger cake rounds see notes below)

Once your second batch is made add the remaining ⅔rds cup of white almond cream frosting then add a little blue gel food coloring.
To assemble the cake:
Level the cakes buy cutting them flat if needed.

Put a dab of frosting in the center of your cardboard cake round or whatever you will be setting the cake on, to hold it in place.

Place the first layer, then add the pink frosting. Spread the frosting into an even layer. Then add 6 or 7 peeps in a layer (or more if you made larger cakes)

Add a very thin layer of frosting to the bottom of the second cake then gently press onto the peeps. Add the purple frosting to the top of the cake and the place more peeps on top of that.

Add a very thin layer of frosting to the bottom of the third cake and gently press onto the peeps. Refrigerate the cake for 10 minutes to allow the frosting to set up. Then crumb coat your cake with some of the blue frosting and refrigerate again for 10 minutes.

For the final coat add the remaining frosting and smooth out over the entire cake.

To speckle the cake add a little blue food gel to a bowl and then add a few drops of water. You need very little water! Then flick the water onto the cake- I use a food safe paint brush but you can even use your fingers if you need to (they will turn blue though!)

Add coconut to the top of the cake in the shape of a circle, then add easter egg candies to the top. I also added some edible easter grass around the bottom of the cake.
Notes
Lisa's Tips
*If you are making this cake into 2 9 inch rounds simply measure out 1 ½ cups frosting from the first batch and die the color of your choice, set the remaining ½ cup of frosting aside and then add it to  your second batch of frosting to dye it blue.
Cake adapted from Cook's Science of Good Cooking Book, Fluffy Yellow Cake Recipe
Nutrition
Calories:
446
kcal
Carbohydrates:
66
g
Protein:
4
g
Fat:
19
g
Saturated Fat:
12
g
Cholesterol:
99
mg
Sodium:
222
mg
Potassium:
91
mg
Fiber:
1
g
Sugar:
53
g
Vitamin A:
546
IU
Vitamin C:
1
mg
Calcium:
43
mg
Iron:
1
mg
I love getting to see how far I've come in being able to create pretty cakes! Plus I love getting to share what I've learned along the way to make decorating easier for you!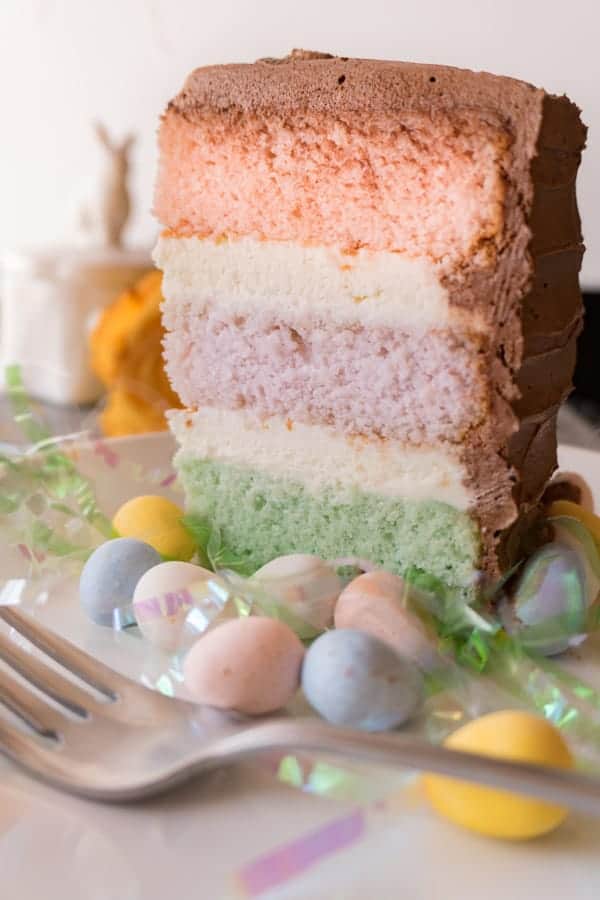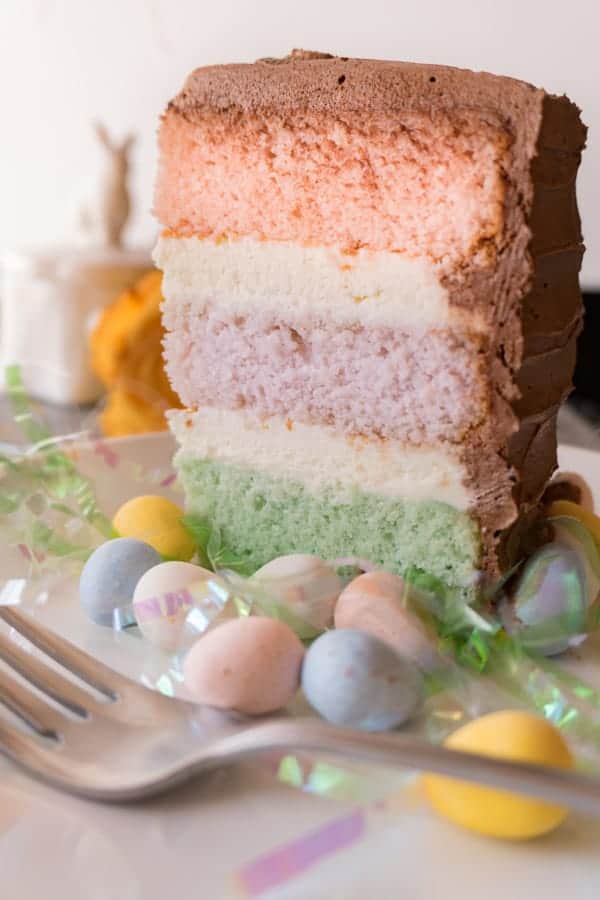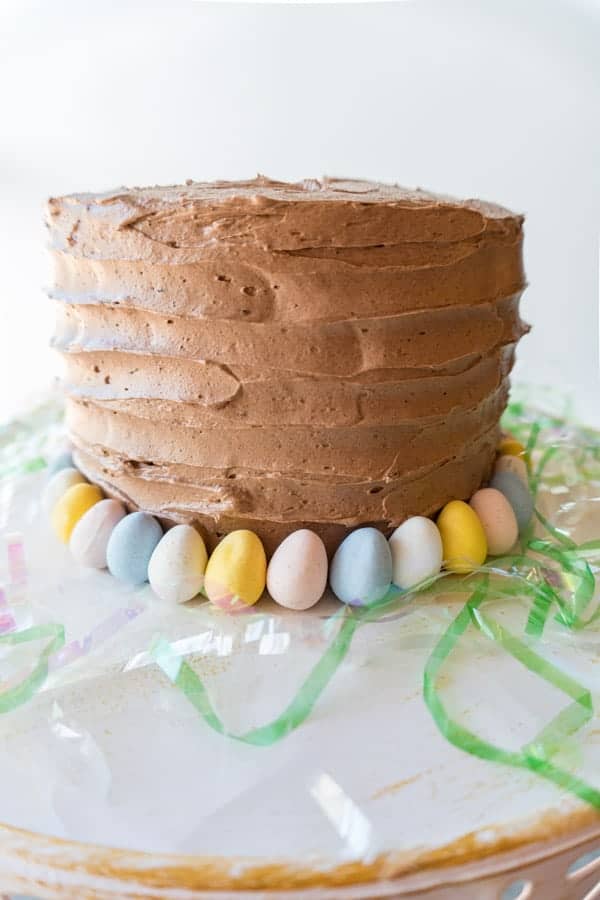 Reader Interactions