Durr Burger Fortnite – Who else has been caught up in the Fortnite craze! Well, if you love the game you have probably heard of the Durr Burger!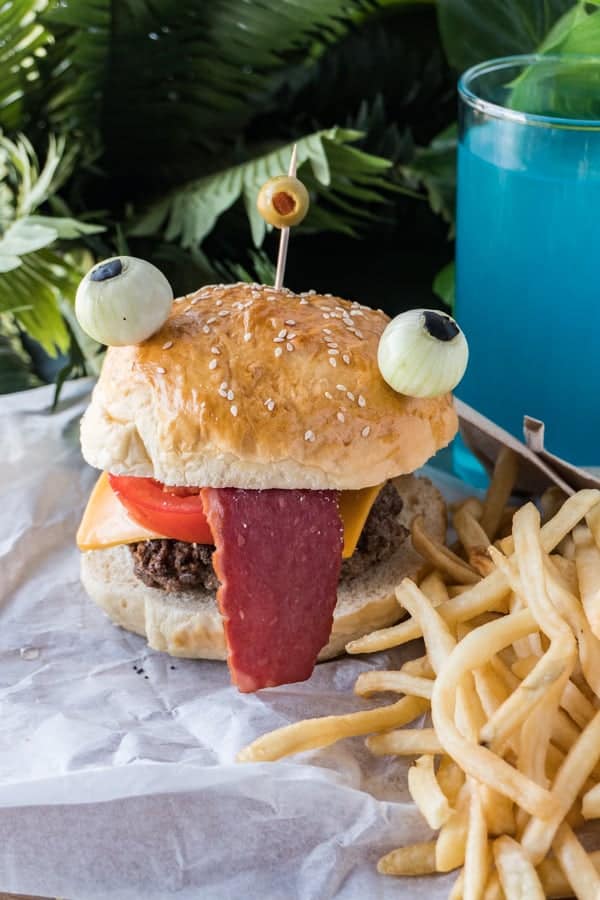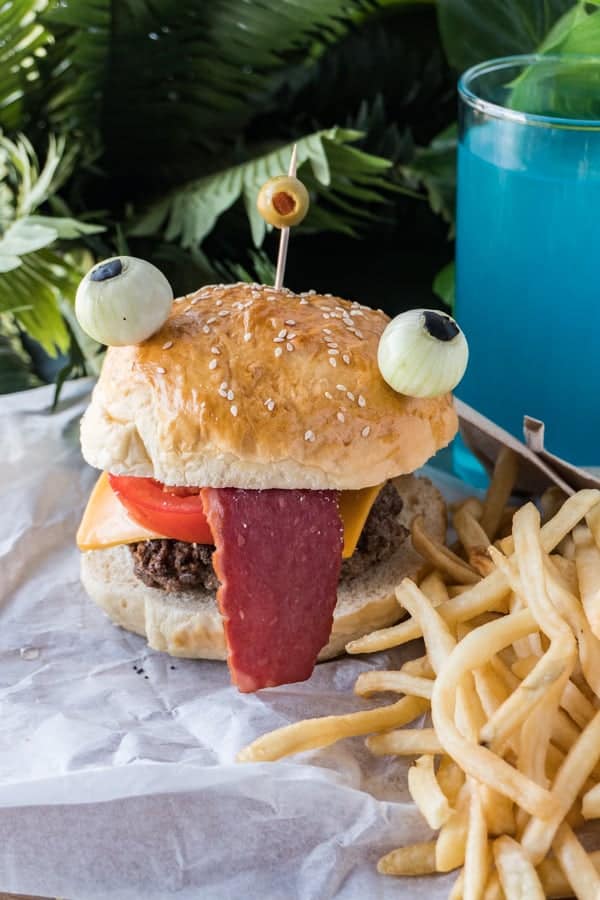 I thought it would be fun to recreate this iconic burger for any other Fortnite lovers out there!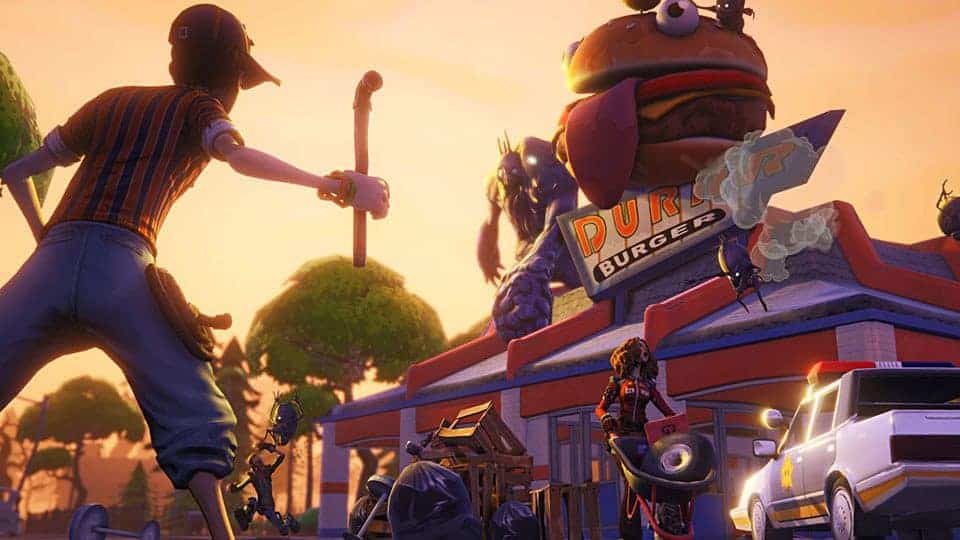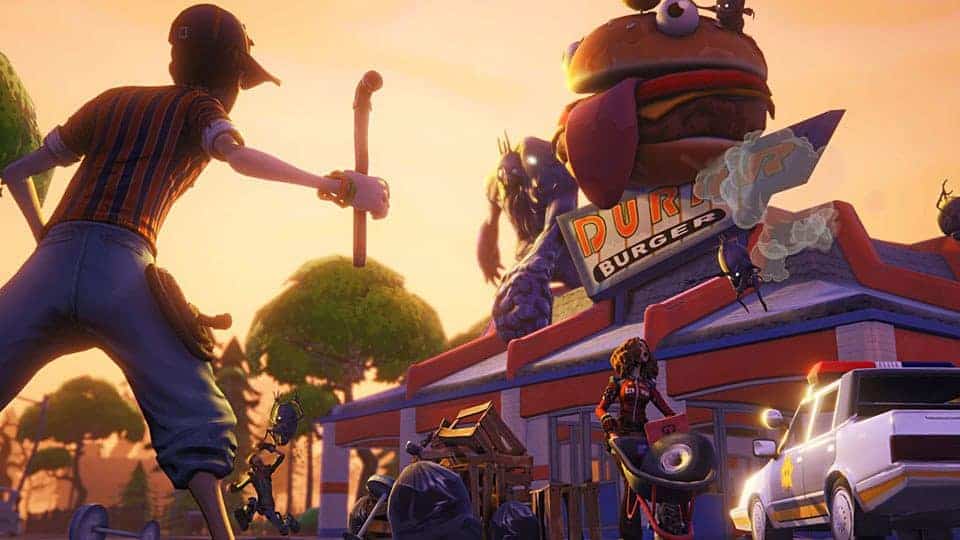 This would be great for Fornite themed birthdays or any party!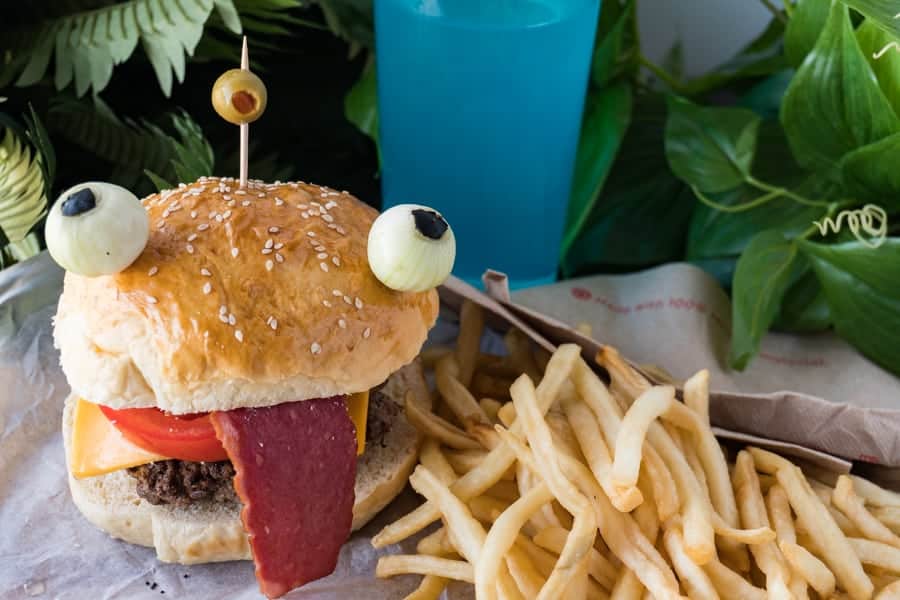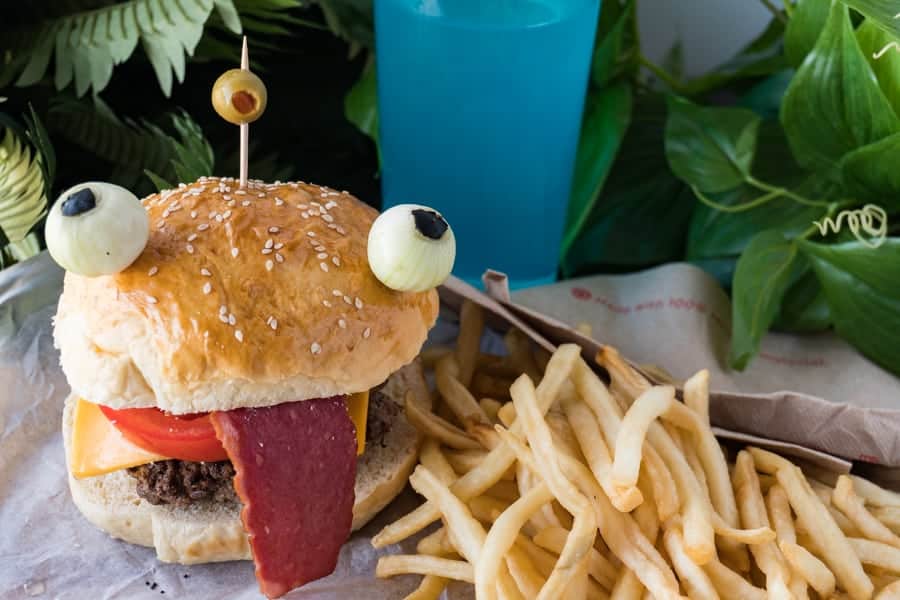 To make a Durr Burger all you need to do is:
Slice your hamburger bun
Layer on your hamburger, cheese and tomato
Add turkey bacon (regular bacon will work too!)
Hollow out two pearl onions and stick small slices of black olives in them. Then attach them to the burger top with toothpicks.
Finish it off with a green olive on top and you have yourself a Durr Burger!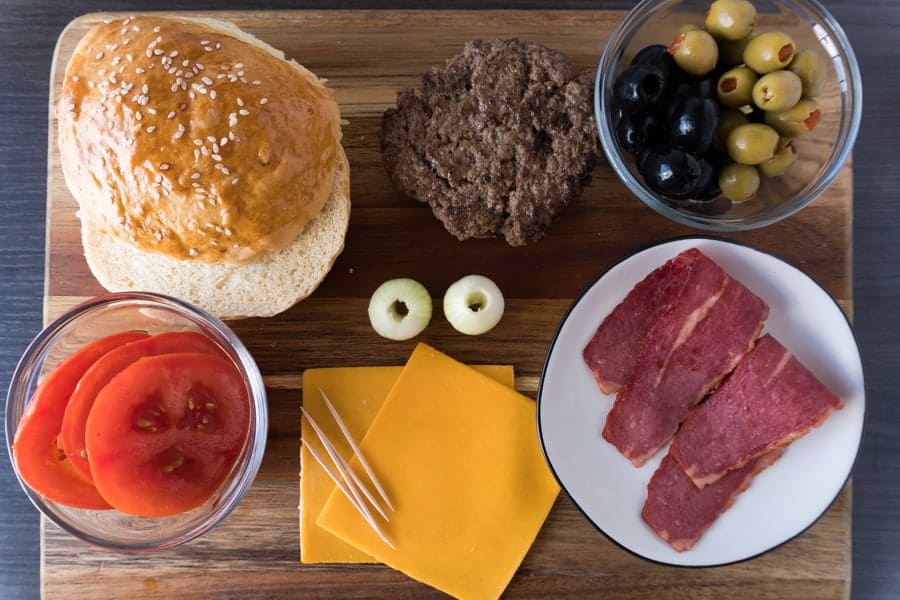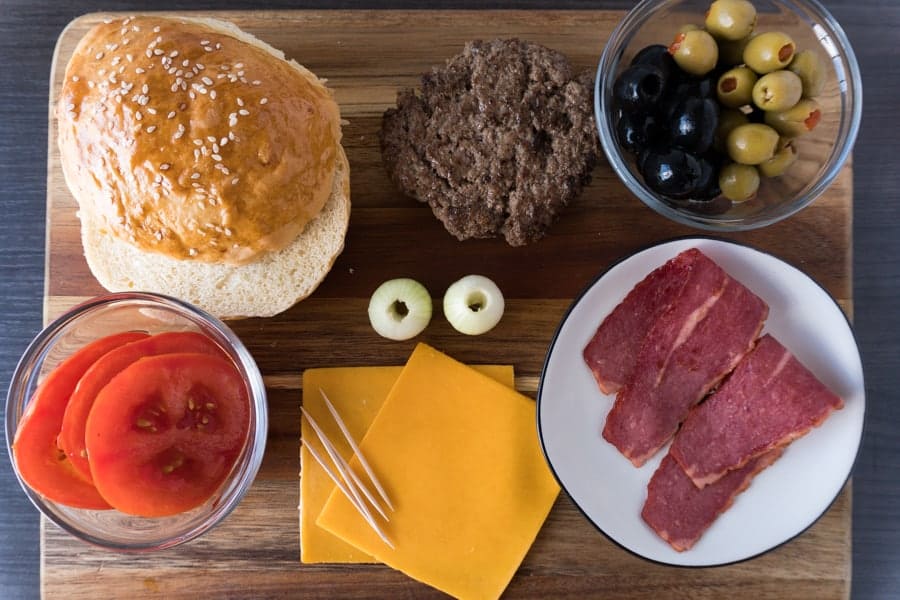 You can use any hamburger bun but I love to make my own! Get the recipe here!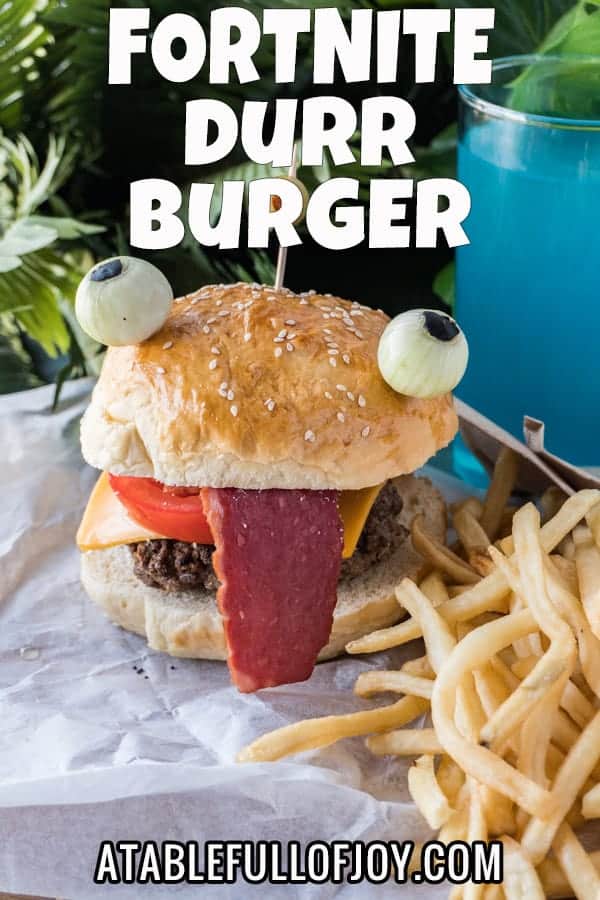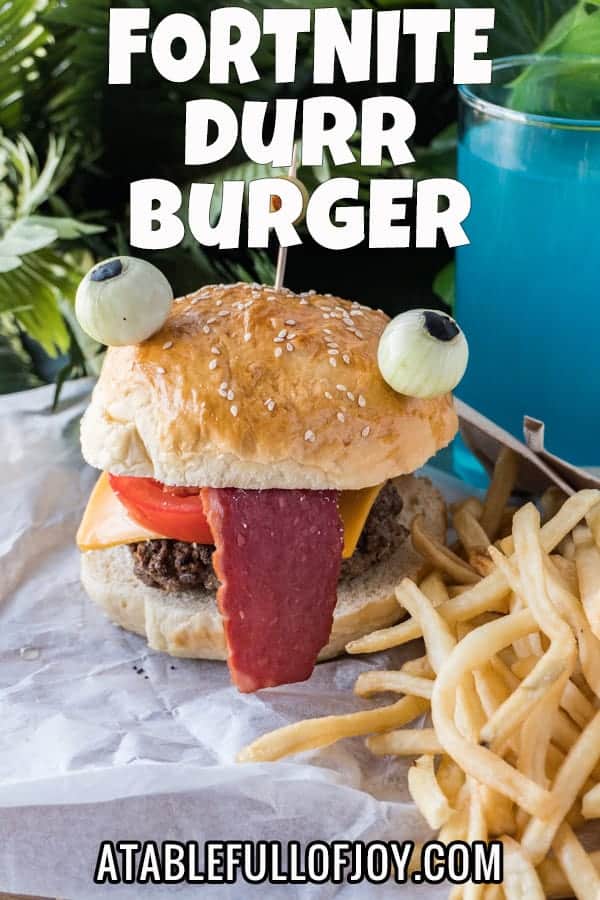 For more fun recipes check out my entire Hearthstone inspired menu, my Harry Potter Birthday Cake, and my easy Disneyland inspired Mint Julep!
---
BE SURE TO FOLLOW ME ON FACEBOOK, INSTAGRAM, PINTEREST, TWITTER & SIGN UP FOR MY EMAIL NEWSLETTER!
---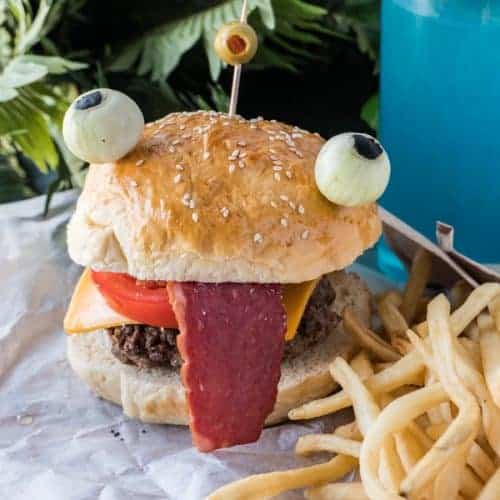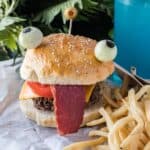 Durr Burger Fortnite
Who else loves Fortnite! This Durr Burger is easy to make and perfect for every Fortnite party!
Ingredients
For the burgers*:
2

lbs

hamburger

2

eggs

2

tbs

garlic powder

2

tbs

liquid smoke

2

tbs

Worcestershire sauce

1

tbs

pepper

1

tbs

salt
Hamburger Buns- link to recipe below
Additional items needed
24

Tooth picks

8

Green olives stuffed with pimentos

Black olives

8

slices

yellow cheese

8

slices

turkey bacon

or pork

3

large tomatoes

16

pearl onions
Instructions
How to make Durr Burgers:
Make your hamburger buns! You can use store bought but this recipe is seriously so easy and so delicious!

Combine the raw hamburger, eggs, garlic powder, liquid smoke, Worcestershire sauce, pepper, and salt in a large bowl. Divide hamburger meat into eight patties.

In a skillet cook the patties over medium heat for 5-7 minutes, flipping halfway, or until your desired doneness.

Fry up the turkey bacon.

Assemble your burgers. To do this simply layer you hamburger patty, cheese, and tomato on the bottom of the bun (with the cheese on top). Then place a piece of bacon hanging out of the burger to look like a tongue. Add the top bun.

Make the eyes buy peeling and cutting of the ends of the pearl onions. Then carefully hollow out each onion using a knife. Slice the black olives into small pieces and then stuff the pearl onions with them. I like to try to get a nice piece of the outside of the olive and push that in with a tooth pick to make a solid black pupil.

Then insert a toothpick into the bottom of the eye. The olive will want to come out when you insert the tooth pick but just hold it in place. Then insert the toothpick into the top of the bun. Repeat for the other eye.

Add a pimiento stuffed green olive via a toothpick to the top and enjoy!
Recipe Notes
*This hamburger recipe is optional, you can make your hamburgers any way you want!
Image from Fortnite Press Kit
Portions of the materials used are trademarks and/or copyrighted works of Epic Games, Inc. All rights reserved by Epic. This material is not official and is not endorsed by Epic.