Print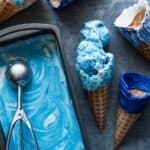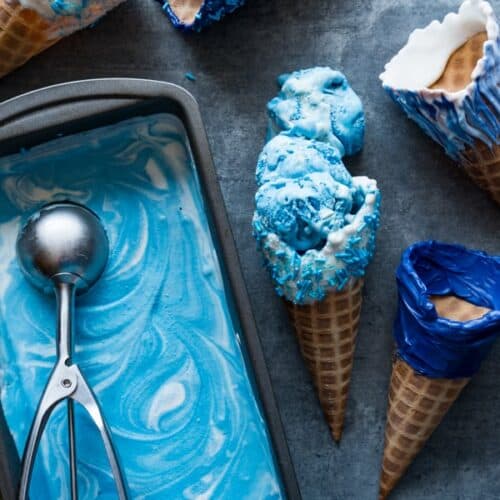 No Churn Homemade Vanilla Ice Cream Recipe
This homemade vanilla ice cream recipe is so easy and super delicious! Add in some food coloring, and dip your own cones in chocolate to make this extra fun!
2

cups

heavy cream

14

oz

sweetened condensed milk

1

tsp

vanilla extract*

Blue food coloring

Waffle Cones

1

cup

White Candy Melts

1

cup

Blue Candy Melts

Sprinkles
For the ice cream
Place metal or freezer safe glass loaf dish in the freezer.

In a medium sized bowl (you can use a stand mixer), using a whisk or the whisk attachments for your mixer, whisk the heavy cream and vanilla. Continue whipping until stiff peaks forms, about 2-5 minutes.

Using a rubber spatula, fold in the sweetened condensed milk.

Separate mixture into two bowls. Add blue food coloring to one.

Remove the loaf pan from the freezer and add in the white and blue ice cream mixture. I like to alternate adding each ¼ cup at a time to get a good color layering system going.

Take a knife and drag it through your mixture a few times, swirling it about, then cover with plastic wrap and freeze for 5-6 hours.
For the dipped cones
Make your ice cream cone stand! See instructions in the post above!

Melt the white and blue candy melts in their own microwave safe bowls. I like to microwave the chocolate for 30 seconds, stir and then repeat until the chocolate is melted.

Dip your Waffle Cone in the white chocolate, then using in a fork scoop some blue melted chocolate and swirl it into the white. Alternatively you can just add sprinkles to the white chocolate or do any combos of chocolate and sprinkles as you like!

Fill with ice cream and enjoy!
You can add other extracts too! Adding 1 tsp raspberry extract and 1 tsp lemon extract will give this ice cream some exciting flavor! You can also add more vanilla if you want a stronger vanilla taste start with 1 tsp taste and the mixture then add more if you desire! Recipe adapted from Homemade Interest, box instructions from She Wears Many Hats.