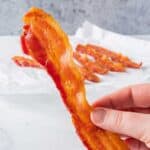 Print
Oven Baked Bacon Recipe
Looking to make the best most flavorful bacon ever? Then you need this oven baked bacon recipe in your life!
Place bacon on a foil or parchment lined rimmed baking sheet in a single layer.

Place bacon in cold oven.

Preheat oven to 400°F and set a timer for 15 minutes.

By the timer hits 15 minutes your oven will most likely be preheated- check your bacon and depending on how crispy you want it bake it for another 2-5 minutes.

Bacon is done when it is golden.
Lisa's Tips 
The thickness of your bacon will determine how long it needs to be baked- thicker will need a little longer
If your oven heats unevenly then turn the tray halfway through baking (~8-10-minute mark)
Make sure to keep an eye on it those last few minutes of baking- you don't want to burn the bacon.
Store leftover bacon in an airtight container. 
The fat from the bacon will be perfectly rendered and you can save the drippings for use in cooking. Just pour the rendered grease into an airtight heat safe container- (be careful because grease will be hot!) and refrigerate. Use for frying or sautéing.
Calories:
236
kcal
|
Carbohydrates:
1
g
|
Protein:
7
g
|
Fat:
23
g
|
Saturated Fat:
8
g
|
Cholesterol:
37
mg
|
Sodium:
375
mg
|
Potassium:
112
mg
|
Vitamin A:
21
IU
|
Calcium:
3
mg
|
Iron:
1
mg