Print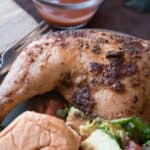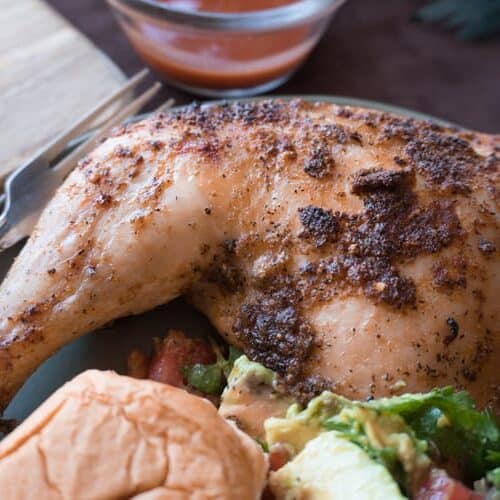 Smoked Angry Chicken- Smoked Chicken with a Chipotle Paprika Dry Rub
Smoked chicken is my favorite way to eat chicken! It is full of flavor, both from the seasoning and the smoking, it's cooked to juicy perfection, and it has a nice crisp skin, with the fat rendered perfectly- so good!
Prep Time
2
hours
10
minutes
Cook Time
3
hours
30
minutes
Total Time
5
hours
40
minutes
Dry Rub
3

tbs

garlic powder

1

tbs

chipotle powder

1

tbs

paprika

1

tbs

onion powder

1

tbs

pepper

1

tsp

red pepper flakes
Additional Ingredients
10

lbs

chicken quarters*

1

cup

olive oil
Brine the chicken
Combine sugar, salt, and 6 cups water in a bowl. Stir until sugar and salt are dissolved.

In a large resealable bag (or several) or a large bowl (or several), add your raw chicken quarters and then divide the brine between the containers. Add additional water to the bowls or bags until the chicken is mostly covered by water.

Allow the chicken to sit in the brine for at least 2 hours or up to 12 hours.
Prepare the dry rub
Combine all the dry rub ingredients in a small bowl.
Prepare the chicken and your smoker
Once the chicken has sat in the brine for 2 hours, remove it from the liquid.

Pour the olive oil over the chicken and then rub with your dry rub mixture. I like to separate the skin from the meat just a little and get oil and seasoning in-between the two, as well as over every side.

Get your smoker started smoking/heating up. I tend to use a mix soaked and dry hickory wood chips, but you use whatever wood chips you like.

Once your smoker is hot, place the chicken on the racks and allow them to cook for 3-4 hours.

The chicken needs to get to an internal temperature of 165°F to be safe to eat. Once the chicken reaches 155°F I usually will remove them from the smoker and put them in a preheated 400°F oven for 5-10 minutes- or until it reaches 165-170°F. This allows the chicken skin to crisp up nicely wile reaching the final temperature.

Enjoy!
*You can use this on any type of chicken not just leg quarters! Cooking time might vary depending on the size of the chicken pieces (i.e. smoking a whole chicken vs a drum stick), just make sure the chicken gets to the correct internal temperature.