This healthy chicken casserole with spaghetti squash is full of flavor and loaded with lots of veggies! Perfect for dinner and makes great leftovers- if you have any that is!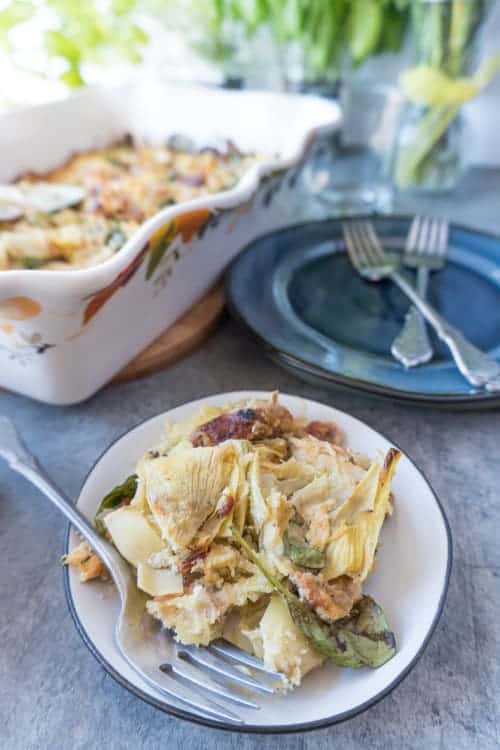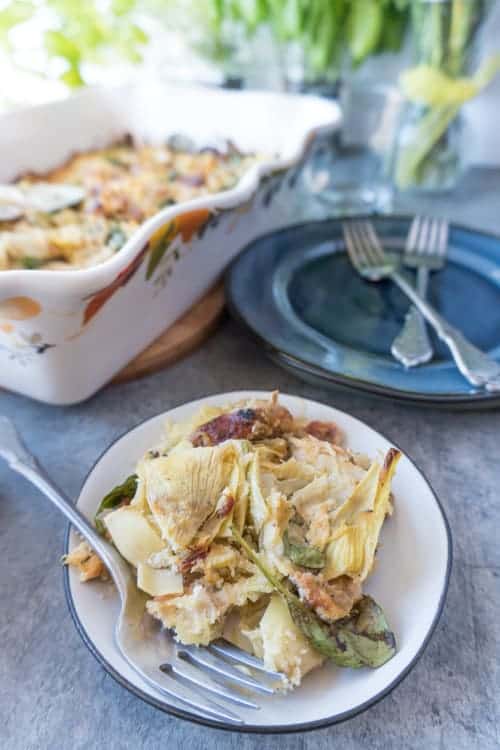 I love a good squash casserole recipe and this is no exception! It has bacon, artichoke hearts, spinach, cauliflower, shallot, and so much more! The cauliflower sauce practically disappears in this dish which is a nice way to get that much more veggies in without even thinking about it!
Originally I wanted to make a cauliflower "alfredo" sauce, and have this dish be a chicken alfredo dish but healthified- with the alfredo made from cauliflower and the noodles from the spaghetti squash. However, I couldn't get the pseudo alfredo to have the texture and taste I wanted so I turned it into a spaghetti squash casserole and you know what? I'm glad I did!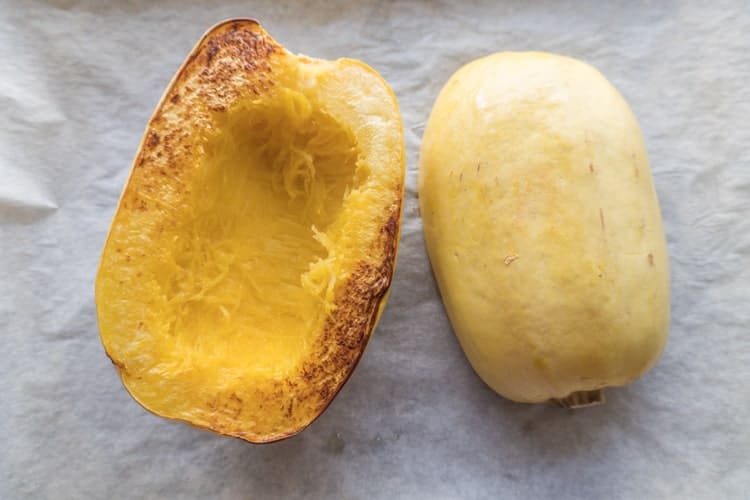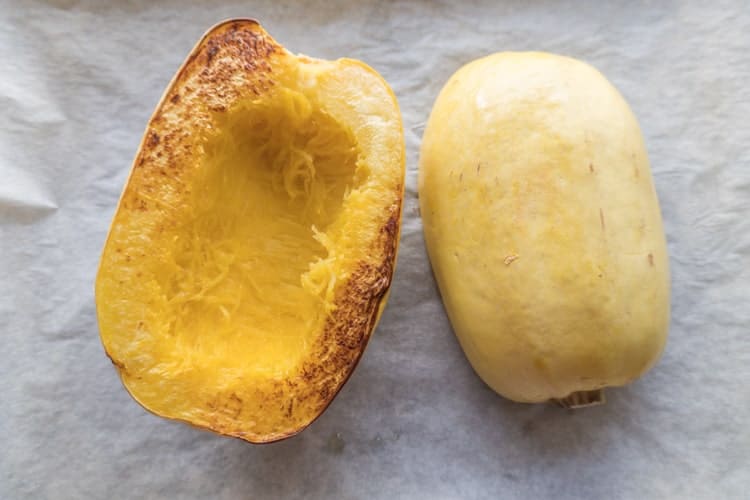 This chicken casserole is so tasty with so many flavors coming from all the different ingredients! The delicious bacon, the tasty artichokes and even the shallot! I love shallots. Lately, I've been on a shallot kick and I typically sauté one at dinner time and eat the whole thing- which isn't really saying much because they aren't super big. Anyways, they are sooo good!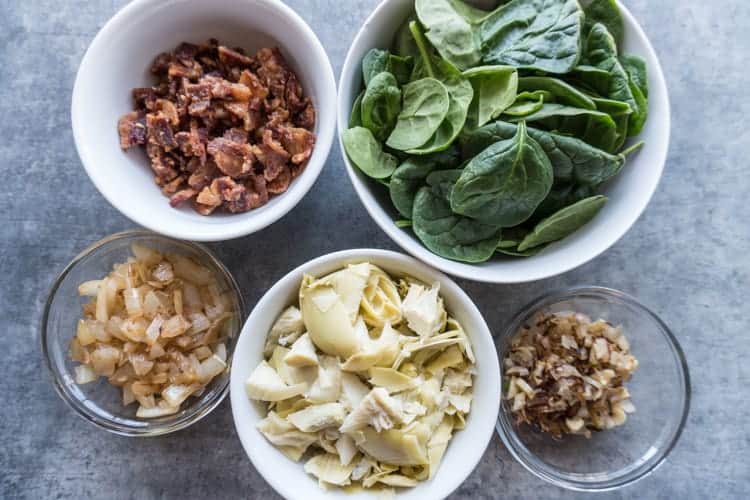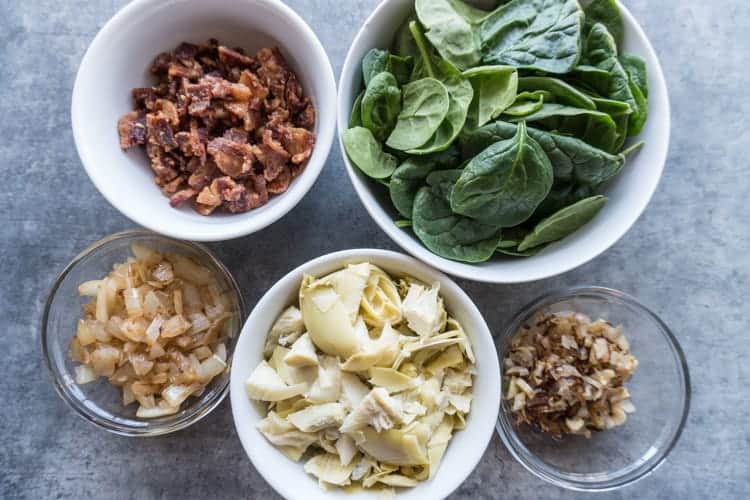 I love this casserole! It takes a little time to get everything prepped, but when that's done you just mix all the ingredients and bake the casserole for an hour. If you aren't serving several people, there will probably be leftovers, just because it makes a good amount. The leftovers are super tasty and they reheat well.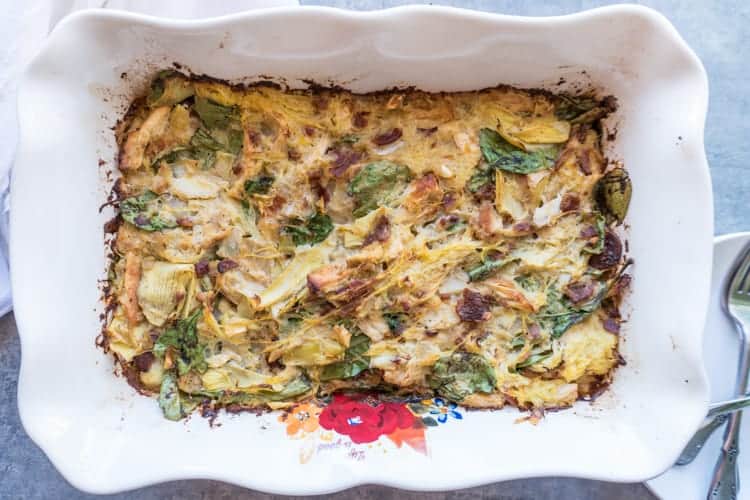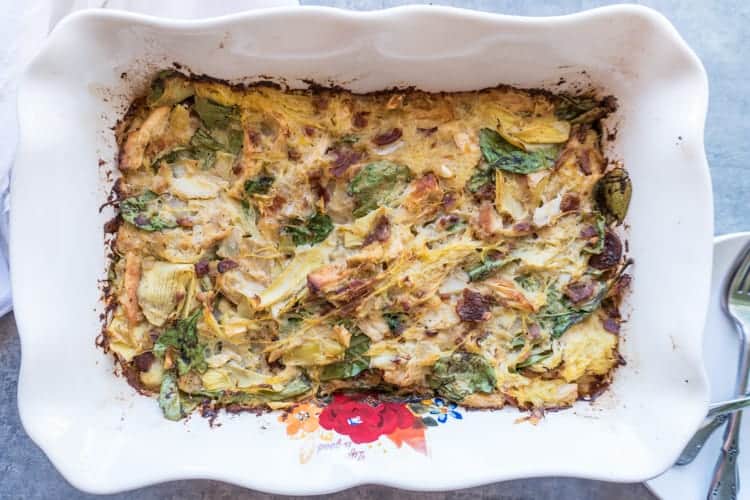 I purposefully wanted to make a dish that was gluten free and dairy free because I have several friends who can't have those and I'm sure you do too! I wanted a yummy dinner that people with or without dietary resections could enjoy and I think this dish is just that! What are your favorite veggie recipes? Let me know in a comment below!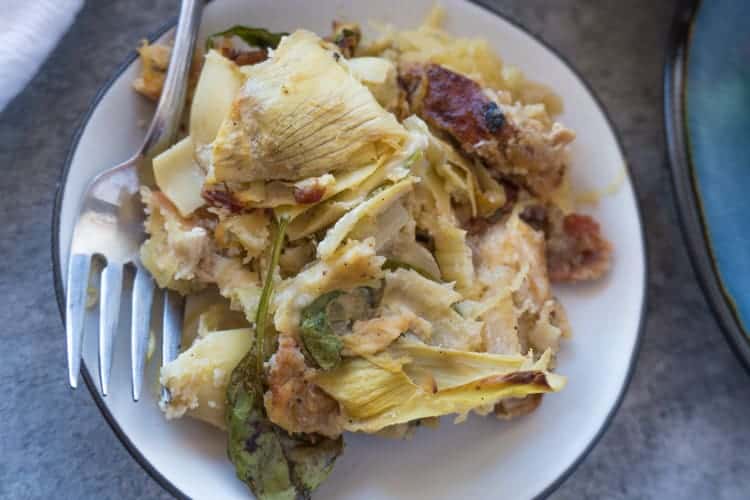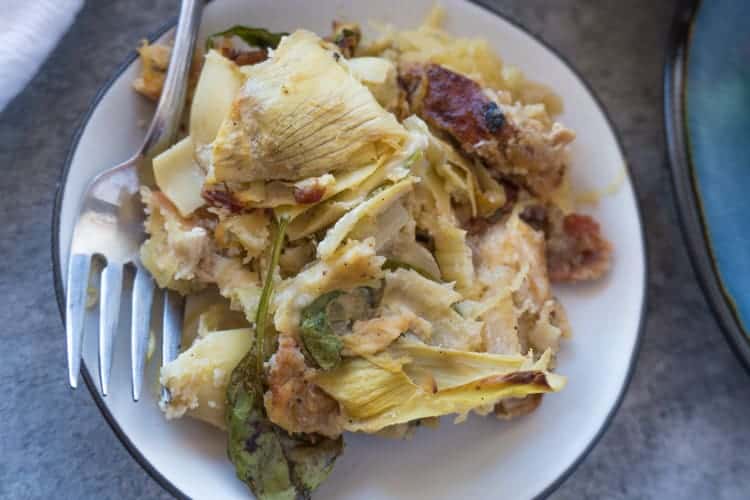 If you liked this recipe check out my breakfast casserole and grilled stuffed zucchini bites! Both are super tasty and filled with lots of veggies!
Want more? Subscribe to my newsletter and follow along on Facebook, Pinterest and Instagram for all of the latest updates.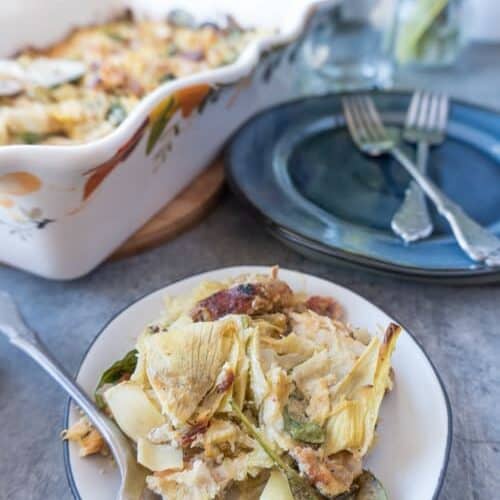 Chicken Casserole with Spaghetti Squash
This delicious chicken casserole is packed full of yummy ingredients including bacon, artichoke hearts, spinach, spaghetti squash and more!
Ingredients
1

small spaghetti squash or half of a medium one

6

oz

bacon

1

shallot

chopped

4

garlic cloves

chopped

¾

cup

water

1

bag frozen cauliflower

¼

tsp

nutmeg

1 ¼

tsp

salt plus more to taste

¼

tsp

pepper plus more to taste

1

tbs

garlic powder

1

tsp

crushed red pepper

1

lb

chicken

cooked and shredded (a rotisserie chicken from the store works well!)

2

cups

spinach

¼

onion

diced

1

can artichoke hearts

chopped
Instructions
Preheat oven to 400°F and grease large casserole dish.

Cut the spaghetti squash in half* and lay face down on a lined baking sheet. Bake for approximately 30 minutes or until tender. Remove from oven and let them cool enough to be handled. Scoop out the seeds and then using a fork scrape out the rest of the stringy squash and place it in a large mixing bowl.

While the squash is baking cook your bacon in a medium skillet over medium heat. Set aside to cool and then chop into small pieces.

Using the leftover bacon grease or another fat of choice (like 2 tbs olive oil), sautee the chopped shallot and garlic.

In a medium pot, add water and cauliflower. Bring to a boil and cook for 5-10 minutes or until cauliflower can be pierced with a fork. Remove from heat and the nutmeg, salt and pepper. Using a hand blender or transfer everything to a food processor/blender, blend the cauliflower mixture until well combined and everything is in a liquid sauce state. It will be slightly gritty due to the cauliflower.

In the large mixing bowl add the cauliflower sauce, garlic, shallot, garlic powder, crushed red pepper, shredded chicken, spinach, diced onion, chopped artichoke and the chopped bacon to the spaghetti squash and mix until well combined. You can also add more salt and pepper here.

Pour into greased casserole dish and bake for 1 hour.

Enjoy!
Notes
If using half of medium spaghetti squash still cook both halves and just save the unused half for another dish! 
The idea for this recipe was inspired by Julie Bauer's Paleo Cookbook, Chicken Carbonara. 


Reader Interactions