Baked Kale Chips, a tasty and healthier alternative to regular chips! Easy to make and delicious!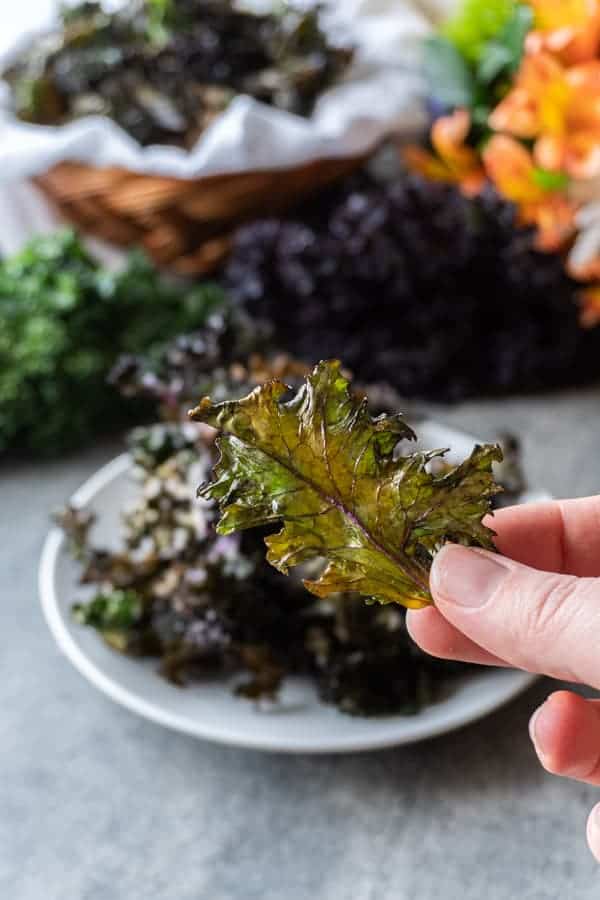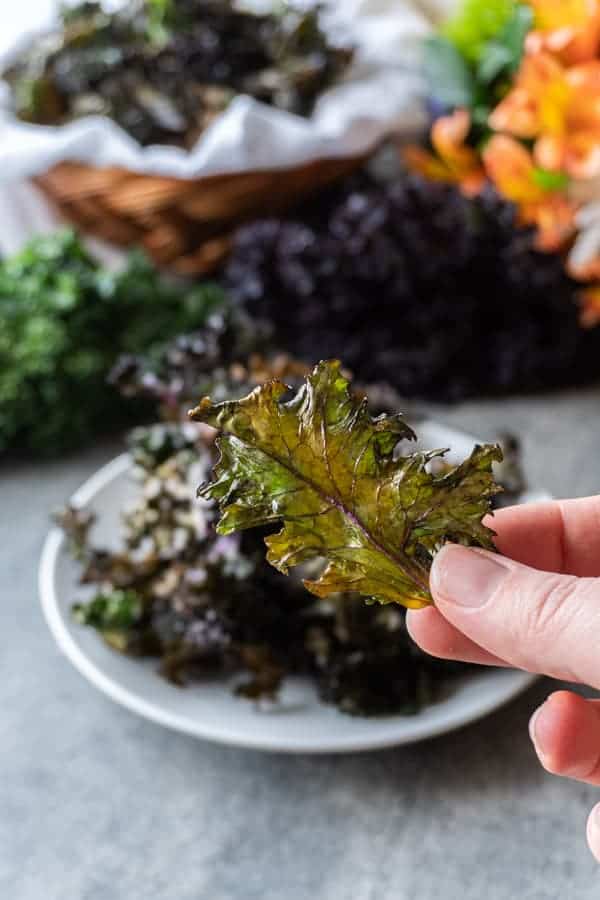 Baked Kale Chips
Over the years I've dabbled with finding snacks that are healthier alternatives to my favorite treats. Remember my eggplant chips?
Here is my take on another chip alternative: Crispy Kale Chips!
Now these baked kale chips are those gross kale ships they sell you at the store. I've tried them and don't like them.
These are made with fresh kale- tastes amazing, is easy to make, and much cheaper than buying the premade stuff!


How to make baked kale chips?
Rinse the kale and then pat dry
Remove the stems and then tear or cut into medium sized pieces
Toss in olive oil and lay on a parchment lined baking sheet
Season
Bake until crispy
Enjoy!


I can eat an entire try of these chips if I don't watch myself- but then again it's a really healthy snack so I don't feel guilty!
What to use for kale chip seasoning?
I tend to keep it simply and use salt and garlic powder. However, if you are looking for more of a bbq flavor I recommend using the seasoning from my eggplant chips!
Other health snacks you should check out: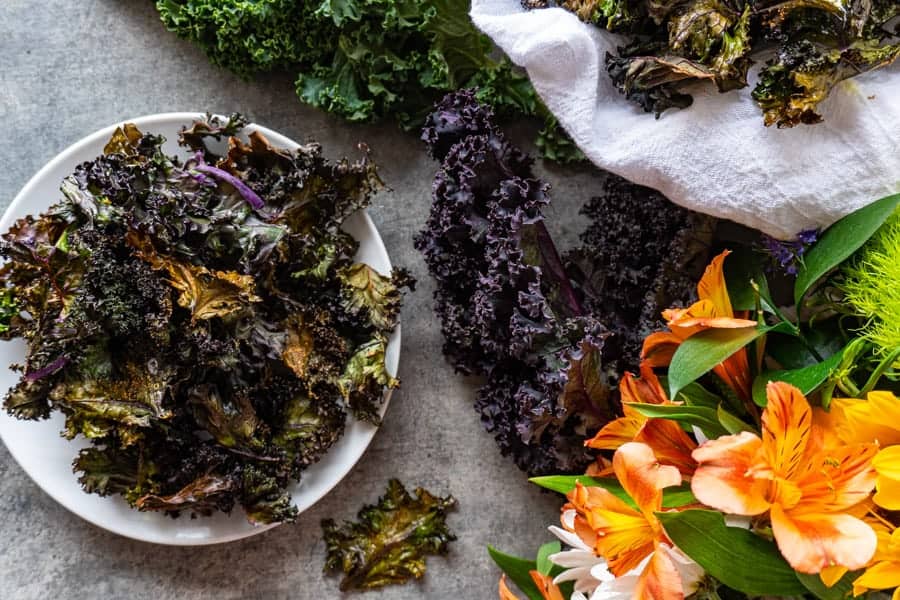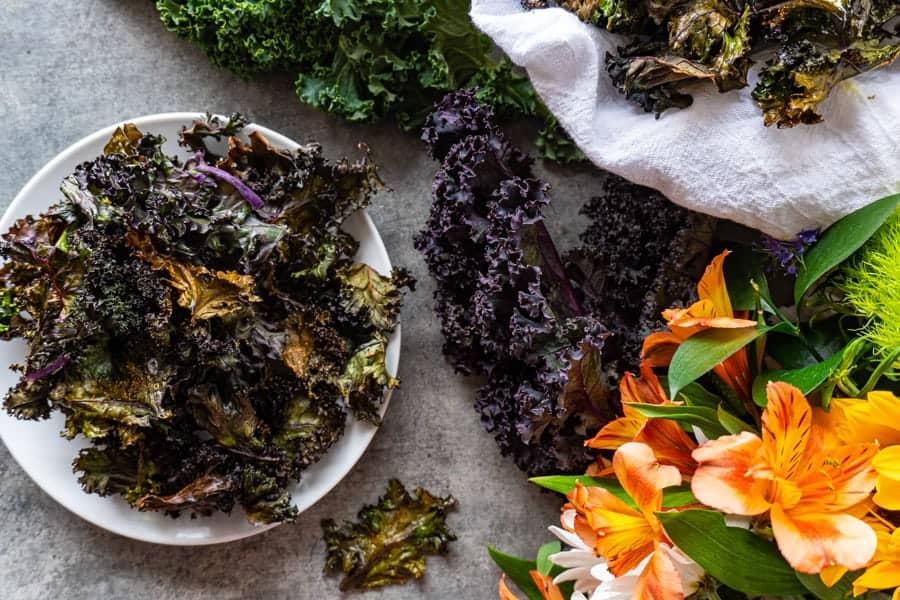 How long should I bake the kale?
This depends on how crispy you want them. Just be careful because it's easy to burn them! I find baking for 16 minutes works great.
Help! My kale didn't get crispy!
Several factors play a role in getting the kale crispy. Having the kale in pieces that aren't too big, making sure the kale is mostly dried after rinsing, and baking it long enough.
And they will be crispy and thin- so great for snacking but hard to use to dip into things- just a heads up!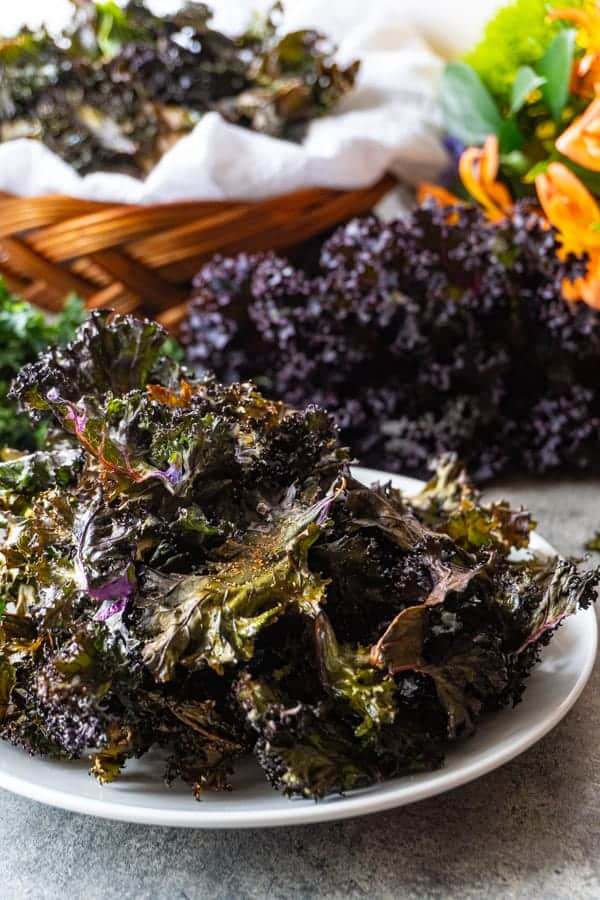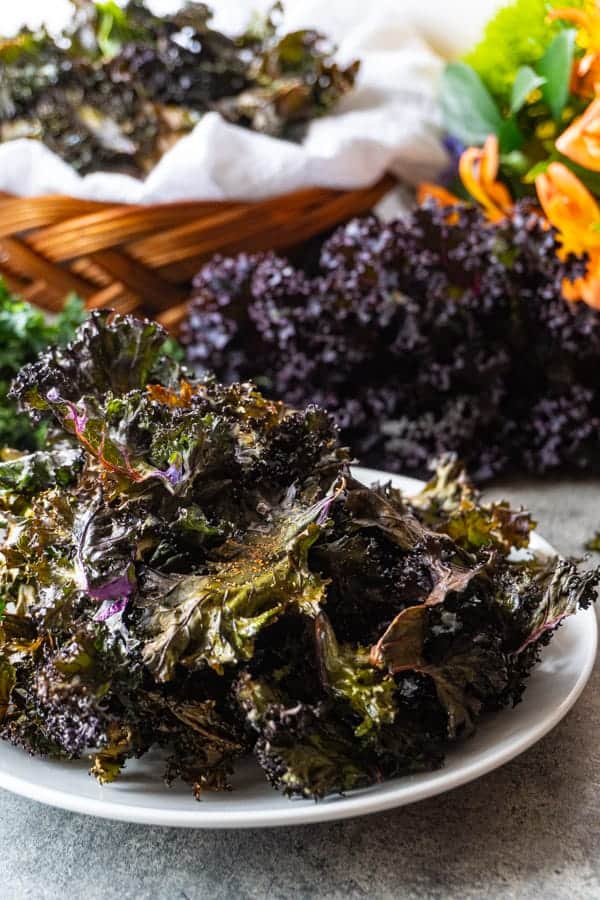 How to remove the stem from the kale:
The stem is not a pleasant thing to eat so I recommend cutting it off or tearing the leaves off of it.
What type of kale should I use?
I'm fond of using the common curly green kale and the Redbore kale (purple kale). They taste similar and bake up well. If you want to read up more on the differences in kale I like this article here!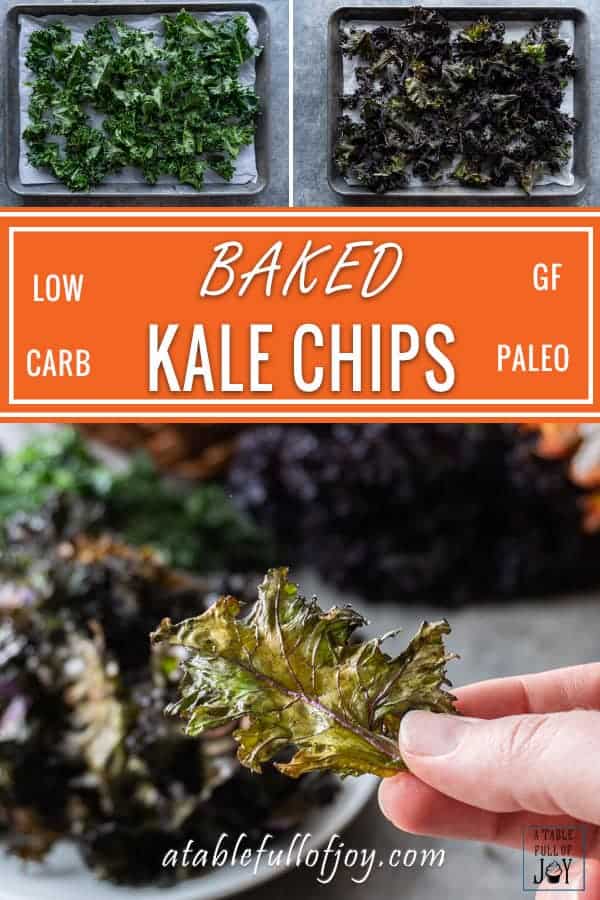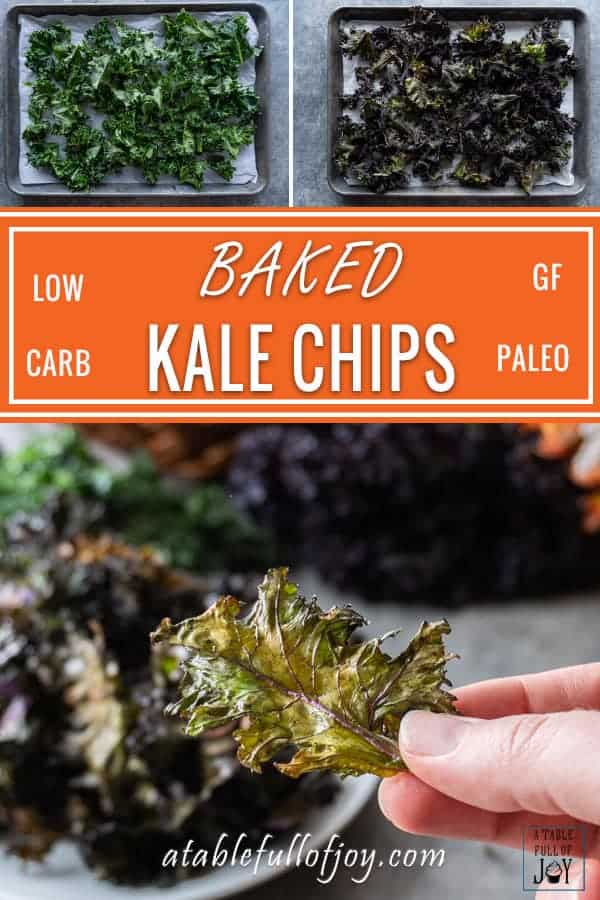 ---
BE SURE TO FOLLOW ME ON FACEBOOK, INSTAGRAM, PINTEREST, TWITTER & SIGN UP FOR MY EMAIL  NEWSLETTER!
---
Want more? Subscribe to my newsletter and follow along on Facebook, Pinterest and Instagram for all of the latest updates.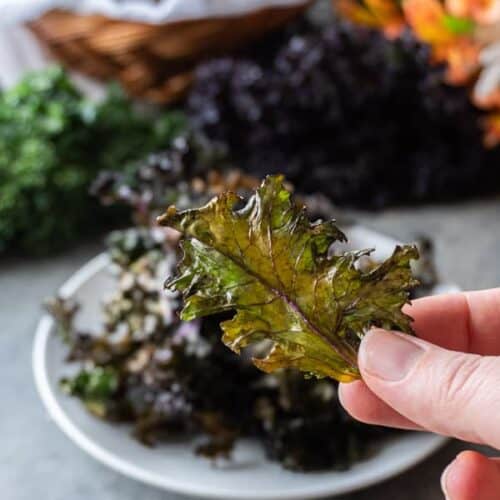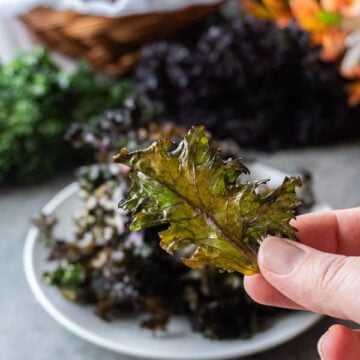 Baked Kale Chips
Baked Kale Chips, a tasty and healthier alternative to regular chips! Easy to make and delicious!
Ingredients
1

bunch of kale

1

tbs

olive oil

or avocado oil

Salt

for seasoning

Garlic Powder

for seasoning
Instructions
Preheat oven to 400°F and line a baking sheet with parchment paper.

Rinse the kale and remove the rib from each leaf.

Tear or cut each leaf into smaller, pieces- but keep in mind each piece will shrink a little once they are baked.

Toss kale in olive oil and place on lined baking sheet in an even layer.

Sprinkle the kale with salt and garlic powder.

Bake for 16-18 minutes or until some pieces are light brown.

Enjoy!
Notes
The longer you bake the crispier they get but they will also burn a little. If you are like me and like the taste of burned things then enjoy- otherwise just take them out after 16-18 minutes.
Nutrition
Calories:
76
kcal
Carbohydrates:
2
g
Protein:
1
g
Fat:
7
g
Saturated Fat:
1
g
Sodium:
11
mg
Potassium:
140
mg
Vitamin A:
2845
IU
Vitamin C:
34.2
mg
Calcium:
43
mg
Iron:
0.4
mg
Reader Interactions